Yes, it's packed with architectural treasures, fantastic shops and historic sights, but here are five reasons to visit Milan for its food and drink. How many of these have you tried?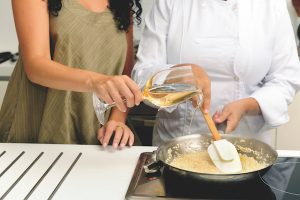 1 Milan has lent its name to many famous dishes, and risotto alla Milanese is probably the best known.The saffron-flavoured rice, often served with the hearty veal stew osso buco, is said to have been developed in 1574 when an apprentice who was using saffron to stain window glass for the Duomo decided to add a pinch of the spice to some rice as a joke. Everyone loved the flavouring and the dish soon became a local speciality. Our favourite place to enjoy it is Antica Trattoria della Pesa on Viale Pasubio. Fancy making your own? Click here!
2 Milan loves meat… beyond osso buco and cotoletta alla Milanese, meat features on the menu in starters like nervetti and main dishes like cassoeula, a stew made with various parts of the pig, as well as in beef stews. 
3 Did you know that panettone originally came from Milan? Some say the fruit-studded cake was invented by nobleman Ughetto Atellani in the 15th century, while others insist it was the product of a small baker called Toni (hence pan de Toni). Whatever its origins, in Milan it is still a much-loved festive delight, served with crema di mascarpone. Our taste test will help you find the best!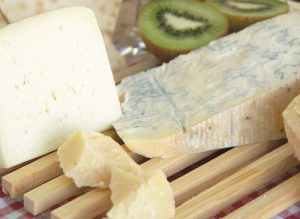 4 Gorgonzola is one of the most popular cheeses from the city, its rich, strongly flavoured blue veins being used to flavour polenta or simply eaten alone, while the milder soft cheese mascarpone finds its way into delicious desserts and creams. We've got a great Gorgonzola recipe here.
5 Many call Milan the 'city of aperitivo' because the tradition of enjoying pre-dinner drinks and appetisers is so popular here. The daily 'happy hour' usually lasts from 6-8pm. We'll see you there… cin cin!
Check out 48 hours in Milan for more travel inspiration to help with your travel plans for the city