Ciabatta was given its name because the bread resembles a well-worn slipper. Prolonged rising and plenty of liquid produce a very light bread with a uniquely open and porous texture.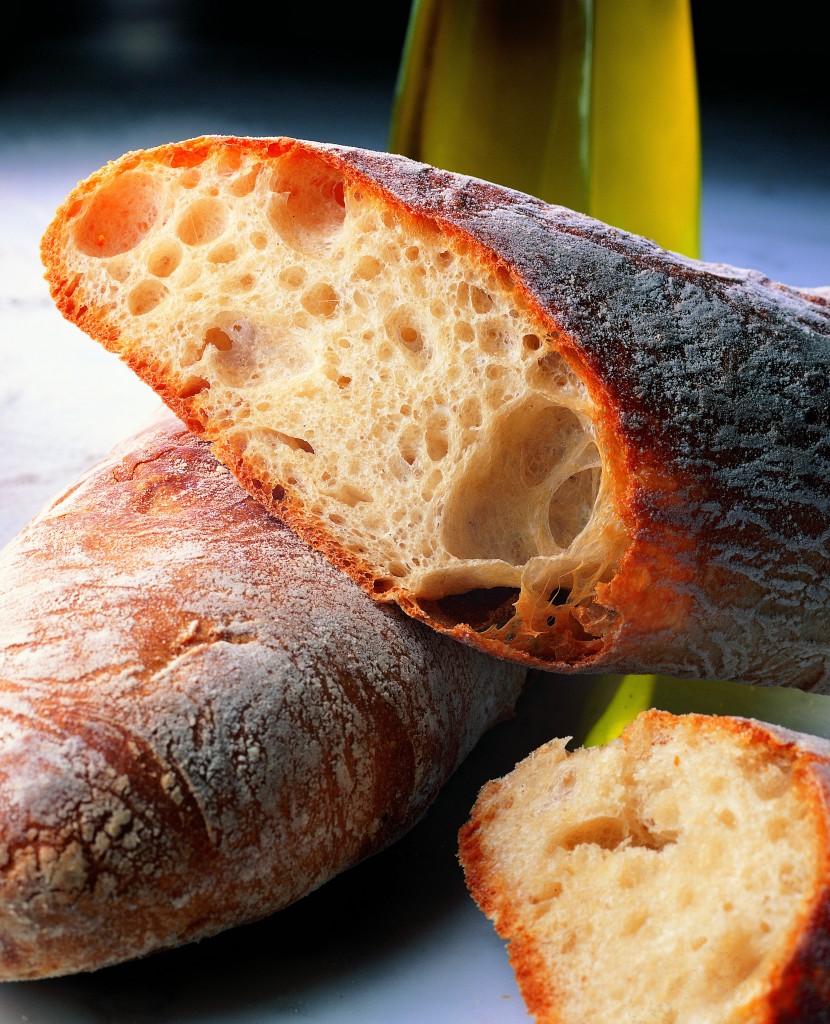 Ingredients
FOR THE STARTER
½ tsp dried yeast
150ml water
3 tbsp tepid milk
¼ tsp honey or granulated sugar
150g strong white flour
FOR THE DOUGH
½ tsp dried yeast
250ml water
½ tbsp olive oil
350g strong white flour
1½ tsp salt
Method
To make the starter. Sprinkle the yeast into the water and milk in a large bowl. Leave for 5 minutes, then add the honey or sugar and stir to dissolve.
Mix in the flour to form a loose batter. Cover the bowl with a tea towel and leave to rise for 12 hours or overnight.
To make the dough. Sprinkle the yeast into the water in a small bowl. Leave for 5 minutes, then stir to dissolve. Add the yeasted water and olive oil to the starter and mix well.
Mix in the flour and salt to form a wet, sticky dough. Beat steadily with a wooden spoon for 5 minutes; the dough will become springy and start to pull away from the sides of the bowl.
Cover the dough with a tea towel. Leave to rise until trebled in size and full of air bubbles, about 3 hours. Do not knock the dough back. Flour two baking sheets well and have extra flour to dip your hands in.
Use a dough scraper to divide the dough in half while in the bowl. Scoop half of the dough out of the bowl on to one of the heavily floured baking sheets.
Use well-floured hands to pull and stretch the dough to form a roughly rectangular loaf, about 30cm long. Dust the loaf and your hands again with flour. Neaten and plump up the loaf by running your fingers down each side and gently tucking the edges of the dough under.
Repeat with the other half of the dough. Leave the two loaves uncovered to prove, about 20 minutes; the loaves will spread out as well as rise.
Bake in the preheated oven for 30 minutes until risen, golden, and hollow-sounding when tapped underneath. Leave to cool on a wire rack.
Tags:
bread
,
Ciabatta
,
Flour
,
food
,
Italia Magazine
,
Italy
,
loaf
,
recipe