In Italy sweet muffins are usually made as a treat for children but they also make an excellent picnic food, says Mario Matassa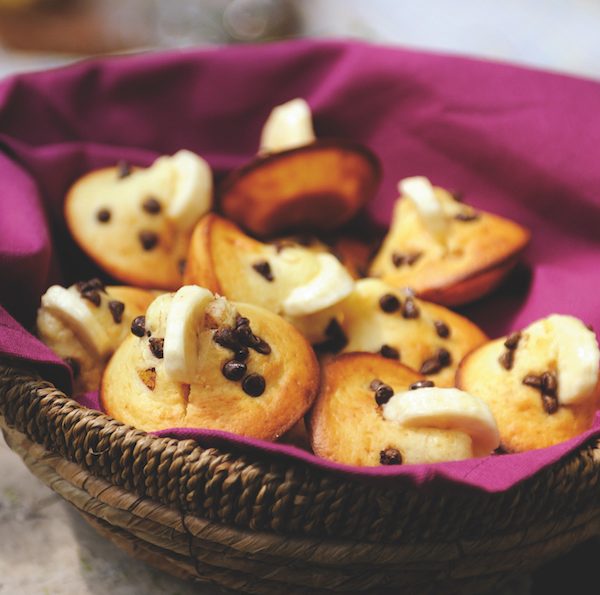 Makes about 20
Preparation time 10 minutes plus cooling
Cooking time 10-15 minutes
Ingredients:
• 1 large free-range egg, beaten
• 125ml plain Greek-style yoghurt
• 125ml whole milk
• 200g self-raising flour
• 80g brown caster sugar
• 75g chocolate drops
• 1 firm but ripe banana
• ½ a lemon
Instructions:
1 Preheat the oven to 180°C/Gas Mark 4. In a large bowl mix together the egg, yoghurt and milk. Sift the flour into a separate bowl, then add the sugar and stir. 
2 Add the wet ingredients to the flour and sugar, then mix together well. Take care not to over-mix or the cakes won't be as light and fluffy as they should be. 
3 Spoon the mixture into mini muffin cases or a muffin tray and top with chocolate chips. Bake the muffins in the oven for 10-15 minutes. Test with a toothpick to see if they are cooked.
4 Remove the muffins from the oven and leave to cool. When the muffins are cool, slice the banana into a bowl and squeeze over the lemon juice so that the banana does not discolour. Make small incisions into the top of each muffin and insert a slice of banana before serving.
TIP Muffins are something the Italians have brought in from America, but as always they've added a typically Italian twist to the theme… i.e., not so much sugar!
Find more Italian-inspired recipes here