Chestnuts and chocolate are a winning combination in this delicious torta di castagne e cioccolato recipe…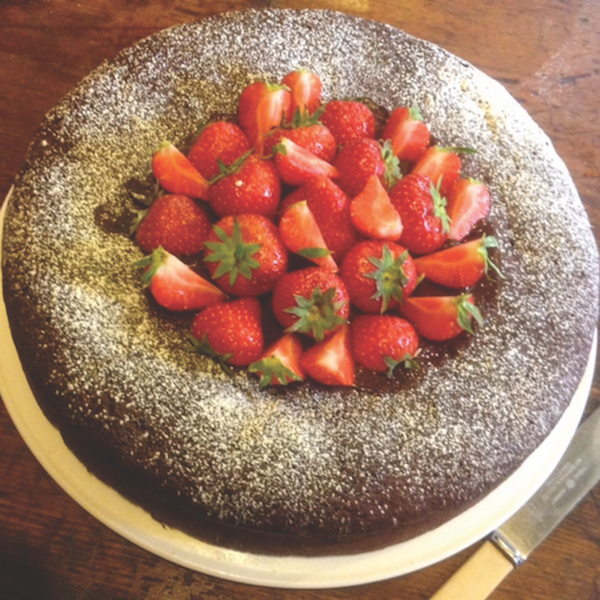 Chestnut flour is a great gluten-free alternative, giving cakes and biscuits a delicious nutty background flavour; and in many European countries, such as Italy, France and Spain, chestnut spread or jam is found slathered on bread and croissants at the breakfast table. The crystallised marrons-glacés, produced mostly in France, are a decadent treat and utterly moreish.
This delicious cake works wonderfully with chestnut flour but can also be made with ground almonds.
Serves 6
Preparation time 30 minutes
Cooking time 30 minutes
Ingredients:
• 200g dark chocolate (60-70% cocoa solids)
• 200g butter
• 200g chestnut flour
• 5 medium free-range eggs, separated
• 200g caster sugar
Instructions:
1 Preheat the oven to 180ºC/Gas Mark 4. Melt the chocolate and butter together, ideally in a glass/metal bowl over a pan of simmering water (don't let the water reach the bottom of the bowl). If you do it in a microwave, do it in short bursts and stir between each burst, or the chocolate will burn. Add the chestnut flour.
2 Beat the egg yolks with the sugar until light in colour. Whisk the egg whites to stiff peaks. Add the chocolate/nut mixture to the yolks and sugar.
3 Stir in one spoonful of the egg whites to loosen the mix. Then slowly fold in the remaining whites, trying not to knock the air out but ensuring everything is combined.
4 Pour the mix into a greased and lined 23cm tin. Bake in the middle of the oven for approximately 30 minutes. The old skewer test may not work as this cake can take being slightly moist in the middle, as long as it is not too wet. Dust with icing sugar and serve perhaps with strawberries, or something else light and zingy.
Read Julie Friend's article 'Chestnuts roasting' to find out why autumn is a great time for chestnut lovers to head to Italy