Mario Matassa's take on bucatini all'amatriciana is a classic from Amatrice in Lazio. Puritans argue that the dish must be made using guanciale (cured pork cheek), but pancetta makes a fine substitute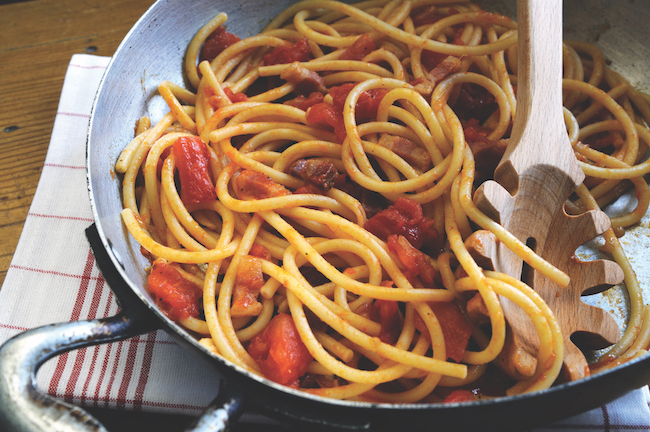 Serves 4
Preparation time 5 minutes
Cooking time 1-12 minutes
Ingredients:
• 320g bucatini pasta
• 150g pancetta, diced
• 1 small onion, peeled, finely sliced
• 6-8 plum tomatoes, roughly chopped, if in season, or use a tin of chopped tomatoes
• 4 heaped tbsp grated pecorino cheese
• 1 small fresh or dried chilli, finely chopped
• olive oil
• salt and freshly ground black pepper
Instructions:
1 Begin by bringing a large saucepan of salted water to the boil. While you are waiting, gently fry the onion in a frying pan with a few tablespoons of olive oil. The water should be boiling at this point, so add your pasta.
2 While the pasta is cooking, add the pancetta to the onions and cook until browned. Next, add the tomatoes. Add the chilli to the pan and check for seasoning. Allow the sauce to simmer until the pasta is cooked.
3 Once the pasta is cooked, drain and add to the pan, stirring well to combine all the ingredients. Top with the pecorino cheese and serve immediately.