One of Italy's favourite vegetables, the artichoke is a delicious addition to an antipasto platter, or a tasty treat all by itself. Italia! samples a selection of the best on offer…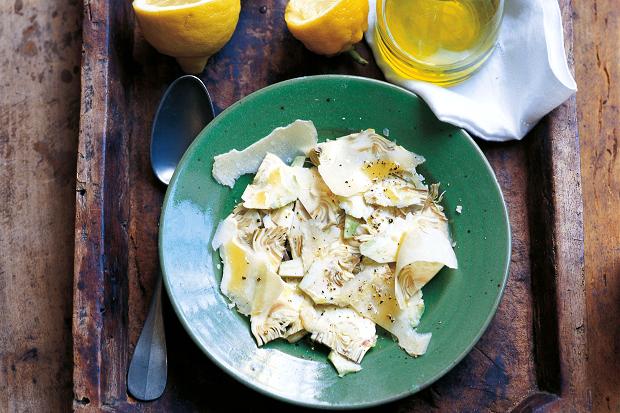 Perfect for sprucing up pasta and transforming lettuce leaves into a delicious salad, jarred artichokes are undoubtedly the fanciest of all standbys, and no store cupboard should be without them.
Italy is the largest artichoke producing nation and the versatile vegetable can be found all over Italy when in season. In the springtime, these globe-shaped delicacies, in all their varieties, start appearing in the open markets, where the vendors will sit by their stands and peel and prepare them for you.
If you buy the fresh kind, it's up to you to prepare it. Fortunately, help is at hand in the form of the preserved variety. With so many different versions of the tasty antipasti available, it's hard to know which to pick, so we decided to try a selection for you and find the best ones in the shops.
We found a fantastic choice of artichoke hearts, both online and in our local supermarkets, but we discovered a considerable difference in quality and taste across the board. Here are our findings…
Fratelli Camisa baby artichokes
From Camisa www.camisa.co.uk
Price £8.23, 314ml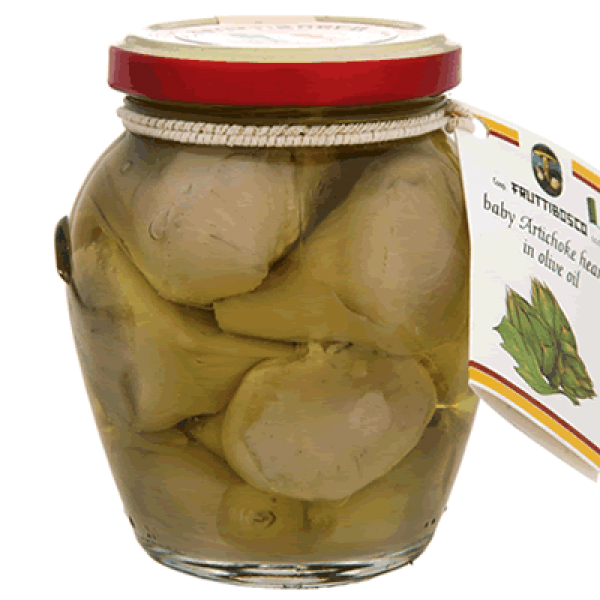 On the whole these baby artichoke hearts were deemed the most meaty and delicate of all the contenders. With a refined sweet taste (characteristic of the baby variety of artichoke), they were delicious simply eaten straight from the jar.
As the only baby artichokes in the running for editor's choice, perhaps these had an unfair advantage. Unlike some of the other artichokes in our selection, these were immersed in little else apart from quality olive oil, with just a little lemon and white wine.
Fratelli Camisa has been supplying the UK with an array of wonderful and carefully sourced products from Italy for many years. The company's jarred products are all hand prepared and jarred in its cooperative in the Appenine mountains, just outside Parma.
Only the finest olive oil from Liguria is used for preserving these delicious fleshy hearts, ensuring that all the natural flavours of the artichokes remain intact. These were sweet and fleshy, and good enough to be eaten alone, but would also be a welcome addition to a salad.
Verdict – 5/5
A delicious treat at a pretty good price. Delicately flavoured, with a hint of lemon, you'll be sure to come back for more.
---
Tesco artichoke antipasti
From All Tesco stores
Price £1.85, 285g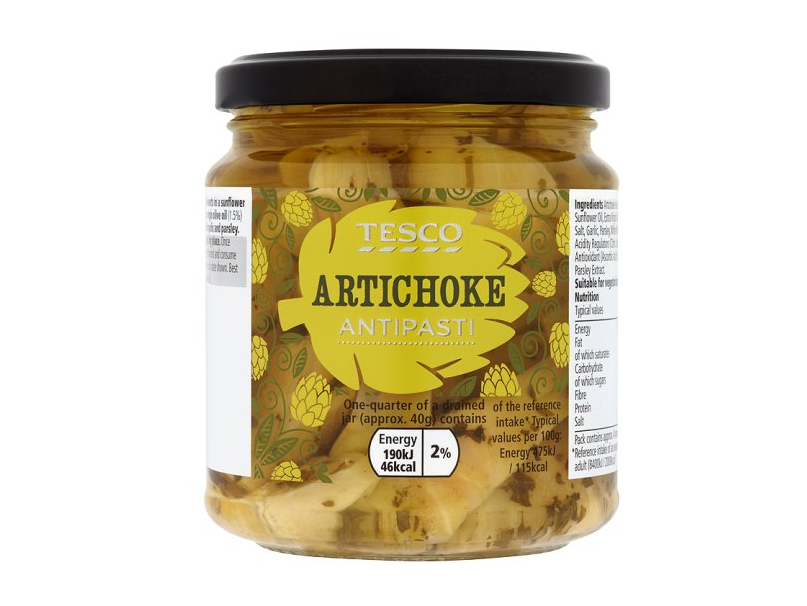 Tesco's artichoke antipasti were strong contenders in the field and went down well with our panel of tasters. "Soft" but not mushy, these were considered to have one of the "best infusions of flavours", offering a strong taste of garlic and vinegar without being overwhelming.
The hearts aren't as leafy as some of the others, but sliced they would make the ideal addition to an antipasto platter. The mix of cured prosciutto and slivers of salami would complement well the vinegary flavours of the tender globes. Although not the overall winner, these were great value, with a soft, juicy texture.
Verdict – 3/5 
An overall crowd-pleaser that lacked a little authentic 'artichoke' flavour, but the best price of all those we tried.
---
Waitrose sliced artichoke hearts
From All Waitrose stores
Price £2.70, 170g (drained)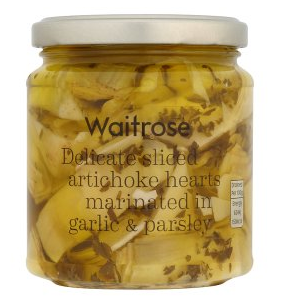 Waitrose is pretty reliable when it comes to its own branded products, but this month's artichoke tasting saw them trail behind the competition. The first taste was a little bland and unsatisfying, while the distinctive aftertaste was a bit too acidic.
The vinegary flavours concealed the taste of the slightly chewy artichoke, making it seem as though these sliced delicacies had been overdressed. A close look at the jar's content revealed that the extra virgin olive oil used in the dressing accounted for a mere three per cent of the oil in the jar. Sunflower oil was also included, but the balance of flavours in the bottle didn't do these hearts justice – rather disappointing.
Verdict – 2/5
These sliced hearts from Waitrose lacked any authentic artichoke taste as the dressing was too dominant. 
---
Carluccio's chargrilled artichokes
From Carluccio's  www.carluccios.com
Price £5.60, 280g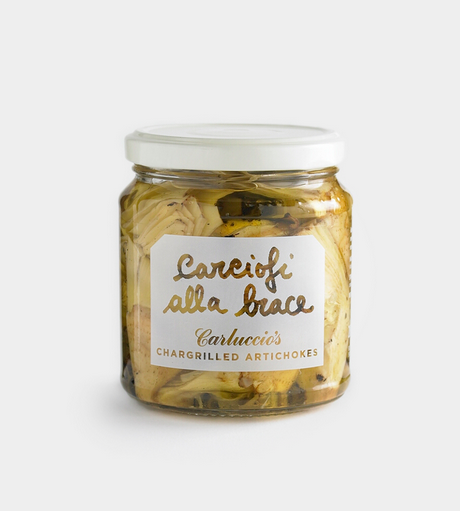 Carluccio's selection of antipasti is among the best we have come across, and this packed jar of tender treats didn't dissappoint. The smoky flavour of the chargrilled artichokes was popular with some, while others deemed the "charcoal-like" flavour too overpowering. On the whole, though, these were very tasty with a superb balance between the rich grilled flavour and the sweetness of the delicious artichoke flesh. This fleshiness and a "crisp" texture made these a popular choice to add to an antipasto platter. 
Verdict – 4/5 
If you like a smoky, chargrilled flavour, this selection from Carluccio's is a treat for your tastebuds.
---
Sacla artichoke antipasti in lemon and rosemary infused oil
From All Tesco stores
Price £2.99, 280g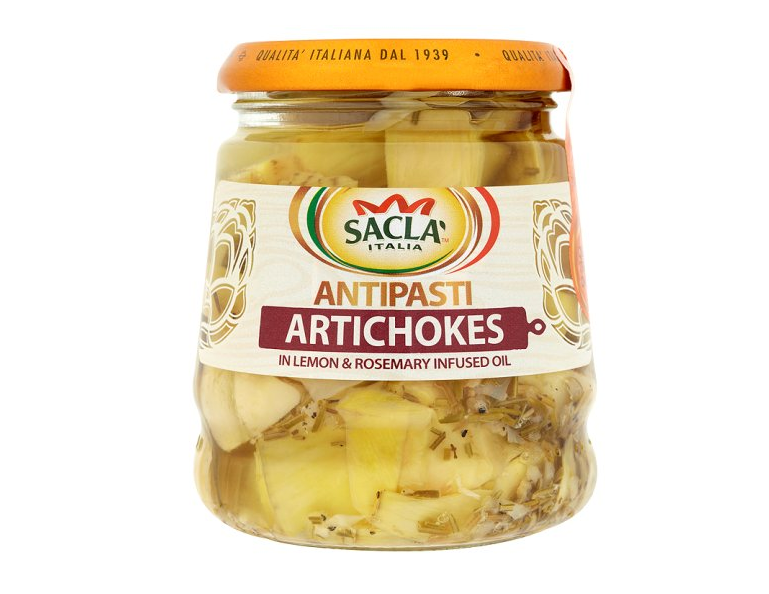 Sacla's range of antipasto products include these artichokes hearts, which it suggests should be served with cheese or meats. We opted for trying them out on their own, to experience the full flavours of the product. On the whole they were a great deal "more tender" than some of the others, if not bordering on the verge of "mushiness".
Although the flavours were good, with a pleasantly mild hint of Lemon and Rosemary, their initial taste dissapeared far too quickly to be considered as good as the best of them. These artichoke hearts are perfect for tossing with some pasta for a quick and tasty mid-week meal, but would not be the first choice for an elegant aperitivo. Overall, an acceptable option but certainly not first choice.
Verdict 2/5
Delicate flavours and a soft consistency made this suitable as an accompaniment, but they lacked bite to stand on their own.
---
Vallebona artichoke hearts
From www.papadeli.co.uk
Price £7.99, 280g
Vallebona sets the standards for imported Italian products, and sells produce to some top-notch London restaurants and high-end delis across the UK.
Removing the hearts from the jar proved to be an initial hurdle, but once extracted from the container we discovered some really large, juicy artichoke hearts. Despite having to prise them out, their firmness ensured that they didn't fall apart into a mushy mess. These were a great deal "less slimy" than some of the others, and seemed considerably more fibrous and nutritious.
Of all the artichokes, these were most representative of the actual vegetable itself. The aftertaste, however, was a bit of a surprise, as it seemed there was some chilli in the oil. These artichokes would be a great accompaniment to a meal, but their size, perhaps, prevents them from being the best for an antipasto platter.
Verdict 4/5
The big boys of the tasting, these succulent globes were more than a mouthful and delivered on taste and texture.