Mario Matassa shares his 'risotto mimosa' recipe. The dish is a staple of Italy's Festa della Donna in March…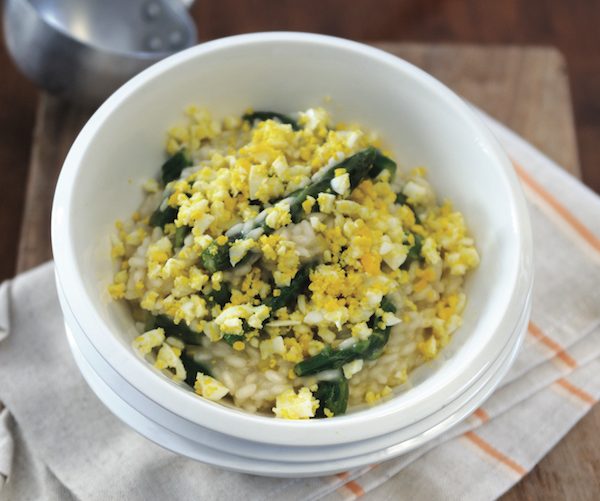 Serves 4
Preparation time 10 minutes
Cooking time 20 minutes
Ingredients:
• 2 shallots, peeled, finely chopped
• 320g risotto rice
• 300g asparagus
• 2 hard boiled free-range eggs
• 1-1.5 litres of vegetable or chicken stock
• 3 tbsp olive oil
• a knob of unsalted butter
• salt and freshly ground black pepper
Instructions:
1 Remove the hard woody end of the stalks from the asparagus. Chop the remaining stalks into 1cm pieces, leaving the tips intact. Heat 1 tbsp olive oil in a frying pan and gently fry the asparagus for 5 minutes. Set aside.
2 In a large saucepan, heat the remaining olive oil and the shallots. Sauté for a few minutes, then add the rice, stirring until the grains are evenly coated in oil. Next add a few ladlefuls of stock and stir until it has all been absorbed. Keep adding stock and stirring until the risotto is cooked (about 14-16 minutes).
3 About 5 minutes before the end of the cooking time, add the asparagus to the risotto. Once the risotto is cooked, add a generous knob of butter and season. Roughly mash the boiled eggs with the back of a fork and sprinkle over the top of each bowl of risotto.
Find more Italian-inspired recipes here