Campania is a place that's very much on the rise as far as its wines are concerned, and we've uncovered some real finds from this productive southern region!
Campania's winemaking history goes back a long way: to the ancient Greeks and possibly even earlier than that, with many Greek-introduced grape varieties very much in evidence in the region today. Italian tribes from the Etruscans to the Romans celebrated the wines of Campania's sunny provinces. However, despite this illustrious heritage, the region's wines somehow lost their shine along the way, and by the 20th century, good Campanian wines were few and far between.
However, thanks to the innovation and dynamism of local producers who have developed distinctive wines from the native grapes, the region's wines have undergone a renaissance over recent decades and Campania is once again a shining star of the oenological world, with an impressive count of DOCG and DOC wines to its name. This month we bring you a small snapshot of some excellent middle-budget highlights…
Discovery of the month
Farfallone Aglianico Sannio DOC 2016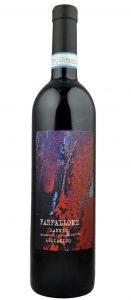 Introduced by the Greeks and cultivated by the Romans, the Aglianico grape produces hearty, full-bodied wines, and this is no exception. With rich bramble aromas, this robust red possesses excellent structure. Dry and powerful with a good long finish, dark fruit flavours and tannins are finely balanced with a minerality that keeps it fresh.
Pair with: Rich, savoury dishes like grilled red meats, aubergines – or served with a platter of mature and blue cheeses
From: Corney & Barrow, £10.75
The best of the rest…
Triade Bianco 2016 
This wine, as the name suggests, is a blend of three indigenous Campania grapes: Greco, Fiano and Falanghina. Partially aged in small oak barrels, which gives it a firm structure, it has a subtly floral, almost grassy fragrance. On the palate, it gives generously with snappy citrus, apples and a hint of vanilla. The crisp minerality and a wonderfully long, satisfying finish will have you coming back for more. It's Campania in a glass and great value too.
Pair with: Roast chicken on a bed of lemon and bay or any white fish dish
From: Waitrose, £8.79

Cantine Caggiano Rosso Irpinia Tauri DOC
At the start of the 1990s, after a successful career as a photographer, Antonio Caggiano set up his award-winning winery in Taurasi, in the mountainous interior of Campania. This fine 100 per cent Aglianico ages in barriques for four to six months. Deep ruby in colour, it's rich with forest fruits and overtones of cherry and spice. In the mouth, it's full-bodied and complex, with juicy fruit, robust tannins and a really spicy kick that you will love!
Pair with: Fresh pasta with meat ragù, roast beef or lamb cutlets on the grill
From: Great Western Wine, £14.95
Vesevo Greco di Tufo 2017
From the Vesevo vineyards (ancient name for Vesuvius), the indigenous Greco grapes in this lemony-gold wine are grown at 450-550 metres above sea level in the Irpinian hills. Poured from its squat bottle (a delight to handle by the way), it has a heady fruit-laden scent of ripe pears – which leads to layers of soft peach and tangy apricot with a hint of honey on the palate, tempered by a well-balanced minerality. Savour the long, crisp finish as the sun goes down.
Pair with: This is the ideal partner to most fish dishes – try it with a seafood risotto
From: Liberty Wines, £15.95
Falanghina 2016 Terredora
This Falanghina from the Terredora estate spends three months ageing on the lees before bottling. No oak is used but the process gives the wine a good depth to its fruity character. With lime and crisp apple aromas on the nose, followed up with more citrussy fruit, honey and hints of almond on the palate, this is a sunny, well-balanced wine with a good structure and a medium finish. Easy-drinking, it's the ideal summer party wine to serve to your guests.
Pair with: The perfect companion to a plate of fritto misto or a mixed seafood salad
From: Majestic Wine, £12.99 (£10.99 a bottle in a case of six)

Mastroberardino Lacryma Christi del Vesuvio 2016
Established in the 1750s, Mastroberardino is one of Campania's most renowned wineries and blazed the trail for production with native grapes. Based in Atripalda, this delicious red offering is made from 100 per cent Pedirosso – a local grape now in limited production. It brims with aromas of black cherry and plum, and more of the same in the glass with an added touch of sweet spice. Medium-bodied and smooth with delicate tannins.
Pair with: Meat- or tomato-based dishes, and even an authentic pizza margherita
From: Berry Bros & Rudd, £16.25