The perfect complement to a clear blue sky, we take a look at some of Italy's best rosé wines, with something special to suit every budget
With rosé, as with red and white, Italy has a large variety of wines, and their respective styles vary tremendously, reflecting the diversity of grape variety, soil type, climate and regionality across the country. The varying degrees of 'blush' give you some impression of how different they are. Among the rosé wines we have chosen to taste, some are at the baby-pink end of the spectrum, others a shade or two deeper.  Rosés taste more like a white than a red – light, refreshing, fruity, rather than 'heavy', and almost certainly chilled – and are made by pressing the juice from a red grape variety and then allowing the juice to 'sit' on the grape skins for just long enough – usually between 6 and 24 hours – to pick up a hint of colour, a tiny bit of texture and a strawberry-fruit taste.
The grape varieties used vary too: many producers use a local base grape type from which they produce their reds (Corvina in Bardolino or Pinot Grigio in Veneto, for instance) and make a small amount of rosé from those varieties. Pretty much anything can be used, albeit with degrees of success, but some red grapes wouldn't work – Nebbiolo, for instance, is too heavy. We've chosen a range of rosés – still and sparkling – with varying price points in mind this month, and something to suit every budget.
Discovery of the month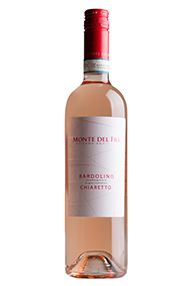 Bardolino Chiaretto, Monte del Frà 2017
Peachy-orange, almost copper, and beautiful to behold, this Corvina-based blend is from vineyards southeast of Lake Garda. With cherry and floral aromas, this wine delivers more red berries and crisp green apples on the palate, leading to a well-balanced acidity and vibrant freshness. Perfect as a pre-dinner drink or with food.
Pair with: Summery antipasti classics like prosciutto and melon, caprese salad or bruschette laden with good things
From: Berry Bros & Rudd, £11.95
The best of the rest…

Lidl Pinot Grigio delle Venezie blush
IWC 2018 'Highly Commended' wine, this is a pleasant enough rosé, fruity on both the nose and the palate. Its scent is an appealing mix of peach and red summer berries, while its flavour is light and dry in the mouth, with distinct hints of strawberry. This rosé is slightly sweeter than some here, which may or may not appeal. It doesn't set itself apart in the ranks of rosé cohort in any great way, but it serves chilled as an easy-drinker in the summer months.
Pair with: Green salads and grilled chicken – or you can simply drink it on its own
From: Lidl, £4.25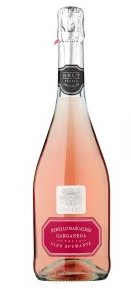 San Leo Nerello Mascalese Garganega Vino Spumante Rosé 
From San Leo, here's a classy pink fizz with all the right credentials, made from a blend of brooding Nerello Mascalese for colour, dry, elegant Garganega (the main grape in Soave wines) and bouncy Glera (Prosecco) grapes. Fresh and bubbly in the glass, it has an aromatic strawberry-filled bouquet, juicy strawberry and tarter raspberry flavours, a gentle mousse, and just the right amount of sparkle for summer.
Pair with: The perfect aperitivo, or with grilled summer vegetable antipasti 
From: Waitrose, £10.49

Le Colture Brut NV Sparkling Rosé
High in the lush, steep hills around Cartizze (the epicentre of Prosecco production) the Ruggeri family has tended its vineyards since the 1500s. This pretty pink sparkler is not a prosecco however, although it is made in the same way (Charmat fermentation in stainless steel tanks). A blend of 30 per cent Merlot and 70 per cent Chardonnay, it has a yeasty aroma, creamy mousse and ripe red berry flavours with
a crisp, bone-dry finish.
Pair with: For any celebration that calls for pink champagne – a top-notch alternative!
From: Corney & Barrow, £13.95

Casa Roscoli Pinot Grigio Blush DOC delle Venezie Organic
With just a hint of a maidenly blush in the glass, this wine is 100 per cent organic Pinot Grigio from Casa Roscoli in Pavia province. On the nose, it is abundant with the scents of summer berries, though in the mouth this juicy fruitiness is balanced by a gentle citrus acidity and minerality that gives it a crisp bite and smooth finish. Enjoy drinking it on its own or with food.
Pair with: White fish on the grill, seafood, such as pan-seared scallops or lobster
From: Tesco, £8.00

Mondelli Pinot Grigio 789 Terre Siciliane IGT
Sicilian Catarratto grapes meet northern Pinot Grigio in this crisply appealing rosé. The grapes are fermented separately – the Pinot Grigio grape juice left briefly on the skins to develop that characteristic rosy hue – then blended to create the rosato magic. Zippy and zesty with bright aromas of citrus and apple, you'll enjoy refreshing notes of green apple, lemon and lime on the palate. A top value summer rosé.
Pair with: Creamy pasta dishes, grilled white fish like sea bream or lemon sole
From: Sainsbury's, £5
For more great Italian wines to try, you'll find plenty of reviews here
Tags:
Drink Italia
,
Food & Wine
,
Italian wine
,
red wine
,
rose wine