Linguine al salmone affumicato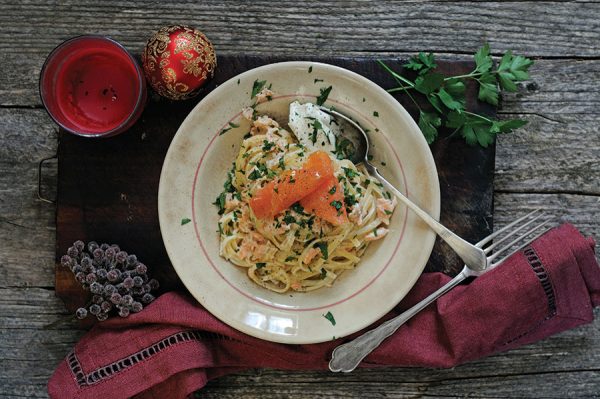 Pasta is one of the most versatile ingredients in that you can conjure a sauce or topping from practically any ingredient. At Christmas, one often finds an opened pack of salmon lingering in the fridge, and this recipe by Mario Matassa is ideal for a simple and tasty evening meal. Any smoked fish, such a cod or mackerel, will work equally well.
➤ SERVES 4
➤ PREPARATION 10 minutes
➤ COOKING 15 minutes
Ingredients
400g linguine (most forms of thick pasta, e.g. penne, would work well)
salt and black pepper
4 small shallots
1 clove garlic
4 tbsp olive oil
250g smoked salmon
200ml cream
half a lemon
4 tbsp finely chopped parsley
4 tbsp cream cheese or mascarpone
Method
Bring a large pot of water to the boil, add salt and throw in the pasta. While it's cooking, finely chop the shallots and the garlic, place in a heavy-based fry pan with the olive oil and gently heat. Add the salmon roughly chopped and season generously with black pepper. Pour in the cream and a ladle of water from the pasta. Bring to a very gentle boil.
When the pasta is cooked al dente, strain it into the cream sauce. Add another ladle of the cooking water and toss together. Turn off the heat and squeeze over the lemon juice. Serve immediately with an extra drizzle of extra-virgin olive oil, a sprinkling of chopped parsley and a tablespoon of cream cheese or mascarpone.
Find more recipes in our archive.
Tags:
Recipes