We asked our wine buyers to recommend good-value Italian red wines to enjoy this spring and beyond. Here are six we think will become favourites for 2018…
Even if you have your 'go-to' wines, one of the joys of wine appreciation is finding a new bottle that surprises you and goes on to become a favourite. So, we asked our experts to recommend their top choices from lesser-known producers, or wines from the bigger names that tend to get overlooked.
Happily for us, Italy boasts a deliciously diverse catalogue of wines, and we have bottles here you might not have heard of, like the Rosso Piceno, which comes from Le Marche, or the Salento Rosso produced by Candido in Puglia. One thing's for sure: you're not going to see an Amarone or a Barolo gracing this feature, though we do have two delicious Barberas from the same region for you to try, and they both come in at under £15. Enjoy!
Rosso Piceno DOC,
Vignamato, 2016
This Le Marche DOC wine is a Montepulciano, Sangiovese and local Lacrima di Morro d'Alba blend. Legend has it that Hannibal used it as a rubdown for his army's horses, but what a waste! With flavours of forest fruits, roses and violets, this hearty and full-flavoured with a dry edge is complemented by a delicately fruity finish.
Pair with: A generous serving of meat-filled pasta, a rich venison casserole or tender calves' liver pan-fried in butter 
From: Nife is Life, £10.50
The best of the rest…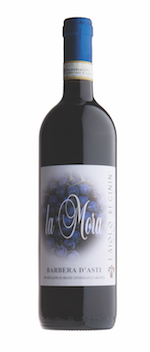 Barbera d'Asti DOCG, La Mora, Laiolo Reginin, 2015
Hailing from a tiny seven-hectare vineyard in the Asti region, this Barbera d'Asti wine offers a level of complexity and sophistication comparable to its Nebbiolo neighbours but without the price tag, which makes it a real find. Vibrant aromas of blueberries and blackcurrants lead to even more juicy dark berry fruit in the glass, with a tart edge, a hint of savoury liquorice and very smooth tannins to finish.
Pair with: Lamb cutlets, a steak tartare or risotto with truffle shavings
From: Berry Bros & Rudd, £14.75

Rosso di Salento IGT, Cappello di Prete 2013, Candido
Giacomo and Sandro Candido's Puglia winery continues to innovate and their wines are always a rewarding choice. Made from the native Negroamaro grape, this wine is perfect for laying down or drinking now. Open it up and you will be met with aromas of berries, vanilla and tobacco, which develop on the palate alongside notes of spice and chocolate. The firm tannic structure leads to a velvety, slightly bitter finish.
Pair with: Herb-laden meatballs, grilled aubergines, or mature cheeses
From: Great Western Wine, £12.75

Corte Giara Bardolino, 2016
Corte Giara is Allegrini's negociant brand: the grapes for the label's wines are from carefully chosen growers in the region rather than using Allegrini's own. But that is not to say it is any less of a fine example of a Bardolino. Crafted with the Allegrini expertise, this is a wine that has so much to offer. With blackcurrant and wild strawberry on the nose, it is loaded with ripe cherry fruit in the glass and spicy notes. Well-balanced and easy to drink on its own or with food.
Pair with: Roast pork, grilled chicken and soft rind mild-flavoured cheeses
From: Noel Young Wines, £11.99

Villa de Forville Barbera d'Alba DOC, 2016
From the Alba region of Piedmont, De Forville is one of the oldest wine producers. 100 per cent Barbera, this deep ruby red wine is matured in oak barrels for a year to develop its rich aroma. It has enticing aromas of damson and clove and is packed with jammy, blackberry flavours and a hint of sour cherry and vanilla. There's a nicely balanced acidity between fruit and spice, making it smooth and velvety to drink.
Pair with: Grilled vegetables or a roasted leg of lamb with fresh rosemary
From: Majestic Wine, £13.99 (or £11.99 each for six bottles)

Waitrose Chianti DOCG, 2015
This wine from Waitrose is an excellent option – especially as it sneaks in just below the £7 mark! It's fruity and light, and while it lacks complexity of finer Chiantis, it is rich and lively in the mouth, with hints of sour cherry and an abundance of black berry fruits. Drink on it own or as a great wine with food, thanks to its structure and juiciness. Really good value, and a versatile wine to suit a multitude of occasions and just for everyday drinking.
Pair with: Meat- or tomato-based pasta dishes
From: Waitrose, £13.99 (or £11.99 each for six bottles)
Tags:
Drink Italia
,
Food & Wine
,
Italian wine
,
red wine
,
Wine