Mary Novakovich and friends enjoy a long-awaited reunion – and where better to do it than Tuscany?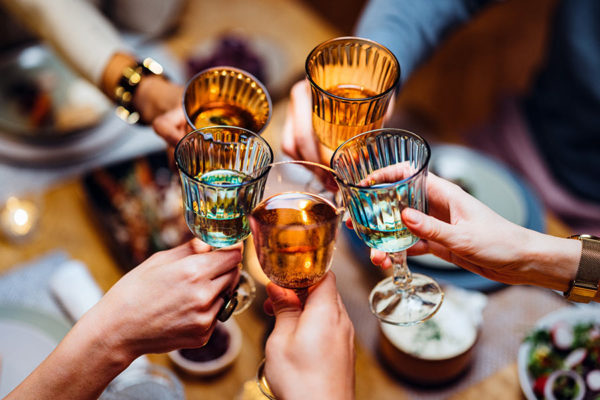 Better late than never. Covid had put the kibosh on so many celebrations during lockdown, but there was no way my friend Tracey wasn't going to make a big splash for her 50th birthday – even if it had to take place much later. And Tuscany was just the dream place to gather a group of girlfriends after a nightmarish time.
For a blissful few days, this slightly unruly gang of fifty-something women could step out of time for a while and let ourselves fall under a Tuscan spell.
No one was a mother, or a wife, or a taxi driver. We left our responsibilities at the bottom of the long, rosedecked lane that led to our temporary home, Villa Chiantisol.
Here we found ourselves in a landscape that – no matter how many times I come to Tuscany – never fails to enchant.
Rolling vineyards, swaying rows of cypress trees, honey-coloured stone houses topped with terracotta roofs, forests of olive groves – this was the view we all feasted our eyes on from the sprawling gardens of the villa.
About two kilometres to the south was the small village of Tavarnelle Val di Pesa, Florence to the north was about thirty-five kilometres and twenty-five kilometres southwest into Siena province was San Gimignano. We were in a prime spot for a little exploring, which we wasted no time in doing.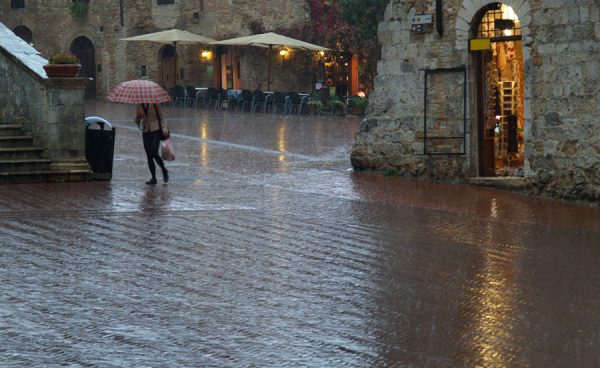 Timeless Beauty
The gloriously blue skies of the following morning didn't last. By the time we got to San Gimignano the heavens had opened and we hurried along the cobbled lanes into Piazza del Duomo trying not to get wet.
My hopes of climbing the soaring, medieval Torre Grossa, as I had during my last visit to San Gimignano, were dashed by the downpour, but still the piazza's timeless beauty shone through the gloom.
Elderly men were taking up their customary rainy day places in the deep recess opposite the Duomo and under the porticoes of the Loggia del Commune, sheltering from the weather and having their usual morning natter.
The rain had no intention of letting up as we hurried into the Piazza della Cisterna, where the Caffetteria Gelateria dell'Olmo was beckoning with the promise of il gelato più buono del mondo.
Selflessly rising to the challenge, I ordered a gelato al pistacchio, which was satisfyingly creamy and zinging with nutty flavour.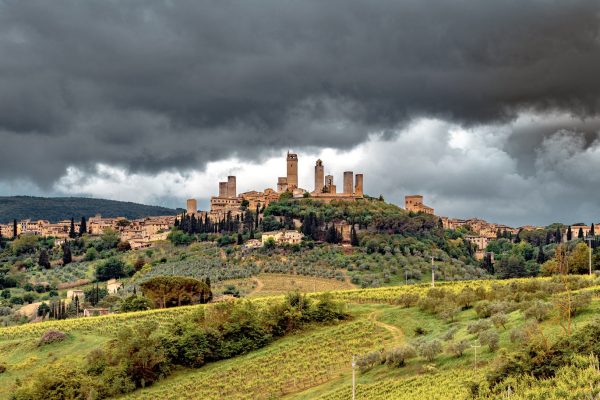 Into wine country
"Come along, ladies. Time to finish your coffees." Davide, our host from CV Villas, was keen to get us away for our next jaunt. As it involved wine-tasting and a leisurely lunch, we were just as keen to get going and head north, deep into wine country.
In this lusciously hypnotic landscape, we came to the family homestead of Casa Lucii winery, where brothers Lorenzo and Luca were continuing a tradition of winemaking that has been on their lands since 1776.
The brothers cultivate twenty hectares of Chianti and twelve hectares of Vernaccia di San Gimignano, plus vin santo, olive oil, fruit, vegetables, wheat, and even a managed forest. As you would expect in such an idyllic place, it's all organic.
"We moved to organic production twenty-four years ago," Lorenzo said as he showed us around the rambling farmhouse and its cellars.
"We didn't do it for the consumer. We did it for our own lives, because we are living in the countryside. We have a lot of children. Organic is better. You live better. If I want to produce beautiful grapes, I have to produce a beautiful, healthy vine."
Lorenzo showed us the airy attic-like space where his vin santo, made from Trebbiano, San Colombano, Malvasia and Colorino grapes was slowly turning into liquid gold over a minimum of four years. That vin santo would crown our lunch, which was waiting for us under twinkling lights on the wisteria-draped covered terrace just as the rains came hammering down again.
An aperitivo of Casa Lucii's fresh and fantastic Spicchio rosato satisfied even my French rosé-obsessed palate. The dry, crisp white Vernaccia and full-bodied Chianti went down as nicely as the exceptionally wonderful pecorino, a tricolore salad on wooden skewers, homemade fusilli al pesto and a platter of salumi and prosciutto.
Simple but superb. And then that intense yet delicate vin santo, blessed by the ritual dunking of crisp cantucci biscuits.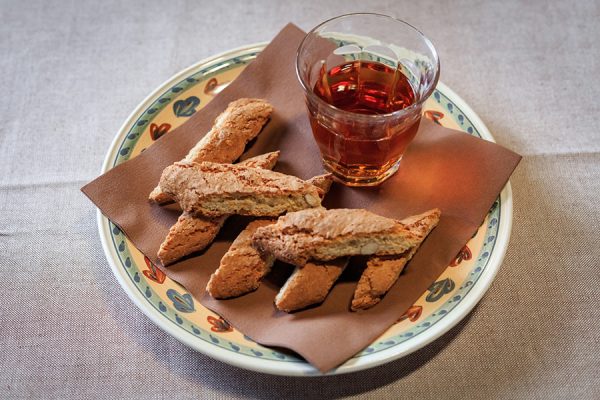 Party time
Although the weather refused to behave, we had an enormous ten-bedroom villa to wallow in when we returned – part of which included a lower-level mini spa. After soaking in the hot tub and drying off in the sauna, we carried on discovering the villa's secrets.
Traditional Tuscan décor is exactly what you want in this setting, and Villa Chiantisol provided just that – exposed stone walls, beamed ceilings, brick vaulted archways, terracotta floors, open fireplaces, elegant and agreeably overstuffed furniture, and not one but three kitchens.
We decorated the dining room and got pizzas and prosecco for the party. It was time to give Tracey the birthday she couldn't have, and we certainly made up for lost time as we danced with more gusto than grace till the wee hours. I could have danced all night – and I think I almost did.
Someone must have had a word with the weather overnight, because the sun came out the following morning and stayed for the rest of our time in Tuscany. Excellent weather for a morning swim, a lazy breakfast and an even lazier light lunch of cheese, charcuterie, salads and antipasti.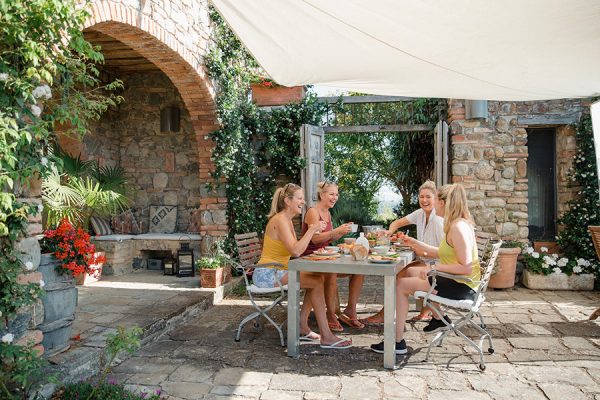 Florence foray
We had an afternoon in Florence to look forward to, where Florentine native Davide impressed us with his local knowledge.
As we walked towards Piazza Ognissanti, he pointed out the baroque façade of the Chiesa di San Salvatore in Ognissanti, which, despite having walked past it numerous times over the years, I had never really taken notice of.
And what an oversight. Not only is Botticelli buried there, but it's also the setting for compelling frescoes by Giotto, Ghirlandaio and Botticelli himself.
Refreshed by a riverside walk along the Arno, a nose round the jewellers on the Ponte Vecchio, a stroll through the Piazza della Signoria and the obligatory round of Aperol spritzes in the carnival-like Piazza della Repubblica, we followed Davide's suggestion to have dinner at Casella.
Down a narrow lane I wouldn't have spotted myself, we entered a cheery trattoria that took very seriously the words "generous portions".
After the gorgeously creamy tagliolini with artichokes, pecorino and crispy slices of pancetta, I was glad I decided to share a secondo piatto of tender braised beef cheeks and artichokes with another friend, Teresa, as I couldn't have done it justice myself.
Some of the others, meanwhile, were making a valiant attempt at eating pizzas the size of a planet. To cap it all, the chatty proprietor, Laura, made the thoughtful gesture of bringing out a little birthday cake for Tracey.
We had the following morning to do precisely nothing – if doing nothing meant relaxing by the pool and indulging in lunchtime poolside bellinis to go with huge bowls of pesto pasta smothered in parmesan. The cooking in the villa was kept to a minimum, in enormous contrast to the sheer debauchery of that evening's dinner.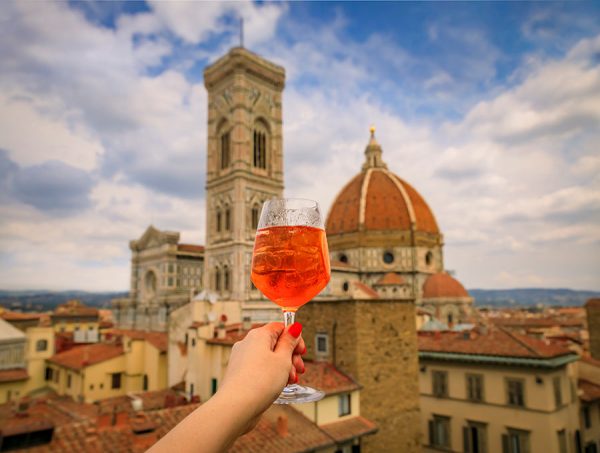 Last supper
About a thirty-minute drive from the villa was the exquisite village of Panzano in Chianti, where we wandered, entranced, in the early-evening light that was working its magic on the village houses and surrounding hills.
We headed towards Antica Macelleria Cecchini, the temple to panzanese beef prepared by Italy's most renowned butcher, Dario Cecchini, and then proceeded to have a meat feast like no other.
Apart from a vegetarian option, there was only one menu. Drinking Chianti from glasses wittily labelled Carne Diem, we started with Tuscan bread spread with beef fat (lovelier than it sounds) and crudités.
Then beef tartare, followed by seared rump carpaccio – and then perfectly grilled panzanese steak that came from the large charcoal grill behind us.
A bowl of Tuscan bean soup somehow found room in my stomach before a dessert of olive oil cake, grappa and vin santo.
Everyone was on communal tables with giant flagons of Chianti and jugs of water. Simplicity in itself, but oh so delicious – and all this for €30 a head.
Waddling back to the villa, fatter but full of the joys of female friendship, we plotted ways of finding squatters' rights at Villa Chiantisol. Failing that, we would just have to come back next year.
CV Villas offers holidays in Villa Chiantisol, which sleeps up to 20.
See more about Tuscany
Featured photo © miniseries via Getty Images