Tagliolini con Parmigiano, prezzemolo e panna
This delicately flavoured pasta dish is simplicity itself. If you serve it on its own, it will make a filling starter. With salad and some Italian bread, it becomes a complete meal. Use good-quality fresh pasta to cut down on time, because it cooks very quickly, although you can also use dried durum pasta if you have more time.
➤ Serves 2
➤ Preparation 5 minutes
➤ Cooking 5 minutes
200g fresh tagliolini or spaghetti
sea salt
3 tbsp single cream
3 tbsp chopped fresh flat-leaf parsley
6 tbsp freshly grated Parmesan cheese
freshly milled black pepper
Bring a large saucepan of salted water to a rolling boil. When the water boils, toss in the pasta, then stir, cover and return to the boil. Remove the lid. Boil for about 2 minutes, or until tender, then drain.
Return the pasta to the saucepan and mix in the cream, then add the parsley and the Parmesan and mix again. Reserve a little of the flat-leaf parsley and Parmesan cheese to garnish the finished dish if you like. Season with as much freshly milled black pepper as you like, then transfer to a warmed platter and serve.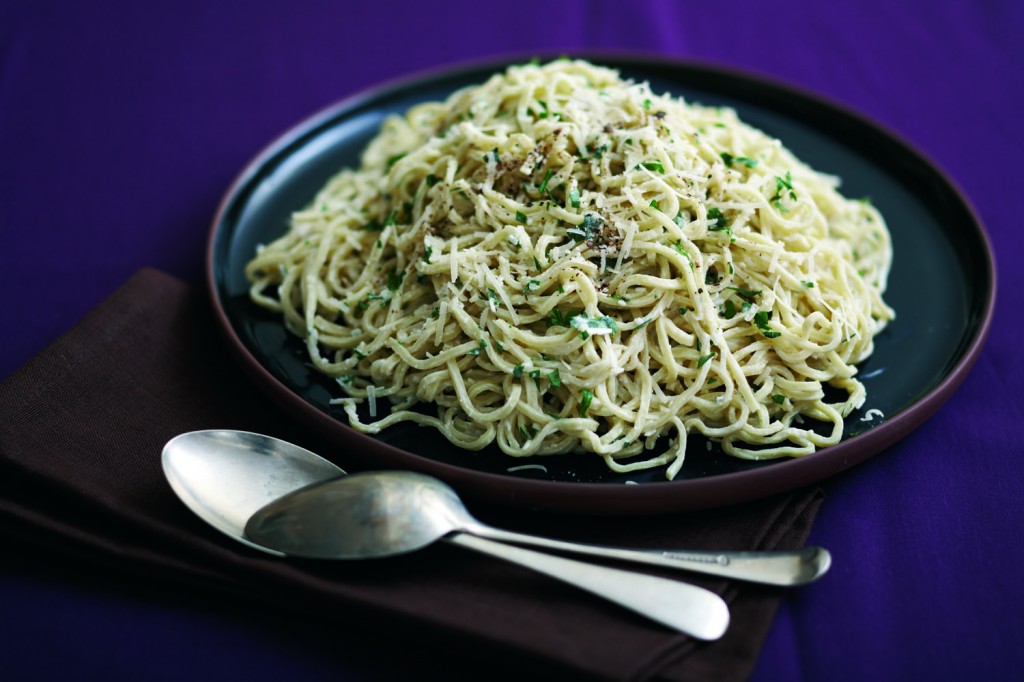 Educated in Italy, Valentina Harris brought her qualifications for teaching and cooking from Rome to London in 1976. Her Anglo-Italian springtime suppers are fabulously tasty – and ready in under an hour…
Tags:
food
,
Parmesan Cheese
,
Recipes
,
Tagliolini