The past few years have seen Prosecco become the go-to party fizz, but don't let the lighthearted bubbles fool you: premium Prosecco is in a class of its own. We take a look…
Glera, the Prosecco grape variety, has been grown in the area north of Treviso for hundreds of years, in particular around Conegliano and Valdobbiadene where the DOCG marque is applied. The grapes for DOC Prosecco production are grown farther afield beyond the remarkably compact Conegliano-Valdobbiadene area into the wider reaches of Veneto and Friuli-Venezia Giulia.
Unlike the sparkling wines of Franciacorta and Trentino made in the metodo classico, Prosecco is made using the Charmat method. Grapes are gently pressed and fermented in the usual way, and then transferred to sealed stainless steel tanks called autoclaves. At this point further sugars and yeasts are added to induce a secondary fermentation under pressure, forcing carbon dioxide into the wine to give it its characteristic fizz. The production process takes months, rather than the years needed to create metodo classico sparkling wines – so a Prosecco made from grapes harvested in October one year can be poured and enjoyed in the spring of the next, when it is at its freshest. 
Don't over-chill prosecco: 3-7 degrees centigrade is ideal. All the choices below are excellent examples and there is little to choose between them other than the level of sweetness…

Discovery of the month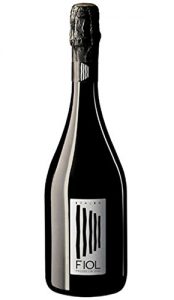 Fiol Prosecco DOC Extra Dry
In ancient Venetian dialect Fiol is a word chosen to express this luxury Prosecco's character: feeling like the life and soul of the party. It's elegantly spritzy with a floral bouquet of spring blossom and green apple. On the palate it is subtly sweeter with notes of tropical fruits and vanilla cut through with a delicate acidity. One to savour.
Pair with: Great as an aperitif on its own, of course, but equally delicious with a flavoursome platter of cured meats 
From: Great Western Wine, £13.95
The best of the rest…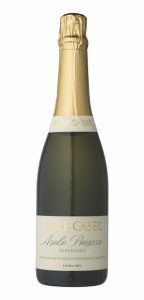 Bele Casel Asolo Prosecco DOCG Extra Dry
Bele Casel is a family-run prosecco producer, their small 10-hectare estate sitting in the Asolo DOCG subzone of Veneto. A deeper straw yellow in the glass, this is a Prosecco of substance with a mineral vein running through it thanks to the limestone soils the grapes are grown from. It has a creamy fizz and aromatic notes of green apple with a flinty edge. In the glass it has a fine mousse, plenty of fresh, tart fruit and well-balanced acidity.
Pair with: The perfect aperitif, it will also complement a creamy chicken pasta
From: Berry Bros & Rudd, £14.95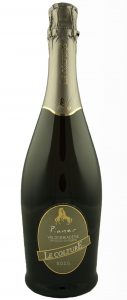 Le Colture Pianer Valdobbiadene Prosecco Superiore DOCG Extra Dry
Le Colture estate has been in the same family hands for over 500 years and it shows in the craftsmanship of this premium Prosecco. With a tight flow of tiny bubbles and green apple, ripe pear and white flower aromas, it has a depth of character in the glass that makes it a delight to drink. Refreshingly dry yet intensely fruity, there's more than enough refinement here to make it an absolute classic.
Pair with: Its crisp acidity will go well with a mild cheese like Fontina.
From: Corney & Barrow, £14.99

La Marca Conegliano Valdobbiadene Prosecco Superiore DOCG Extra Dry

Produced from grapes grown in the hills around Conegliano and Valdobbiadene, this prosecco is pale straw in colour with a fine tingly mousse and aromas of apple and apricot. In the mouth, it is fresh and fruity but with a palate-cleansing hit of citrus, green apple and grapefruit and subtle mineral undertones. The light finish is crisp, refined and moreish. 
Pair with: On its own or with a creamy risotto or simple white fish dishes.
From: Majestic Wine, £11.50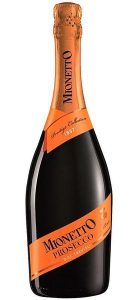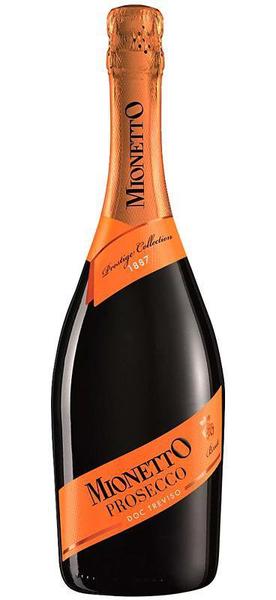 Mionetto Prosecco Treviso DOC Brut
Produced in the Treviso DOC region by the Mionetto company, and from their Premium Collection, this is the company's flagship Prosecco. Dry as you like, fresh and full of zingy little bubbles, this lively Prosecco is aromatic with citrus and green apple. It is lightly-bodied and well-balanced on the palate – quite dry and flinty with just enough orchard fruit in the mix to make it refreshing in the final flourish. 
Pair with: Great with dolci – try it with panettone, biscotti and other pastries.
From: Mionetto, around £11 
Villa Sandi Il Fresco Treviso DOC Prosecco Brut
With vineyards right across the Prosecco-producing regions, Il Fresco is just one in the range of Villa Sandi premium prosecchi and is produced in the Treviso DOC zone. Fragrant and floral, the mousse is delicate and continuous in the glass and effervesces on your palate as fresh fruit flavours develop and mellow into a pleasing finish. Balanced acidity and sweetness create an elegant wine brimming with character.
Pair with: Perfect with antipasti, or serve solo as an aperitivo at your next party.
From: Bellavita, £11.95
For more great Italian wines to try, you'll find plenty of reviews here.