With wonderful locations, a warm welcome and delicious food, the Alta Badia mountains aren't just for the winter, says Amanda Robinson
Photos by Amanda Robinson unless otherwise stated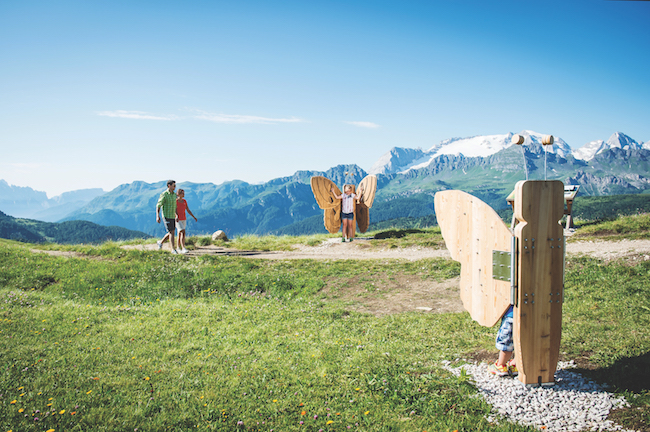 Think of the Dolomites and what do you see? It usually conjures up a picture of snow-capped peaks twinkling in the sunlight, rustic mountain lodges, bustling cable cars and ski lifts, and all the excitement of the ski season.
It is all of those things, of course, but it is also so much more. We had come in the late summer to Alta Badia in this eastern reach of the Italian Alps. This is South Tyrol, Italy's northernmost province, bordering Austria and Switzerland. Politically, national boundaries have been quite fluid in this area for centuries, and the people here speak three languages: Italian, German and the local language, Ladin. It is an area that enjoys the unique combination of an Italian way of life alongside the proud traditions of Alpine people.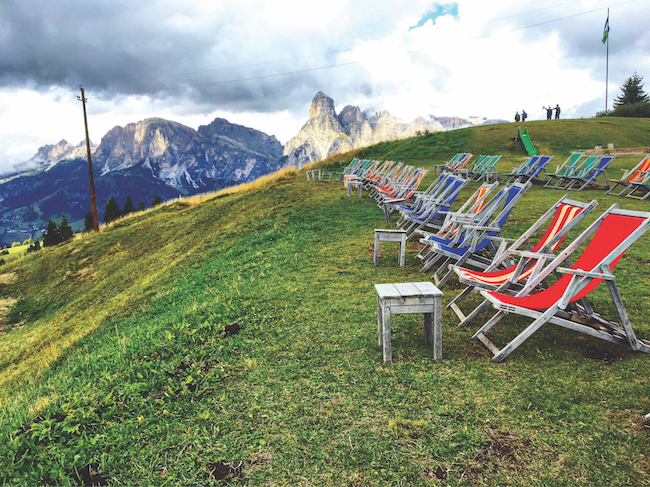 Summer destination
At the foot of impressive Dolomite summits that stand sentry over a broad valley lie the six small villages that make up the Alta Badia region, namely Corvara, Colfosco, La Villa, San Cassiano, Badia and La Val. The Dolomites are a UNESCO World Heritage Site and Alta Badia boasts some of the best ski slopes in these mountains. But with more than 300 fine weather days per year, this area is also a growing destination for an outdoorsy summer holiday. And no wonder, as when all the snows have gone, a carpet of lush green meadows is revealed against the backdrop of those rugged peaks. It's a place of stunning natural beauty and, thanks to the energetic commitment of the area's tourism agencies, a wonderfully accessible area for all.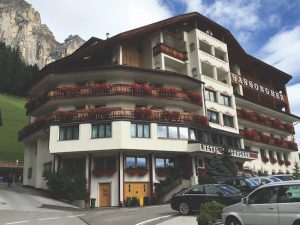 We piled into our minibus and left the flatlands of Venice airport behind us and climbed steeply and steadily up into the mountains. The roads clung tightly to the contours of the ever-steeper inclines as we rose into the Dolomites and – to cut a long story short – we were grateful to descend somewhat shakily onto terra firma three hours later. "If you have the choice," said Catherine, our guide, "get the flight to Innsbruck as the transfer journey is quicker all round." A top tip for fragile travellers right there.
But, to be honest, I think any queasiness was combined with mounting excitement as we started our vertiginous descent into Corvara in Badia, our base for the next couple of days. Down through the town we sped and up the other side to its very edge, where Hotel Sassongher sits.
Taking its name from the massif of Sassongher which rises sharply behind it, Hotel Sassongher has been owned by the Pescosta family for more than seventy years. Once a simple albergo, it is now a well-appointed five-star hotel with an alpine spa, swimming pool and wellness centre in its cosy interior. Family treasures and memorabilia are all around – lovely little touches that invite the weary walker to sit back and relax.
And relax we did that night, after a hearty gourmet dinner in the hotel's Hunter's Stube, an intimate wood-panelled nook in the restaurant. Menu choices like venison tortelloni and chamois bites with polenta were all locally sourced, tender and delicious, and these were rounded off by a lively singalong in the Piano Bar with the hotel's resident pianist, the utterly charming Carmelo.
Hearty breakfast
After our restful night's sleep and fuelled by a hearty breakfast the following morning, we headed off to the cable car. If you're in the Alta Badia area for a while it is best to get yourself a lift pass which allows you to explore over several days (details below). Climbing up to 2,000 metres at Piz Sorega, the air was crisp and invigorating and the panorama before us eye-catchingly awesome, with pastures and meadows, craggy rock faces and picturesque alpine villages dotted around in the distance.
There is a network of well-tended and signposted trails that snake all around the plateau, and such a spectacular setting will inspire you to get moving, whatever your level of fitness, age or inclination. There's something for everyone, from gentle strolls perfectly suited to young families, to longer hikes, treks over several days, or more technical challenges like rock climbing.
Whether it's a hardcore hike, off-road biking or the gentler option of an e-bike, you can do it all up here. Also dotted around the plateau are Movimënt Parks; if you're familiar with the concept of the Trim Trail, this is the same idea but magnified countless times over. You'll be tempted like we were (with varying degrees of aptitude, it has to be said) to have a go on the fitness stations or test your coordination on the easy-to-use equipment. There are plenty of activities for the kids to try as well, including the biggest trampoline I have ever seen in my life.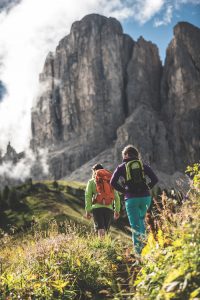 And the best thing is that you can stop off at any of the numerous mountain huts along the trails for a bite to eat. In summer, eight mountain huts are involved in the 'Peaks of Gastronomy' initiative. Michelin-starred chefs create signature dishes that you can try or, if you don't fancy fine dining, the huts also serve regular snacks and drinks to fuel you on your way. Our pitstop at Rifugio Bioch included a generous al fresco feast of local antipasti and mountain aperitivo the 'Hugo': a light, refreshing concoction of elderflower cordial, prosecco and mint. Then inside to sample the exquisite red turnip tagliatelle with local herb pesto and grated nuts by Cristina Bowerman, a Michelin-starred chef from Rome.
The next day, soothed by Hotel Sassongher's hospitality, spa and gourmet food, we did it all again. The sense of space, fresh air and general well-being was seriously seductive and even the non-walkers among us were hooked. We ascended to Col Alt, another mountain refuge in a spectacular setting for a fabulous meal, but this time it had snowed. It was just a light dusting, but a glimpse of those welcoming green pastures in their more familiar winter garb.
TIP: From June to September, get an Alta Badia Summer Card lift pass for use on the gondolas and chairlifts in Alta Badia. Prices depend on the duration of your stay, and start from €51 for adults and €36 for children.
Where to eat and stay
Hotel Sassongher
Cosy, luxurious, family-run hotel in the ever-so friendly town of Corvara in Badia. The Wellness Centre and indoor pool are the perfect balm for tired limbs, and the outstanding food will fuel your endeavours the following day. Don't miss the evening hors d'oeuvre buffet: this is a magnificent array of tempting appetisers, including turtres, a local speciality – essentially crispy filled pancakes. Rooms are available from €175 per person per night, based on two adults sharing a Comfort Room on a half-board basis.
Strada Sassongher, 45 – Corvara in Badia

 +39 0471 836085
Rifugio Bioch
'Ütia de Bioch' is a typical mountain hut with a large sunny terrace, bar and restaurant serving aperitifs, simple dishes, Ladin, Tyrolean and Mediterranean cuisine, homemade desserts, and great wines. Piz Sorega is the nearest cable car.
Località Bioch, 1 – San Cassiano, Corvara In Badia

 +39 329 591 4008
Rifugio Col Alt
Open all week, the restaurant serves the freshest local mountain produce as well as dishes from further afield. Try the hearty canederli and 'speck and lardo' antipasto with red onion chutney.
Col Alt, Corvara in Badia

 +39 0471 836324
Getting there
By plane
The nearest airports to Alta Badia are Innsbruck (nearest), Venice Treviso and Venice Marco Polo.
By road
The roads from the airports wind around the mountains so be prepared!
Transfer times:
Innsbruck, 2 hours 20 minutes
Venice Treviso, 2 hours 45 minutes
Venice Marco Polo, 3 hours
Find out more about the area's gastronomic credentials here.