These vanilla scented creamy panacottas, drizzled in a summer fruit coulis, go brilliantly with fruit, and raspberries and blackcurrants are a winning combination for a delicious summer dessert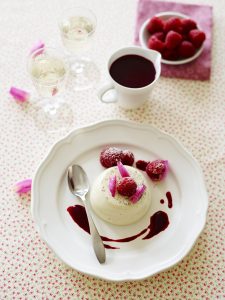 Serves: 4
Prep time: 25 mins
Cook time: 10 mins
Ingredients
For the pannacotta
300ml milk (full fat or semi skimmed)
300ml double cream
30g caster sugar
1 vanilla pod, cut in half lengthways
3 sheets of leaf gelatine (a total of 6g)
4 dariole moulds or small ramekins
For the summer fruit coulis
100g blackcurrants
4 tbsp water
3-4 tbsp caster sugar, to taste
225g BerryWorld Raspberries
To serve
225g punnet of raspberries
Method
To make the panacotta, pour the milk and cream into a small heavy based saucepan. Add the sugar and the split vanilla pod and set over a medium heat. Stir well and bring up to just below boiling point before turning off the heat and leaving to infuse for 15 minutes.
Add the gelatine sheets to a small bowl of cold water and set aside to soften for 10 minutes. Remove from the water, squeezing out the excess as much as possible and drop them into the warm vanilla milk, stirring well until completely dissolved. Strain through a sieve into a jug, discarding the vanilla pod. Pour evenly into the moulds and allow to cool to room temperature before chilling in the fridge until set – about 2-3 hours.
Whilst the panacotta is setting, make the coulis by adding the blackcurrants, water and sugar to a small saucepan. Set over a medium heat and simmer gently for 5 minutes until the fruit has completely collapsed. Turn off the heat and add the raspberries, squishing them with the back of a spoon to break them up. Taste for sharpness and add a little more sugar if necessary. Puree until completely smooth, either with a stick blender or in a liquidiser, then strain through a sieve into a bowl and set aside to cool in the fridge.
When you are ready to serve, fill a small deep bowl with boiling water. Dip each dariole mould into the water for just a second or two, taking care that the water doesn't come over the top. This will release the dessert from the sides, but be brief as it will melt very quickly. Place a small serving plate over the top and invert the mould – the panacotta should come away onto the plate with ease. Repeat with the other moulds.
Dress the top of each panacotta with raspberries, allowing a few to fall over the sides, and drizzle on a little blackcurrant coulis. Serve and enjoy immediately.
Recipe originally from Berry World