Griddled chicken skewers, or, spiedini are a popular summer treat to cook and eat outside…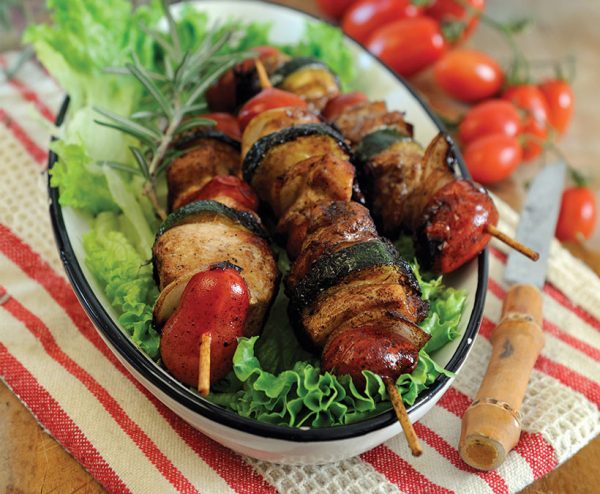 Spiedini, to give them their Italian name, are a firm favourite in Italy over the summer months. They don't require indoor cooking and can be easily prepared in advance.
They are cooked and sold at practically every festival throughout the country and are usually accompanied with fries.
In Emilia, they are most often prepared with a mixture of pork – alternating layers of loin, pancetta and sausage. This griddled chicken skewers recipe makes a lighter version of the same, using chicken and vegetables.
Sandwich the chicken between slices of onion, which keeps the meat moist and renders a sweetness you'll love.
➤ SERVES 4
➤ PREPARATION 15 minutes
➤ MARINATING 1 hour
➤ COOKING 15 minutes
Ingredients:
500g free-range chicken breast
2 medium-sized courgettes
1 large onion
300g baby plum tomatoes
50g extra-virgin olive oil
1 clove garlic, crushed and chopped
1 sprig fresh rosemary
sea salt and freshly ground pepper
1 tsp sweet paprika
crisp lettuce, to serve
Method
Chop the chicken into bite-sized pieces and slice the courgette into rounds. Peel the onion in layers and chop into equal sized pieces. To assemble the skewers, start with a baby tomato, a slice of onion, a piece of chicken, another slice of onion and finally a courgette. Repeat three times for each skewer. Two skewers per person is more than adequate.
Pour the olive oil into a shallow dish and add the crushed garlic, rosemary, salt and pepper. Place the prepared skewers into the dish, sprinkle with paprika and allow to marinate for about an hour, turning occasionally.
When you are ready to eat, heat a griddle pan (you could also cook these on a barbecue) and place the skewers on top. Cook for 15 minutes, turning frequently. Brush a little of the marinade over the skewers as you go. Season with a little more salt and serve on a bed of crisp lettuce.
Recipe and photo by Mario Matassa
Find more recipes in our archive.
Tags:
Recipes