These deliciously creamy potato skins are the perfect lunchtime dish. The saltiness of the Gorgonzola cuts through the hint of sourness of the crème fraîche for an unbeatable combination.     
Gorgonzola, Mushroom and Crème Fraiche Potato Skins by Dr. Oetker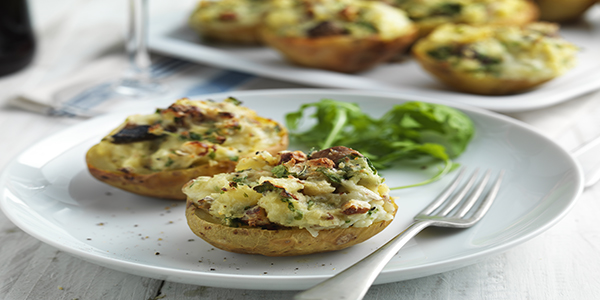 Serves: 4    Preparation time: 20 mins     Cooking time: 1 hour 30 mins
Ingredients:
6 small potatoes, washed
Olive oil
Salt & pepper
75g/3oz chestnut mushrooms, washed, sliced and fried until soft
4 tbsp crème fraîche
2 tbsp chives, chopped plus extra to serve
2 tbsp rocket, chopped
150g/6oz Gorgonzola, crumbled
50g/2oz hazelnuts, roughly chopped
 Method
Pre-heat the oven to 180°C, 350°F, Gas mark 5. Prick the potatoes, then toss them with the oil, salt and pepper. Place on a baking tray and bake in the oven for 1 hour until cooked through. Leave to cool slightly.
Slice the potatoes in half and scoop out the potato flesh, leaving ½ cm rim.
Meanwhile mash the potato in a bowl with 1 tbsp of crème fraîche. Add the remaining ingredients and mix carefully so you don't overmix.
Fill each potato skin with a spoonful of the Gorgonzola mash. Bake in the oven for a further 10-15 minutes until golden and serve.