Funghi al forno ripieno di spinaci, brie e noci
 ➤ Serves 4  ➤Preparation 10 minutes   ➤ Cooking 20 minutes
3 tbsp olive oil
4 field or Portobello mushrooms,
wiped and stalks removed
225g baby leaf spinach
40g walnuts, chopped
100g Brie (or Blue Stilton),
cut into small pieces
salt and freshly ground black pepper
mixed salad leaves and cherry tomatoes (halved),
to serve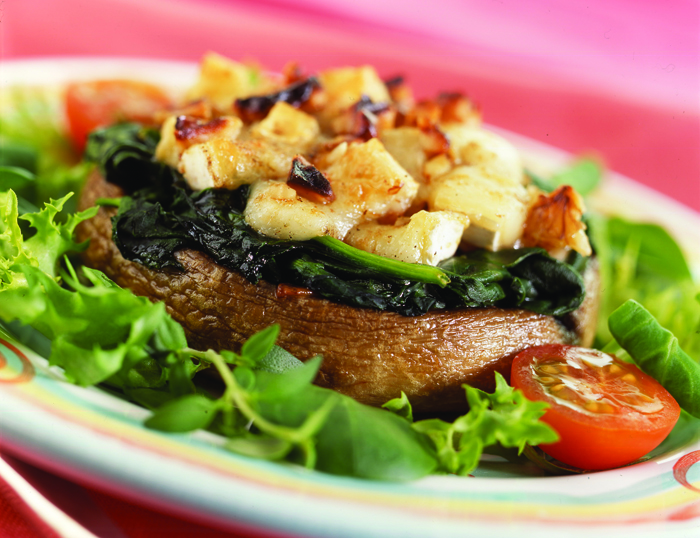 Heat the oil in a frying pan and fry the mushrooms on both sides until tender. Remove and place in a greased ovenproof dish in a single layer.
Wash the spinach and cook quickly in the water remaining on the leaves until wilted. Drain well and use to top each of the mushrooms.
Mix the walnuts and Brie together in a bowl and season well. Top the mushrooms with the mixture and place in a preheated oven (190°C/Gas Mark 5) or under the grill and cook until the cheese is bubbling and golden.
Serve on a bed of mixed salad leaves and garnish with cherry tomatoes.
Recipes and images © The Vegetarian Society. Recipe created with the Cordon Vert cookery school.