Involtini di melanzane e ricotta
Aubergine carries other flavours, and this ricotta combination shows the cheese off at its best. This Aubergine Rolls Recipe is perfect, and ready in just 25 minutes!
➤ Serves 2 ➤Preparation 10 minutes ➤Cooking 15 minutes
1 large aubergine, leafy top trimmed off
6 slices bresaola
125g ricotta
a small handful of fresh mint
1 small jar good-quality tomato sauce
(around 200ml)
salt and freshly ground black pepper
1½ tbsp extra-virgin olive oil
1½ tbsp pine nuts, toasted
Preheat your grill. Slice the aubergines lengthways, getting around six slices, just over 5mm in width, from it to make the rolls. Brush the slices with the olive oil and place under the grill. They will take about 15 minutes to go soft and brown, turn them over halfway through the cooking time.
Finely chop the fresh mint and beat into the ricotta with salt and pepper. Once the aubergines are browned, allow to cool for 5-10 minutes. Set the tomato sauce over a gentle heat.
Take one slice of bresaola, fold it in half and lay on one of the aubergine slices. Spread a heaped tablespoon of ricotta over the bresaola and the inside of the aubergine. From the thinner end, roll the aubergine slice up. (Hold in place with a cocktail stick if desired, but they should hold on their own.) Repeat with the other aubergine slices.
Arrange three on each plate, spoon the tomato sauce over the top, and sprinkle with the pine nuts. Great with a side bowl of Umbrian lentils.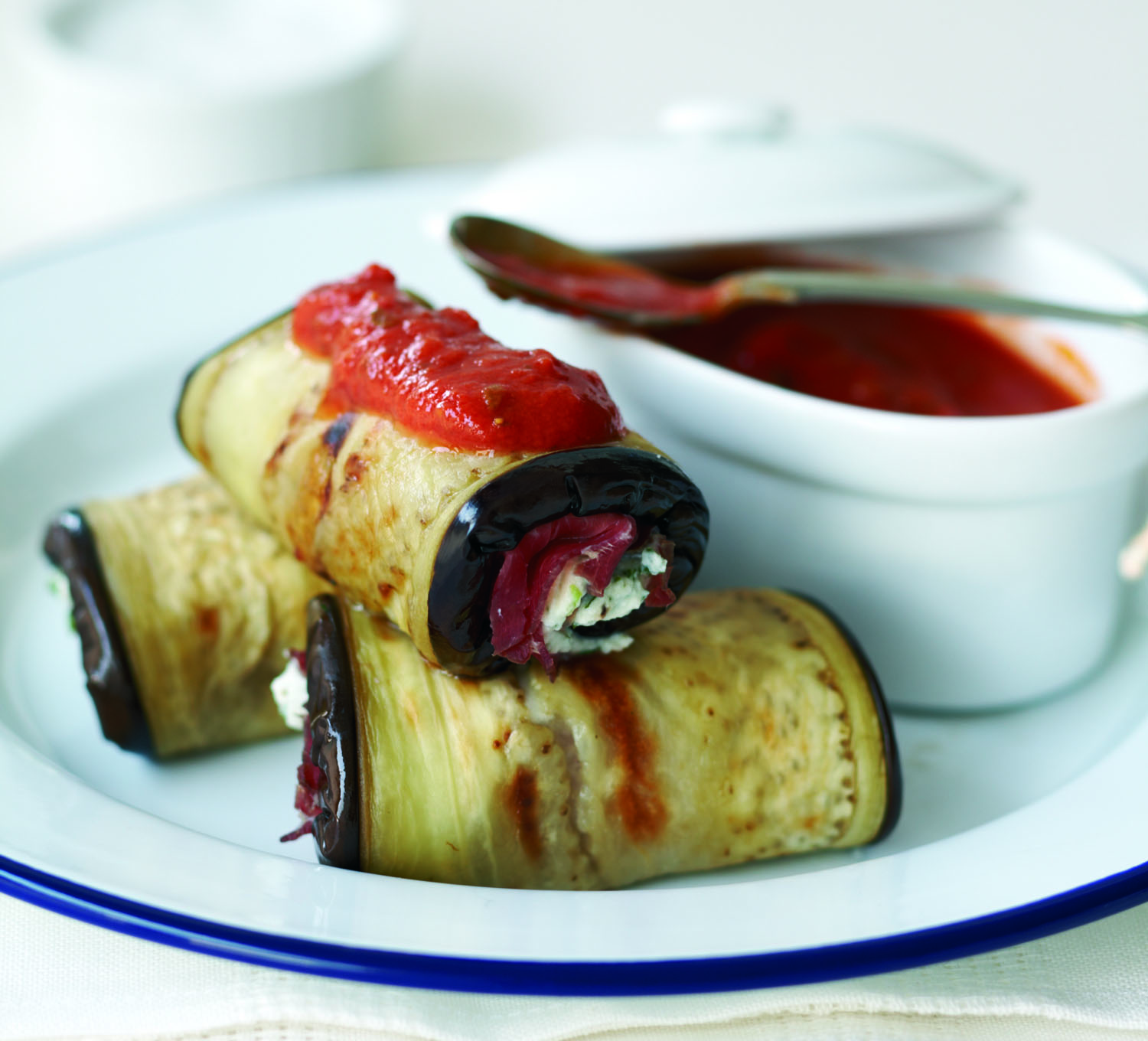 Educated in Italy, Valentina Harris brought her qualifications for teaching and cooking from Rome to London in 1976. Her Anglo-Italian springtime suppers are fabulously tasty – and ready in under an hour…