Join resident chef Mario Matassa as he shows us how to make perfect tagliatelle with step by step instructions!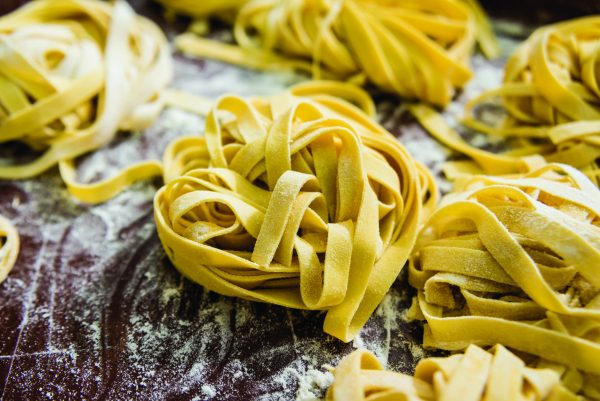 When I first moved to Italy, many years ago now, I quickly realised that there was one sure-fire strategy for ingratiating myself with my new neighbours: learn how to make a decent plate of fresh egg pasta. This may seem a rather odd prerequisite for relocation, but it will perhaps be easier to digest when I tell you that I live in the region of Emilia-Romagna, the home of fresh egg pasta in Italy. Campania might lead the way when it comes to pasta out of a box (which has its place), but if you want the real thing, if you want to eat fresh egg pasta, there's no better place in the world than right here, on my doorstep.
Knowing how to make fresh pasta is a basic survival skill here. There's no place in the kitchen for anyone who does not know how to make pasta – it's that fundamental. Cooks often shy away from the challenge of making their own pasta, opting instead for the convenience of 'fresh' pasta from the supermarket. But before you're tempted to reach into that chiller cabinet, try the real thing. You won't look back.
Rule of four
Remember the rule of four: 4 eggs, 400 grams of flour, 4 litres of water to boil the pasta in, and a tablespoon of salt. That's the formula for four hungry people, and it's so simple it hardly needs a recipe. Of course, though, when it comes to pasta, measurements are at best indicative. It's a question of knowing how a dough should feel and understanding how environmental conditions will affect the outcome. Different eggs will absorb the flour differently and environmental conditions will play a role too. Understanding how to take all that into account takes practice. But there are a few tricks to help you on the road to pasta perfection, and we will go through them here one by one.
You will need a pasta rolling machine to follow this technique. You can make pasta with a rolling pin, using the skills and techniques you would to make any pastry, but an entry-level pasta machine will soon earn its keep as you use it to perfect your pasta.
Once you've mastered the basic technique of making the dough and rolling out a sfoglia (sheet) of pasta, the versatility of the nation's favourite staple comes to the fore. Now you are faced with a choice. What shape of pasta? Today, we will make tagliatelle, the most popular fresh egg pasta, and the perfect accompaniment to a classic tomato sauce, a meaty ragù, or a creamy mushroom sauce.
Egg tagliatelle
Tagliatelle all'uovo
SERVES: 4
PREPARATION: 15 minutes, plus 30 minutes resting
COOKING: 3-4 minutes
INGREDIENTS:
400g plain Tipo 00 flour
4 free-range eggs
4 litres of water
1 tbsp salt
Recipe:
1 The first question people ask is which flour do I use? Here in Italy, Tipo 00 flour is the most commonly used for pasta. It's soft and elastic and easy to work with. It's commonly available in most supermarkets now, but if you can't find it, or don't have it to hand, plain (all-purpose) flour will do.
2 On a clean work surface, or on a dedicated pasta board if you have one, form the fl our into a volcano-shaped mound. (You can use a large bowl if you don't have a suitable surface, but a fl at work surface is better.) Begin by cracking the eggs into the middle of the volcano.
3 With the tip of a fork, break the eggs and then gently scramble them until they are fairly smooth, though they don't have to be perfectly uniform in consistency. A delicate touch is what you need here, above all else. You need to keep the structure of the volcano walls intact.
4 Once your eggs are beaten, you can begin to slowly draw in a little flour from the edges of the volcano. Work your way around the volcano gradually, and try not to break the wall too soon. Don't panic if you do, it's not the end of the world, but it could make the rest of your job quite messy.
5 As you draw the fl our into the beaten eggs, you can begin to mix the fl our and eggs together more freely. The mixture will begin to thicken to a consistency that will allow you to use your entire hands to knead everything together. Keep kneading, as you would bread. This should take from 3 to 5 minutes.
6 Once you have achieved a nice, smooth ball of pasta dough, you can set it aside to rest under a dampened tea-towel for 20-30 minutes. Don't be tempted to skip this part. The pasta really does need this time to rest. It will make it much easier to work with later. Take a break.
7 Cut off a peach-sized ball of dough and feed it through the largest setting of your pasta machine. Don't despair if the dough seems crumbly – it will come together. Fold the pasta sheet onto itself and feed it through again. Lowering the setting each time, repeat until the dough feels smooth and silky.
8 Once all the pasta has been rolled into sheets, the last step is to cut the pasta. Get to work on this straightaway as the pasta sheets will begin to dry out quite quickly. Set your machine measurements accordingly and simply feed your pasta into the machine with one hand and collect with the other it as it comes out.
9 You can fold the tagliatelle into little portion-sized bird's nests if you're feeling particularly confident by now, or simply arrange it all loosely on the board, adding a light sprinkling of fl our if it seems sticky. That's it! Now you just have to boil the water. Don't stint on the salt. And don't overcook the pasta.
There are plenty more delicious Italian-inspired recipes here.