See below for the best places to eat, what to see and do, where to stay and how to get there to ensure you have the best time in Taormina, Sicily…
What to see and do

Isola Bella

It would be easy to miss out on a trip to Isola Bella if you are on a short stay in Taormina as you can't actually see it from the town, but take the cable car down to the beaches of Mazzarò, turn right and you'll come to this perfect little cove and island. A private property until 1990, Isola Bella has been bought by the Sicilian government and is now a nature reserve. You can take the cable car back up into town or, if you are feeling suitable refreshed, get some serious exercise climbing the steps back up.
Giardino della Villa Comunale
Via Bagnoli Croce
If you crave a few little moments of peace and quiet amid the hubbub of Taormina town, head over to the public gardens, which were created by English gardener Florence Trevelyan. Elderly locals hang out on benches and shoot the breeze in the shade of the pretty mix of buildings, originally designed as apiaries, and the planting – particularly the clever Bougainvillea hedging – bears scrutiny by any keen gardener. 
Open dawn till dusk, free.
Taormina-Gardini train station
We wouldn't normally consider recommending a small provincial train station as a tourist attraction, but Robert Narducci's gorgeous art nouveau tiling, wrought iron and marble floors, combined with Salvatore Palmero Gregoretti's beautiful frecoes, easily make the 1928 building worth the enjoyable downhill clamber from Taormina, two kilometres away. From here the five-minute coastal ride to the beaches of Mazzeo and Letojanni is a must.
Chiesa San Giuseppe
Piazza IX Aprile
Don't let the skulls and crossbones on the arresting façade of the 17th-century church on Piazza IX Aprile put you off. The inside of this rococo church is a delight, with lots of white stucco giving the distinct impression of being inside one of the wedding cakes that are eaten so frequently here in the summer months.
Open 9am-7pm, free.
Bam Bar
Via di Giovanni, 45, 98039 Taormina
+39 0942 24355
This pretty granita and ice-cream bar is something of a Taormina institution, and offers a welcome respite from the heat and crowds. Come for the traditional Taormina breakfast of warm brioche and ice-cold granita in lots of lovely flavours, including lemon, peach and moreish chocolate.
Where to Stay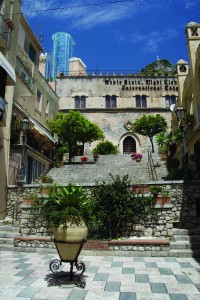 ➤ Taormina Palace
Viale San Pancrazio 56, 98039 Taormina
+39 0942 625557
www.taorminapalacehotels.com
This is the place to stay if you like your hotel to be totally ultramodern and upmarket. It has its own spa and sits in a great location overlooking the Spizzone beaches of Taormina. The rooms are stylish and bright, and all overlook the sea, while the superior rooms even have balconies from which to enjoy the view.
➤ Excelsior Palace
Viale Pietro Toselli 8, 98039 Taormina
+39 0942 23975
www.excelsiorpalacetaormina.it
The stately centenarian hotel that is the Excelsior Palace just exudes olde worlde charm, with its cocktail hours and elegant grounds, but it certainly doesn't stint on the more modern amenities either, which include a swimming pool with sundeck and a pretty little outdoor dining terrace.
➤ Metropole
Corso Umberto, 154, 98039 Taormina
+39 0942 681330
www.hotelmetropoletaormina.it
Right on the Corso, the Metropole is the hotel for you if you want to be right at the heart of the action in Taormina. Built in the 17th century, it has recently been sympathetically restored and renovated to include a spa and comfortable rooms, with restrained décor and all mod cons included. The occasional jazz concerts and a stunning terrace are both excellent selling points as well.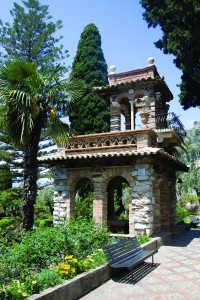 Piazza San Domenico 5, 98039 Taormina
+39 0942 613111
www.san-domenico-palace.com
Antique furniture, a two-star Michelin restaurant and a setting in an ancient Dominican monastery with a stunningly beautiful cloister are just part of what make the five-star San Domenico so special. If you've just won the Lottery, splurge on the garden suite, complete with an outdoor plunge pool on its own private terrace, from €1,640 per night.
➤ Monte Tauro
Via Madonna Delle Grazie 3, Taormina
+39 0942 24402
www.hotelmontetauro.it
A funky 4-star design hotel at walking distance from the centro storico of Taormina, located close to the lovely Villa Comunale public gardens and the Teatro Greco, and with a unique view of the sea and Etna. It has arresting circular decked balconies overlooking a pleasant pool area, and a shuttle bus to the beaches.
Where to eat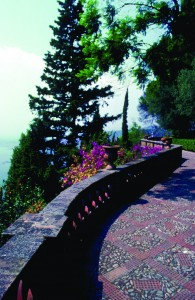 ➤ La Piazzetta
Via Paladini 5, 98039 Taormina
+39 0942 626317
www.ristorantiitaliani.it
Nestled in the charming courtyard of Piazza Paladini, this popular restaurant has all the local dishes, including pasta a la Norma (named after Sicilian hero Bellini and featuring aubergine, basil and smoked ricotta), but its best dishes are undoubtedly the fish ones. Friendly staff will talk you through the menu.
Price € € 
➤ La Giarra
Vico la Floresta 1, 98039 Taormina
+39 0942 23360
www.lagiarataormina.it
This is the place to seriously splash out, if you can get in – it's a popular wedding supper venue. In a stunning art deco interior and rooftop terrace with gorgeous views, impeccable waiters serve superior versions of classics such as spicy tagliata and frittura mista di pesce.
Price range € € €

➤ TIRAMISU
Via Cappuccini 1, Taormina
+39 0942 24803
www.tiramisutaormina.it
At sweet ceramic tables on a semi-shaded terrace, Tiramisu serves some of the best pizzas in Taormina, as well as the usual selection of local pasta and fish dishes – the linguine with mussels, mint and courgette is very good. And as you'd expect, the tiramisu is one of the best you're likely to taste. There's also a more informal trattoria at via Apollo Arcageta 9, near Porta Catania.
Price range € €

➤ The Flamingo Beach Bar
Via Michelangelo Garufi 34, 98037 Letojanni
+39 0942 36353
www.flamingopub.it
With a raised terrace overlooking the sea, the Flamingo beach bar is a great lunch spot if you've wisely retreated from the buzz of Taormina for a day at the beach. Fish dishes are cheap and generous, but the pastas are excellent too.
Price range € €
➤ Lido La Romantica
Via Naxos, 98035 Giardini-Naxos
+39 0942 53077
www.lidolaromantica.it
Giardini-Naxos makes a nice short excursion from Taormina, offering a good mix of beach and culture. At the former, la Romantica stands out for a fine selection of fish dishes and a lovely setting.
Price range € €