Planning to explore beyond Naples  and visiting the Campi Flegrei? Here's all the top tips from where to dine, where to stay and what to see and do!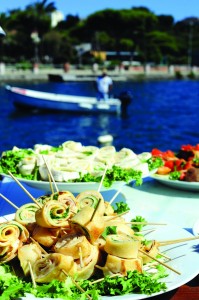 WHERE TO EAT
Wine lovers won't be disappointed by the great tradition of the white Phlegrean Fields, the mellow red Piedirosso, and the incomparable white Falanghina. Local cuisine predictably focuses on fish and seafood. When in season, don't miss the tasty Annurca apple – a local delicacy known since the times of Pliny the Elder.
➤ Ristorante bobo
Via C. Colombo 20, Pozzuoli Porto
+39 081 526 2034
A small restaurant, just across from Pozzuoli's ferry terminal. A favourite with locals and celebrities, it offers
a mouth-watering fish menu where pesce is prepared straight off
the boat by flamboyant chef Bobo. Book in advance.
➤ Vigneto Storico Mirabella
Lago d'Averno
vigneto.mirabella@gmail.com
Eat al fresco under a pergola, in the middle of a vineyard just off the shores of Lake Averno, with traditional Neapolitan music and dance. Email them for more information on their calendar of events.
➤ Osteria Abraxas
Via Scalandrone 15, Lucrino
+39 081 854 9347
Dine al fresco with a view of Lake Averno on the terrace of this superb restaurant, which focuses on meat dishes (a nice change, considering most of the food offered in the area is about fish). The antipasti are simply delicious, and expect excellent service.
WHERE TO STAY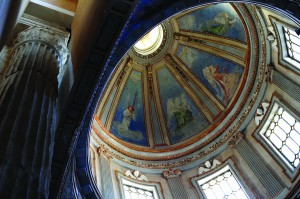 The Sorrentine peninsula and surrounding area, with its excellent selection of hotels, has a more appropriate choice than this side of the Bay of Naples. Sorrento is only 40 minutes away on the Circumvesuviana railway, as well as nearby Naples.
➤ Grand Hotel Parker's
Corso Vittorio Emanuele 135
+39 081 761 2474
A favourite with British travellers on the Grand Tour, this scenic hotel has gone through several years of intensive building work, which only enhanced the hotel's original grandeur: silk-covered walls, crystal chandeliers, period furniture, antique paintings and statues abound everywhere. The rooms on the front offer a spectacular view of the bay and Mt Vesuvius, as does the restaurant on the roof terrace.
➤ Hotel Cimarosa
Via Cimarosa 29
+39 081 556 7044
Stylishly converted from a no-frills pensione into a hotel by its architect owner, this place has an enviable setting in the cool Vomero district. Eight of the 16 rooms have sea views; all are spacious and individually decorated, in a minimalist style.
➤ Hotel Crowne Plaza
Castellammare di Stabia
+39 081 394 6700
An old cement factory wonderfully transformed into a tasteful four-star hotel, compete with a renowned wellness centre. Beautiful, minimalistic rooms and the most breathtaking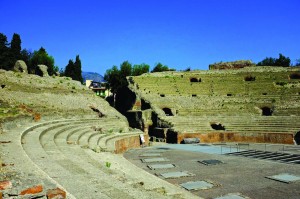 WHAT'S ON AND WHEN TO GO
In April Pozzuoli hosts the Herculean Games, mini Olympic Games in honour of Hercules. In June, Quarto is the setting for the Fruit Festival (plum and cherries) and the Fish Festival in honour of St Peter and Paul on 29 June. September is predictably the month of several grape festivals: Falanghina in Quarto and the Grape Festival at Monte di Procida, with floats and tastings, as well as the Malaze food festival, with several excellent enogastronomic events. Check www.malaze.org for exact dates throughout 2012.
➤ Rione Terra
Largo Sedile di Porta
+39 081 193 0578
Open on Sat and Sun 9.00am-7.00pm with two guided visits Sat and Sun at 4.00pm and 5.00pm. The site is open only during certain periods of the year so call ahead before your visit.
➤ Anfiteatro Neroniano/Flavio Via Domiziana
+39 081 526 6007
Open every day except Tues from 9.00am to one hour before sunset. The ticket is €4 and it also gives access to the archaeological site of Cuma, the Parco Archeologico in Baia and the Museo Archeologico dei Campi Flegrei. For further information contact the Pozzuoli Tourist Board.
➤ Museo archeologico dei
Campi Flegrei
Castello di Baia, Via Castello 39,
+39 081 523 3797
Entrance to this comprehensive Archeological Museum is just €4. Call ahead for specific opening times, which can very between seasons.
➤ Parco archeologico subacqueo
Porto di Baia
+39 081 868 8923
Guided tours run Sat and Sun at 10.00am, 12.00pm and 3.00pm.
➤ Grotta della Sibilla
+39 081 526 6007
For further information on visiting the cave of the Cumaean Sibyl, contact the Pozzuoli Tourist Board. Tours and guides are available.
HOW TO GET THERE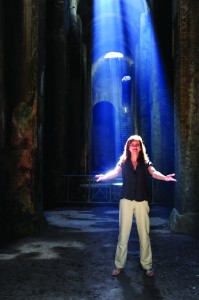 ➤ By Plane and Car
Fly into Naples Capodichino airport. To explore the area, car rental is the best option, although some sites are linked by the Circumvesuviana, the train line running around the base of Vesuvius.
➤ By Public Transport
Pozzuoli is very well connected to Naples. If time is not an issue, the most scenic (but slow) option is the 152 bus from Piazza Garibaldi (in front of the main train station) following the shoreline all the way to Pozzuoli.
A quicker way is by metro, with line 2.
Sepsa buses has several lines to connect the metro and train stations to different areas of the Campi Flegrei. More information at www.sepsa.it