Did Heather Crombie's 48 Hours in Bologna inspire you to book your next trip? Here's our top tips on where to stay, where to eat and what to see and do.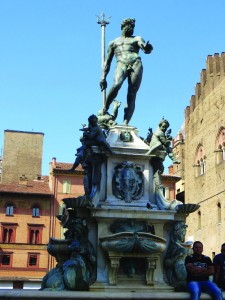 WHAT TO SEE AND DO
➤ The Two Towers 
For fantastic views of the city, climb to the top of the Asinelli and see how many more towers you can spot. This is also a central location in the city – five different roads lead away from the towers so pick one and see where it leads!
➤ Pasta-making Course
Il Salotto Di Penelope,
Via San Felice 116
+39 51 649 3627
www.ilsalottodipenelope.it
At the Salotte di Penelope you will be guided every step of the way to making perfect pasta and sauces to accompany each dish. Barbara and Valeria cater for different group sizes and are fluent in English. Everything is very hands-on, and classes can be tailored to your requirements. Choose a class to coincide with lunch or dinnertime.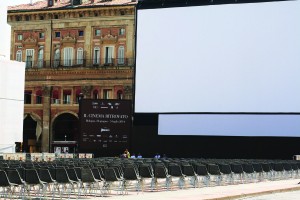 ➤ Open-air Cinema
www.cinetecadibologna.it
A very special film festival runs for eight days in summer, with many of the screenings taking place in the Piazza Maggiore. See restored classics and hidden gems across four venues (all within easy walking distance of each other) which attract crowds of film-lovers from all over the world. Get on the mailing list early to buy passes, which also give you discounts at selected hotels and restaurants.
➤ Biblioteca Salaborsa
Piazza Nettuno 3
+39 51 219 4400
www.bibliotecasalaborsa.it
A beautiful public building overlooking the statue of Neptune. It is worth stepping inside just to see the foundations of ancient Bologna. The library is also a peaceful place where you can find international newspapers.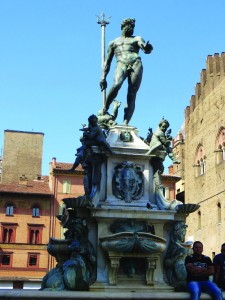 ➤ Pinacoteca Nazionale di Bologna
+39 51 420 9411
www.pinacotecabologna.beniculturali.it
This art gallery is in the university quarter of the city, housing a collection of works by artists related to Bologna from the 13th century onwards. Take a historical tour of Emilia-Romagna's cultural heritage with a collection that includes works by Raffaello and Giotto. €4 entry. Tues-Sun, 9am-7pm.
➤ Guided Tour
Via Emilia Ponente 3380/3,
40024 Castel San Pietro Terme
+39 51 695 8504
zabgio@libero.it
Multilingual guide Giorgia Zabbini will show you all the important sights and tell you the history of the city.
WHERE TO STAY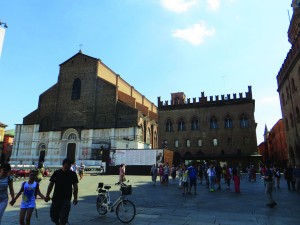 ➤ Palazzo di Varignana Resort & Spa
Palazzo di Varignana Resort & Spa,
Via Ca'Venturoli 1925,
40024 Varignana
+39 51 1993 8300
www.palazzodivarignana.it
This spa hotel has been open since autumn 2013 in the ancient town of Varignana outside Bologna. It has 89 rooms in four buildings, most of which connect to the main building via underground tunnels. There is a superb restaurant on site and you can enjoy a magnificent breakfast buffet by the pool.
The spa boasts five treatment rooms, a wellness centre and a gym – individuals and couples can book private spa rooms for an afternoon of pampering with prosecco. The hotel enjoys a beautiful outlook in stunning countryside, where you can go walking or borrow a hotel bike and follow the cycle trail in the 20 hectares of private grounds. It is very family-friendly hotel, with an outdoor play area for children.
There is also a conference centre where the hotel periodically hosts musical events and gala dinners. The hotel is a 25-minute drive away from Bologna, and offers a shuttle service to and from the airport or train station.
Double rooms from €160 per night (offers sometimes available on website)
Spa suite from €250 per night, Panorama suite €300 per night.
➤ Grand Hotel Majestic
Grand Hotel Majestic,
Via Indipendenza 8
+39 51 225 445
This opulent five-star hotel in the heart of Bologna is the oldest and grandest in the city centre. The building was designed by Torregiani in the 1700s and is elegantly decorated in the classical style. The on-site restaurant, Il Carracci, is popular with tourists and locals alike. If you are driving, private parking is available if you request it when you book. Double rooms from €250 per night.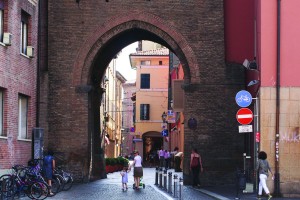 ➤ Hotel Porta San Mamolo
Hotel Porta San Mamolo,
Vicolo del Falcone 6-8
+39 51 583 056
www.hotel-portasanmamolo.it
Although this hotel is right in the centre of Bologna, it has a lovely outdoor courtyard which makes for a pleasant retreat from city life and provides a green space where you can unwind. You can also eat your breakfast outside, starting your day with fresh coffee and homemade cake. Ask for a room with a private terrace for some great views over the city. Double rooms start from €100 per night.
WHERE TO EAT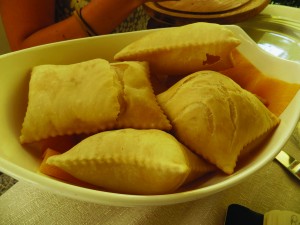 ➤ Palazzo di Varignana
Via Ca' Venturoli 1925, 40024 Varignana
www.palazzodivarignana.it
The poolside restaurant at this hotel is open to the public and offers a selection of tasty meals and snacks, together with a full bar. The stylish dining room is the perfect place to unwind. On the hotel site you will also find Il Palazzo, a gourmet restaurant offering the best regional dishes and fine wines. The elegant building boasts the best views of the whole resort and is the perfect location for a special meal.
Price range € € €
➤ La Capriata
Strada Maggiore 19, Corte Isolani 1
+39 51 236 932
www.lacapriata.it
This restaurant has an outdoor seating area at the rear and serves delicious crescentine. It is a great place to sample lots of local specialities such as mortadella ham, squacquerone cheese and grilled vegetables. They also serve gluten-free pasta. The desserts are fantastic. <
Price range € € €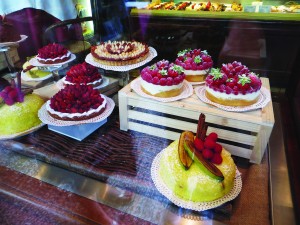 ➤ Trattoria La Montanara
Via Augusto Righi 15
+39 51 221 583
www.trattorialamontanara.com
This cosy restaurant is popular with local people and serves regional pasta dishes like ragù alla bolognese and the best of traditional Bolognese cuisine. Whether you opt for a lazy lunch or romantic dinner, booking is recommended.
Price range € € €
➤ Caminetto D'oro Trattoria
Via dei Falegnami 4
+39 51 263 494
www.caminettodoro.it
This restaurant has been running since 1927, and prides itself on serving seasonal produce in a variety of recipes that have been developed within the family. It has always been popular with artists and actors, being near the theatre. They have a fabulous cellar specialising in natural wines, and also serve artisan beers from local microbreweries. Closed on Sundays.
Price range € € €
➤ Twinside Bistro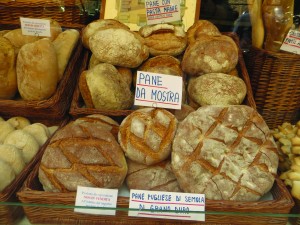 Via dei Falegnami 4
+39 51 991 1797
Twinside sits next door to Caminetto d'Oro and is owned by the same family. Here you can have a more casual dining experience, whilst enjoying the same quality of food. A popular choice for theatre-goers, and those with a nose for a good aperitivo.
Price range € €
GETTING THERE
➤ BY PLANE
You can fly to Bologna Guglielmo Marconi from London Stansted, Heathrow and Gatwick, and from Bristol, Dublin, Edinburgh and Manchester.
➤ BY CAR
Bologna is easily reached via the A1 and A14 motorways. Like most Italian cities, however, the centre is not a great place to drive around!
➤ BY TRAIN
Bologna is served by high speed trains on main lines. It takes half an hour to get there from Florence, an hour from Milan, an hour and a half from Venice and two and a half hours from Rome. The Metropolitan Railway System is also connected to most cities and provinces of Emilia-Romagna.
Piazza Medaglie d'Oro 2, 40121 Bologna
www.trenitalia.com
➤BY BUS
Aerobus services leave every 15 minutes from outside the arrivals area of the main terminal at Bologna airport and run to Bologna central railway station and the city centre. The journey takes around 20 minutes and a ticket costs €6 (you can pay on the bus). Bologna bus station is open from 4.30am to 11.30pm
Piazza XX Settembre 6, 40121 Bologna
www.tper.it
Tags:
48 Hours
,
Bologna
,
Culture
,
Holidays
,
Top Tips
,
Travel