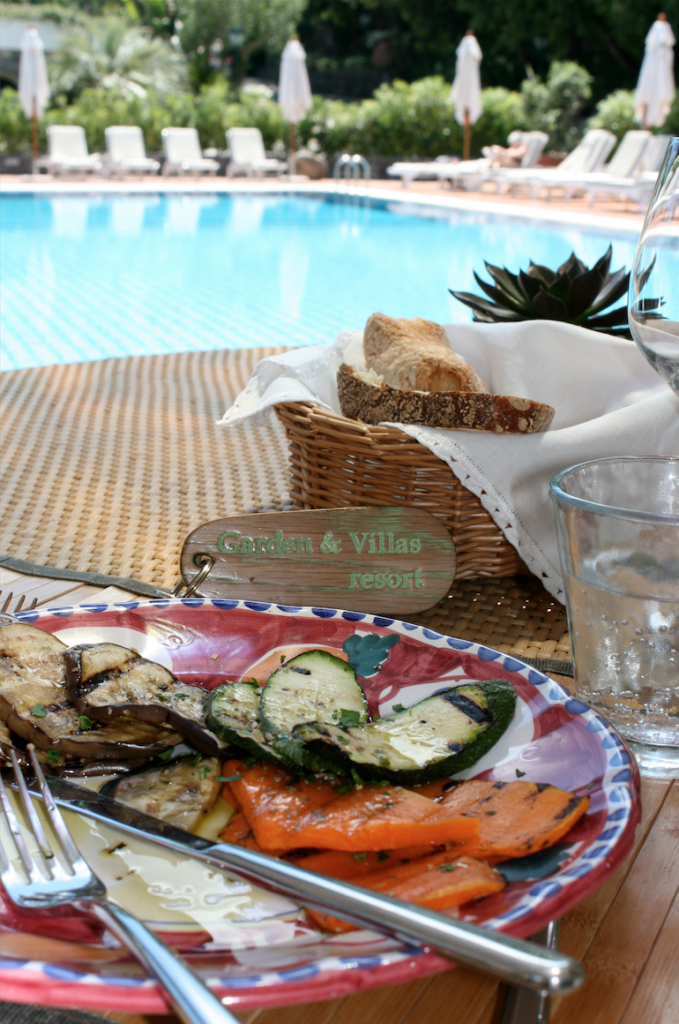 Relax in style on your Ischia holiday at the Ischia Garden & Villas resort
Can you put yourself in this scene? It's certainly an appealing place to be. This photo was taken during my lunch at the edge of the thermal pool at Ischia Garden & Villas Resort in May 2014. I was leaving about 50 minutes later, and I can  feel the longing to stay in this photo.
You can read the full feature detailing the healing thermal wafters and lush gardens of the green Island of Ischia in the Bay of Naples in Italia 117, and the Ischia Garden & Villas Resort is the perfect place during your visit. Situated on Monte Vico in Forio, the resort is located on a mountain right next to sea, on an island – you can't ask for better sea views than that. The luxurious complex is made of of 9 typically Ischian villas set amid three hectares of lush gardens. It's a places that feels more outside that in. The rooms are decorated in a comfortable and natural way, each with their own terrace, and all the communal spaces, like the pool restaurant and reading lounge are open plan with large open doorways and light, airy spaces. In the evenings, the gardens are full of flashing fire flies between the pools of light from lanterns illuminating the pathways.
As well as natural open spaces, you an enjoy natural caves too, with the bar and the sauna being built into natural caves. It is quite an unusual feeling sitting in a turkish bath surrounded by natural rock glimpsed through thick steam. The thermal waters can be enjoyed in the thermal pool inside the spa complex, available to all guests, or partly in the outdoor pool, which uses some thermal water to keen a temperature of around 28 degrees. Swimming here surrounded by the gardens you can feel your troubles melt away.
Look out for the full feature on the waters and gardens of Ischia in Italia 117, and for more information about the Ischia Garden & Villas Resort, click here.