From beautiful bays to the wilds of the inland reaches, there's more to northern Sardinia than the glitz of Costa Smeralda. Amanda Robinson travels away from the tourist hotspots…
Photos by Amanda Robinson unless otherwise stated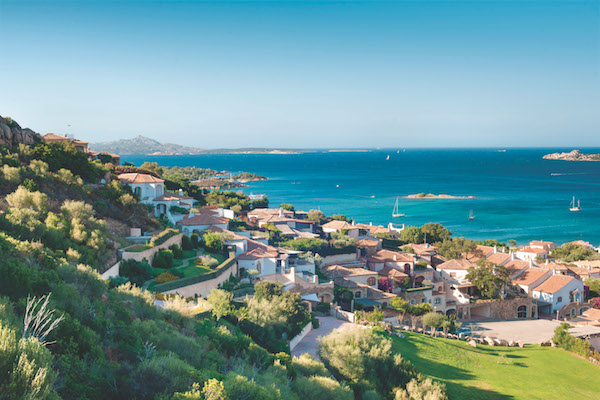 Ahh, Costa Smeralda – the glitzy millionaires' playground in north Sardinia where the jetset have gone to kick up their heels since the 1960s. It was brought into the international spotlight when the Aga Khan decided to make it his own development project – and, as word spread, it became a bolthole for the rich and famous. A-listers from Audrey Hepburn to Madonna have soaked up the sun here, and it is still a destination for the glitterati.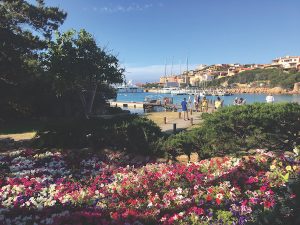 But what was it about the crystal blue waters, white sands and Mediterranean climate that attracted the Aga Khan here in the first place? Pretty much the same reasons I am making my first trip here too… Yes, faux fishing village Porto Cervo  is a curious construct, looking for all the world like a terracotta Portmeirion with meticulously tended flower beds and designer couture shops wherever you turn. And let's not forget the immaculate harbour where super yachts jostle for space along the state-of-the-art quay. 
But away from all the high-end material distractions of this mere 10km strip of bling, the stunning coastline verdant with myrtle, wild thyme and prickly pear continues to wind its way up the northeastern edge of Sardinia to the splendid National Park of the Maddalena Archipelago and beyond, which is where we are heading.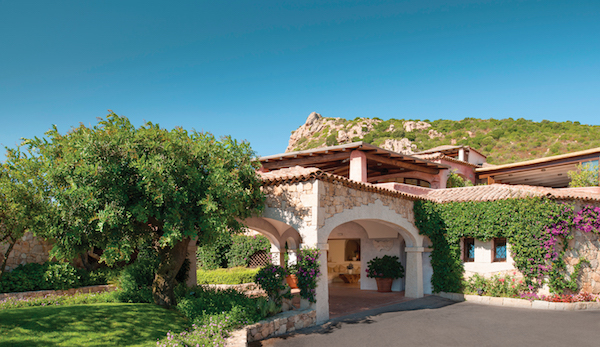 The coast with the most
Relais Villa del Golfo and Spa  is our base, a tranquil hotel about ten minutes outside the vibrant coastal town of Cannigione. Built into the gentle hillside overlooking the azure waters of the Gulf of Arzachena, the hotel is an elegant sprawl of well-appointed rooms and suites, many with private balconies – a front row seat for the most spectacular sunrises. But if nature isn't enough, there's the hotel's Harmony Wellness Centre to help you unwind, offering treatments harnessing the power of deliciously-scented native Sardinian plants and herbs including myrtle, juniper and rose oil.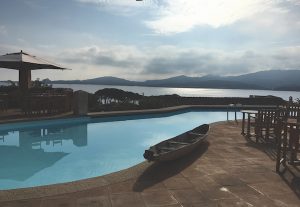 The hotel is proud of the food it serves, and with good reason: the al fresco Miraluna restaurant uses fresh local produce to create a menu of innovative Mediterranean dishes, accompanied by a fine curation of local Galluran wines. A dish of seared seabass with a fresh sea urchin and pea purée captured the flavours of the gulf, while the Jerusalem artichoke ice cream and chocolate fondant dessert was an unexpected revelation! If more rustic fare is your preference, the hotel also owns the organic La Colti farm and agriturismo a couple of miles away. The traditional Gallura farmhouse restaurant offers an ever-changing seasonal menu using ingredients from this family-run farm. Relax outside at the bench tables and feast on bowls of soup, sharing platters of antipasti, spit-roasted pork fragrant with rosemary, homemade pastas, gnocchi with sausage and sebadas – the rib-sticking sweet ravioli dessert (see right). The farmhouse will also reveal the secrets of these local dishes with private cooking lessons.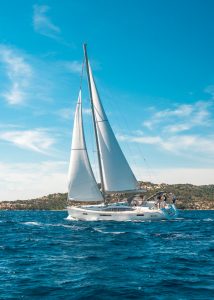 Not surprisingly, our joyful consumption of this delicious food is crying out for a counterbalance of exercise – which we take in the form of a day on the hotel's private yacht, Bon Aria, riding the waves out with our skipper, Andrew, to La Maddalena National Park . Threading our way past the islands of the archipelago, and with Corsica almost in touching distance, we drop anchor in the crystal blue waters just off the white sands of Budelli island, and slip into the warm sea to swim. The water is teeming with shoals of tiny silver sea bream which glide around us like the ebb and flow of murmuration of swallows, as time stands still. 
Back on dry land, a visit inland to the nearby archaeological sites of the Giants' Tomb di Coddu Vecchiu and the prehistoric village of La Prisgiona  gives us just a glimpse of the extraordinarily sophisticated culture of Sardinia's very first inhabitants. So little is known of these ancient people but with the site still only partially excavated, new discoveries are being made all the time to slowly piece their extraordinary story together.
Turning away from the coastline, our next destination is inland to the rugged wilds near Oliena. We are staying at the remote Hotel Su Gologone, east of Oliena. Originally a restaurant in the 1960s, it turned into a rather hip hotel, but the focus on good food remains. The owner, Signora Pasqua, still oversees the kitchens, though the running of the hotel has devolved to her daughter, Giovanna. An artist by profession, Giovanna's colourful influence can be seen everywhere in the hotel, where whitewashed walls are a cool counterpoint to vivid accents of colour schemes in the uniquely kitted out guest rooms and communal spaces. Add to this a backdrop of searing blue sky and it creates a subtle sensory overload, or chromatherapy, and whichever you prefer, it is good for the soul.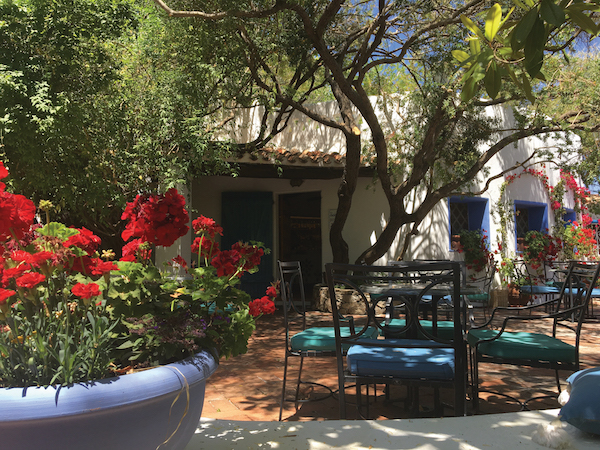 The wide blue yonder
Food is hearty and delicious, with an ethos of zero food miles. Supplied by the abundance of excellent wines, olive oil and cheeses from the Oliena region, this is a place where Sardinian food traditions are celebrated on a daily basis. Lamb and boar grilled over hot coals are the stars of the culinary show, while a modest bowl of cheesy lamb broth and the world's most intricate pasta, su filindeu is a revelation. Cookery lessons and demonstrations are available – we marvelled at the dexterity of the nonna who made pane carasau, the ultra-fine flatbread, in a traditional brick oven. Sprinkled with flakes of salt and still warm, it's a food memory I'll treasure.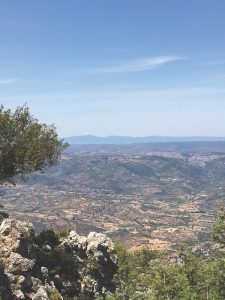 The landscape here is wild and wonderful. The spring from which the hotel takes its name is not far away (Sorgenti Su Gologone) and its waters have carved out awe-inspiring caves and canyons in the nearby Supramonte  mountain range. Corbeddu cave, named after outlaw Giovanni Corbeddu Salis (Sardinia's Robin Hood!) has fragments from the Paleolithic era found in its musty darkness, making it the oldest site of human habitation in Sardinia. So far removed from the fresh breezes of Costa Smeralda, but a mere two hours' drive apart. What an island… 
Where to stay
Relais Villa del Golfo & Spa
This four-star resort is in a peaceful spot close to the beaches of Costa Smeralda. It has 59 rooms, a spa, and indoor and outdoor swimming pools. A seven-night break on a B&B basis starts from £1,012 per person (saving up to £145  – 7% – per couple). The holiday includes an early booking discount and return flights from London Gatwick with easyJet. Based on 22 September 2019 departures. Book via Citalia.
Località La Conia, 07021 Cannigione

+39 0789 892091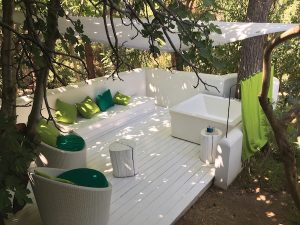 Su Gologone
This secluded four-star hotel lies to the east of Oliena in the rugged, unspoilt landscape of inland Sardinia. It has 68 unique rooms, all furnished in traditional style, with touches of vibrant colour throughout. A spring-fed swimming pool, outdoor whirlpool, an 18-hole mini-golf course and tennis court are set in the grounds. A seven-night break on a B&B basis starts from £909 per person (saving up to £194 – 10% – per couple). The holiday includes an early booking discount, one free night and return flights from London Luton with easyJet. Based on 12 October 2019 departures. Book via Citalia.
Località Su Gologone, 08025 Oliena

 +39 0784 287512
Getting there
Citalia can tailor an eight-night break to North Sardinia, on a B&B basis, from £1,649 per person – saving up to £102 per couple. The holiday includes four nights at the 4-star Hotel Relais Villa Del Golfo & Spa in Cannigione, followed by four nights at the boutique 4-star Hotel Su Gologone near Oliena. The package also includes a 10 per cent early booking discount, eight days' car hire and return flights from London Gatwick with easyJet. Based on 14 September 2019 departures. Call
 01293 831970 to book.
Interested in a Sardinia break? Check out our round-up of the island's best beaches here