White beaches, turquoise water, pristine landscapes… Sardinia offers a fat packet of charms. Surprisingly, there's property here to suit every budget, says Fleur Kinson
Photos by Getty Images
Italy certainly has no shortage of beautiful places, and if you were asked to come up with its top ten, you'd struggle to make so short a list. But you'd have no trouble deciding whether Sardinia should be on it. Your only question would be: "Should it be number one, or slightly further down?"
The second largest island in the Mediterranean (after Sicily), Sardinia is one of the most geographically gorgeous places in all of Europe, let alone in Italy. Clean and spacious, it features salt-white and amber-gold beaches lapped by crystalline water, wind-sculpted rock formations, dainty cork forests and pine woods, vineyards and olive groves, sun-blonded plains, dreamy rounded hills and low mountains. Underfoot, and all around, lies a fragrant tangled underbrush of myrtle, juniper, rosemary and lavender. Sardinia's unspoilt landscapes and coastal waters are home to wildlife so diverse and exotic that the island has sometimes been called 'the Galapagos of the Med'.
A delight to the senses, Sardinia is also fascinating in its culture and history. The island's inhabitants are kind and gentle people who speak one of Italy's strangest dialects. Towns and villages (there are no big cities) feature buildings in a delightful hodgepodge of colourful Mediterranean styles. Sardinia's most intriguing bits of architecture, however, are its nuraghi – prehistoric stone-built conical towers that are scattered in their thousands across the island. No one knows what civilisation built them (archaeologists just call those people 'the nuraghic civilisation') and no one knows what the towers were for. They exist nowhere but Sardinia. Standing silent and enigmatic, in various states of decay, nuraghi can regularly be spotted in fields and woods, on headlands, plains and hills. They are the symbols of the island.
With so many delights to lure visitors here, you'd expect massive numbers of tourists to have trampled Sardinia to dust by now. In fact, the crowds are still small, and their coming has never prompted tourism-eyesores such as high-rise hotels and their like. Sardinia is just not that sort of island, and careful laws protect it from ever becoming that sort of island – which, in turn, protects the value of all property here. Sardinia's visitors tend to be the discerning sort who value unspoilt nature and authentic local culture. The island is very likely to continue providing both of those things for the foreseeable future.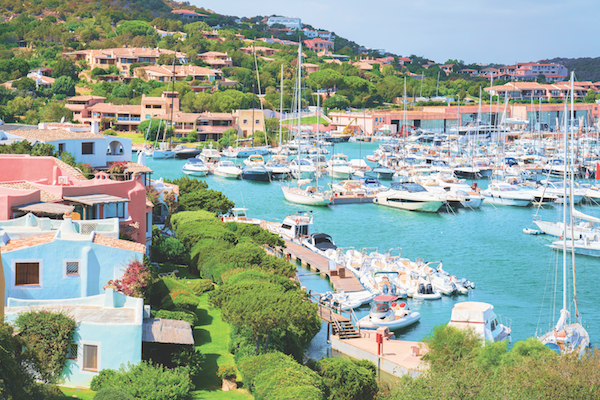 The market story
Until the 1960s, Sardinia was way, way off the tourist map. (DH Lawrence was an eccentric travelling pioneer when he came here briefly in 1921 and wrote Sea and Sardinia about the experience.) Famously, the island first came to the attention of travellers when the Aga Khan, crossing the Med in his yacht, was forced to shelter from a storm on Sardinia's northeast. 
Today there are properties available on Sardinia to suit every budget – lush villas, smart townhouses, country homes and inexpensive apartments. For as little as €30,000 you might get a country house with land in the island's rural, spacious central parts. For less than €100,000, you could get a nice one-bedroom apartment in a family-friendly beach resort, or a two- to three-bedroom village house or country home a few miles inland. €180,000 could get you a two-bedroom seaside apartment or semi-detached house. A studio apartment on the gilded Costa Smeralda could set you back by €500,000, but just a few miles away you could get a small seaside villa for half this price. €300,000 or more gives you a wide choice of villas or country houses in many parts of the island. And if you're lucky enough to have €1,000,000 or more to spend, you can spend it on one of many truly spectacular homes in Sardinia.
Safe and sound
Sardinia enjoys a remarkably stable property market, which means that your money is well-invested here. During the financial downturn of the last decade, when property prices in many parts of Italy gently sank, Sardinia was one of the least affected places. One of the reasons is the island's lack of speculative construction. There are no big property developments here hoping to grab lots of buyers which might then plummet in price if the buyers temporarily stop coming. In order to protect its beautiful environment, especially on the coast, Sardinia sensibly limits what can be built.
The island is safe in other ways, too. For one thing, the crime rate here is spectacularly low. There's no political or economic instability, such as you might get in some other Mediterranean locales. Sardinia has also been unaffected by the migrant crises of recent years which have presented such difficulties for several other Mediterranean islands. Sleepy and contented, Sardinia enjoys a kind of blessed innocence.
In terms of covering some of your property costs by offering holiday rentals, Sardinia is a safe bet. Visitors come to all parts of the island – but especially coastal parts – and the visitor season is long. You should easily be able to fill three to four summer months of your rental calendar. But there is also a good number of holidaymakers who come out to Sardinia at other times of the year too. To maximise rentals, all the usual rules apply: it's best to be no more than 90 minutes from an airport; two bedrooms is a good size; an outdoor space such as a balcony, patio or terrace is a boon; a pool is a big plus; a view is a bonus; et cetera.
Many buyers in Italy fancy buying an old tumbledown home in the countryside and lovingly restoring it to meet their own taste and requirements. It's still eminently possible to do this on Sardinia, but be aware that, like most other parts of Italy these days, buying and restoring is no longer a way to make big savings on a property and you could just as affordably buy a new or ready-restored home. As Antonello Demuro of the estate agency Live in Sardinia says, "The renovation of old stazzi or farmhouses is certainly an attractive investment opportunity for those looking for original and authentic properties. But generally speaking there is no particular saving or advantage in buying a property that needs work, given the fact that prices are as competitive as ever now for new as well as well-maintained buildings."

Around and about
At about 140 miles long by 70 miles wide, Sardinia is a pretty big place. You'll want some idea of what its various areas offer in terms of landscape, facilities and property prices. So let's take a little tour of the north and south, and of the east and west. 
The northern coast from charming Alghero over to Olbia counts as the island's most developed and popular area. Beaches here range from white powder to golden strands, and the interior from sun-baked hills to pretty cropfields. Coastal property prices are generally highest in the north, though there's a great deal of variation and still lots of good-value homes to be found. 
We've already mentioned the high costs of the Costa Smeralda, but just a few miles either side of this stretch of coast, equivalent homes can be had for a third or a quarter of its prices. South of Olbia, resorts such as Budoni and San Teodoro are good spots for reasonably-priced seaside apartments, as is the central northern coast around Castelsardo and Badesi. 
Alghero is a perennially appealing resort in the northwest, and its nearby Asinara national park is a place of jaw-dropping beauty. Antonello Demuro of Live in Sardinia says, "We believe that the area north and south of Olbia represents the best opportunity for discerning buyers. A series of major investments are due to transform this area, overcoming a lack of services and infrastructure and improving the quality of life for locals and tourists alike."
Sardinia's southern coast, either side of island capital Cagliari, is newer to international tourism and homebuying than the north, and prices are still generally lower. Beaches down here are great, and resort areas such as Villasiminus, Costa Rei and Santa Margherita di Pula are very appealing indeed. Sardinia's western coast, from Bosa to Oristano, is a spacious and promising area that has recently started to draw more visitor interest. The eastern coast, meanwhile, is the island's intriguing 'wilderness' – undeveloped, backed by high mountains and currently explored by few visitors or property buyers. Both western and eastern coasts have very affordably-priced homes for sale. Least expensive of all is the island's deep interior – a sleepy, peaceful and rarely-visited area that might prove to be the perfect remote rural retreat for some pioneering buyers.
Useful contacts
Come to Sardinia
Live in Sardinia

For a round-up of the potential of Sardinia's different areas, check out our Regional Guide
Sardinia property picks
[slideshow_deploy id='21632′]