The collapse of the Morandi bridge last year shocked the world, but Genoa is a resilient city, and a splendid one to visit. Sarah Rodrigues samples its delights…
Photos courtesy of Genoa Tourism and Sarah Rodrigues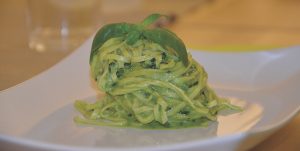 Who isn't guilty of under-appreciating pesto, store cupboard stalwart that it is? It's a staple I associate with nights when inspiration flees. Genuine pesto genovese (the sauce originated here in Genoa) demands greater love. Its production is subject to various regulations, and the method by which it is made, involving pressing the basil to maximise the flavour released from its leaves, is too painstaking to be stirred into a mound of hastily cooked pasta. Indeed, in Genoa it's traditionally served with green beans and potatoes. 
So explains our charismatic instructor from cooking school Creattivando, from whom, in the modern kitchen of an ancient palace, we're learning that leftovers, too, can be subjected to surprising labours of love. Under his instruction, we carefully assemble layers of vegetables and fish into individual moulds to make cappon magro, a Ligurian speciality so fiddly that, these days, it's generally saved for special occasions and large-scale festivities – a far cry from its origins as a way of using up odds and ends. Once inverted and cut into, the dome yields a visually pleasing series of coloured layers: carrot, beetroot, potatoes, all dressed in a vivid green sauce. Accompanied by a crisp and cold Ligurian wine, its taste is as simply flavoursome as its appearance is extravagant.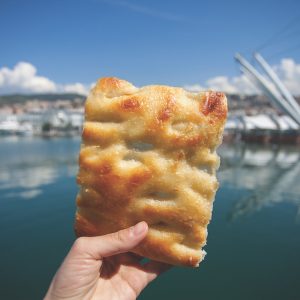 A perfect snack
Focaccia gets turned on its head for us here in Genoa, too – or, more precisely, it gets turned upside down, so that its salty, oily topping makes maximum contact with the tongue – all the better to contrast with the sweetness of the cappuccino with which it is traditionally enjoyed. The Genovese focaccia is thinner than the spongy version you might associate with savoury fillings, and cut into strips to be dunked straight into your coffee, allowing the decadent marriage of oil, salt, chocolate, milk and coffee to explode. It's a peculiarity little known outside of Liguria, and more's the pity – it's an eye-rollingly good breakfast or mid-morning snack. 
The café in which we sample this combination is Cavo, one of a clutch of botteghe storiche – historical shops – scattered throughout the city's ancient centre. Each one we stumble upon is a delight, perhaps none more so than the antique barbers, Barberia Giacalone. It has me rueing my inability to grow a beard, so much do I want to experience the services of this jewel box of a place with its diamond panes of gold and blue, multiplied by mirrors and illuminated by chandeliers. 
In order to qualify as one of these botteghe storiche, the shops must have been active for at least 70 years, and must meet at least three of five other criteria pertaining to original furniture, fittings and equipment. At E. Finollo, exquisite ties have been handmade through four generations for a strictly confidential client list, while around the corner at Fabbrica di Turaccioli, a charming man with a shock of white hair handcarves cork items with a knife. At Pietro Romanengo, established in 1780, confectionery-making traditions have been passed down from generation to generation and the queues at Christmas snake endlessly down the street; its candied fruits are a holiday table essential. Stepping inside the shop, itself a confection of glass, marble and aged wood, one understands how Charlie may have felt on entering Willy Wonka's marvellous factory.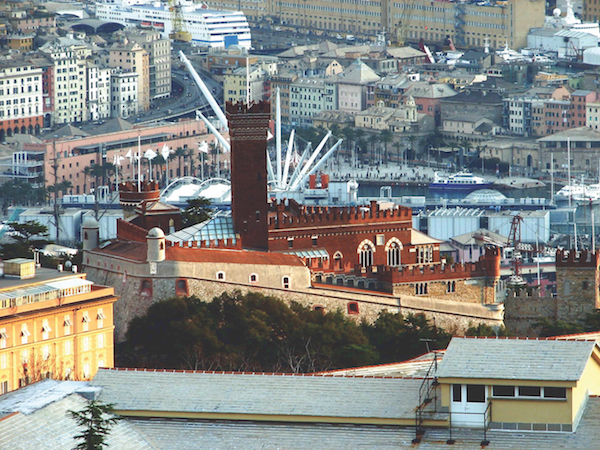 Vertical climb
We're reminded of Charlie again, when we board the dinky little Montegalletto ascensore, which takes you on an incline so shallow that it's virtually horizontal, before switching, Wonka-esquely, to a sudden vertical climb. Constructed in 1929, it's an ingenious solution to the problems of getting around a city that's largely built into the mountainside; Genoa spans 20 miles from east to west but only six from south to north, so close are its mountains to its harbour.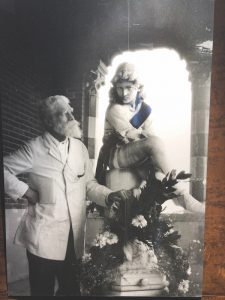 The ascensore, which can carry up to 23 people at a time, travels from Via Balbi, near the main train station, to Castello d'Albertis-Montegalletto, in which the Museo delle Culture del Mondo (Museum of World Cultures) is housed. Previously the home of eccentric captain Enrico Alberto d'Albertis, it's full of artefacts gathered on his travels, including weaponry, puppets and oddities from The Americas, Africa and Oceania. D'Albertis himself, as well as being an avid sundial maker – there are ten exhibited in the castle alone – was a keen photographer, snapping thousands of images on his travels and sometimes even posing himself, an intrepid Colonel Sanders look-a-like brandishing a telescope instead of a chicken leg. 
Christopher Columbus, sculpted by Giulio Monteverde, gazes speculatively out from the terrace, from which there are glorious views of the harbour with its hulking cruise ships beyond the arched palm fronds that surround the castle. The explorer is, of course, Genoa's most famous son; the 500th anniversary of his discovery of the New World was celebrated by the city in 1992, celebrations to which the city's other much-celebrated son, Renzo Piano, notably contributed.
Born in Genoa in 1937, Piano has marked British skylines with London's Shard, but his works in his home town are no less distinctive. Indeed, after wandering through the labyrinthine carruggi – Genoa's Old Town laneways, so narrow that daylight scarcely filters down between the three or four storey facades that flank them – one emerges, blinking, into the disconcerting brightness of the Old Port and it seems only fitting that Piano has been so instrumental in its regeneration, given his self-confessed 'obsession with lightness,' a concept that he defines both in terms of tangible fact and emotional sense. Find out more about his regeneration of the area here.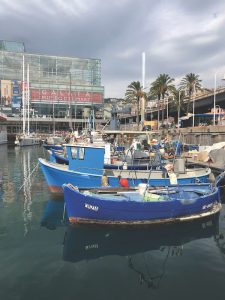 Greater perspective
A fishing trip with a local fishermen's cooperative (from €50 per person, www.ittiturismogenova.it) gives us a greater perspective, not only of the view over the water towards Genoa that Piano is so keen to preserve, but also why – and although their passage must be less stomach-lurchingly thrilling than ours, we get the sense of a cruise ship passenger's first impressions of this port city. Later on, as the spoils of the catch are prepared for us at the cooperative's restaurant, GE8317, we wander the surrounding streets of Boccadasse, a traditional fishing village just beyond the city limits. Candy-coloured buildings huddle around a small beach; it's postcard perfect, yet undeniably authentic – a genuine working village, lacking any of the theatre of some of Italy's better known destinations. Lunch, when we eat it, is sublime, as fresh and as local, surely, as it's possible for food to be. 
Genoa's relationship with the sea – even without Columbus – is a huge part of its psyche. The square in front of the harbour is remarkable for its emptiness, a space that in any other city would be full of cafés and benches. Its name, Caricamento, is derived from the verb caricare, to load; in history – and, equally, in mentality – it's a place to unload goods. "We don't have the attitude to use it as an area to gather – it's just the port," shrugs a local. What might be seen as a lost opportunity elsewhere is here, simply a welcomingly open space, still defined by its previous function.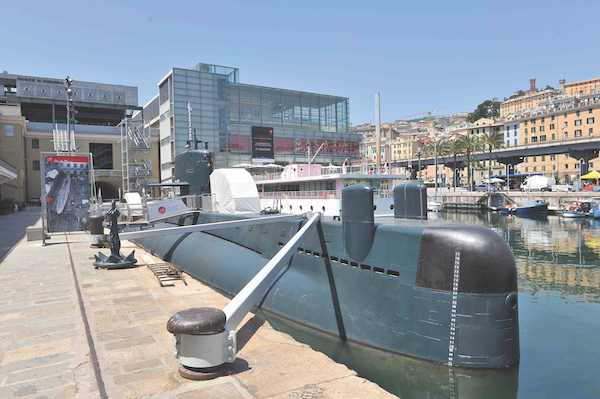 Genoa does not surrender
This lack of self-conscious display, this sense of a city going about its business, is a large part of Genoa's appeal. There's an absolute lack of theatre; Genoa just does what it does. Taxis bear rear window stickers with an image of the recently collapsed Morandi bridge and the words Genova non si arrende (Genoa does not surrender). It documents, without sentimentality, its maritime history and more recent incarnation as a cruise port – complete with the large scale disaster of the 1956 Andrea Dora sinking – at the Galata Museo del Mare, where an installation details "What Genoa Could Be" in the imagination of Renzo Piano.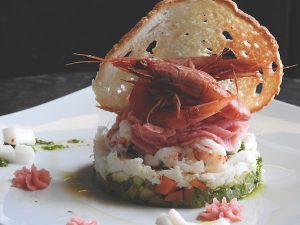 On a Segway tour of the centre, we see a hardware store on the ground floor of Chiesa di San Pietro. This juxtaposition, incongruous though it seems, is, our guide says, "normal for us" – a practical use of space in a vertical city where ground space is limited, where shop fronts are so close to the street that conversations between customers and proprietors are audible and where you'd barely need to stretch an arm to pass a cup of coffee to your over-alley neighbours. 
Verticality has these obvious practical implications, but perhaps it also goes some way to explaining the expansive views of those whom the city has spawned. Columbus discovered new worlds, Renzo Piano creates them – and the poet Giorgio Caproni, referring to one of the city's lifts, wrote, "When I am ready to go to heaven, I will get there with ascensore di Castelletto."
Few people taking in the vistas from the various vantage points at its top could fail to comprehend the impulse behind such a line. Then again, one taste of genuine Genoese focaccia dunked in cappuccino back down at carruggi level, and you may well think you're in heaven anyway. 
More information
For more about the historic shops: Botteghe Storiche Genoa
For tourist information: Visit Genoa