If you really want to experience the beauty of a natural landscape there's no better vehicle than the bicycle. And it needn't be an exercise in strength and endurance. Jon Palmer goes e-biking in the Dolomites…
Photos by Jon Palmer, unless stated otherwise
There are places in Alta Badia that even an e-bike won't get you to. An e-bike would get you rather further up a mountain trail than a regular bicycle, of course, and considerably further than any form of motorised transport (helicopters notwithstanding, I suppose) but once you start getting properly up close to the high peaks, you are compelled to resort to shoe power.
If you wanted to relax your cycle-weary legs at 2,050m above sea level in a sauna complex that commanded sweeping views right over the Badia valley, for example, you would have to leave your e-bike at the head of the Gardenacia ski-lift and continue through the Puez-Odle nature park on foot, for about 40 minutes, depending on how often you want to stop and 'admire the view' (have a rest).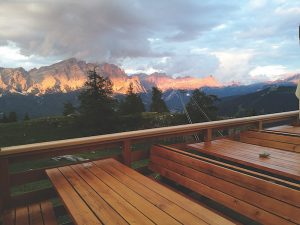 Continue climbing and you will eventually arrive at the Gardenacia Hütte (+39 0471 840128), where you might ask for a glass of their very own spring water to refresh yourself with as you sit on the terrace waiting for dinner time and looking west, hoping to see the famous Dolomite enrosadira – the 'pinkening' – of the bank of mountains on the other side of the valley as the sun sets against them. 
The sauna complex on the level below the terrace was new for 2018 and the Nagler family is very proud of the new addition to their mountain rifugio. But the Gardenacia has long held a reputation for excellent food – and welcoming accommodation to sleep it off in. People actually walk up here just for dinner, knowing full well that the walk back down again afterwards is not going to happen. But why would you? A bed for the night costs just €34pp (€44 B&B, €64 half-board) and if you arise early enough you will experience a freshness to the early morning air that you probably haven't known the like of for some time. Even in mid-summer, there's an Alpine zing to the dawn that fills you with breath. 
The sheer silence of the place at this time of day is quite stunning too. We're quite a long way up for bird life – at least of the chatty-bird kind – and though there will be a few lazy-looking bees appearing for their breakfast on the opening flowers, there really is very little else going on at all. 
And the colour of the mountains opposite is very different: where there was pink, now there is powder blue. Sauna or not, when you finally depart for the descent back to your bicycle, you will feel a little calmer than you were when you arrived.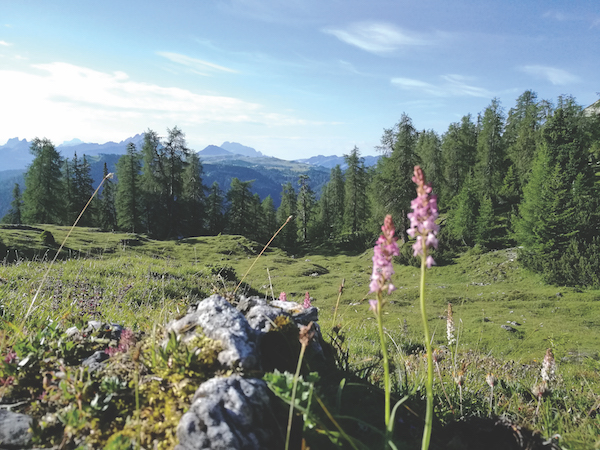 Soaring peaks
If there's one place where an e-bike really comes into its own it's in the mountains. What can actually turn out to be quite long and testing climbs can look deceptively flat when the eye compares them with the soaring peaks above.
Alta Badia is home to the world's highest-altitude e-bike sharing scheme, with six docking stations at over 2,000m above sea level. The fleet is made up of brand new, high-spec Pinarello bikes (a Treviso company, so every bit as local as the food and wine you'll be served here) and you can pick them up at Col Alt, Piz La Ila, Piz Sorega and at the tourism offices in Corvara and La Villa and at La Val – and return them to wherever's most convenient for you en route.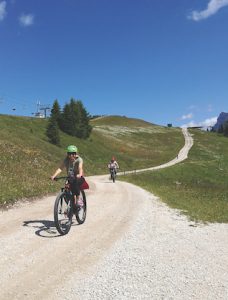 The bike will cost you €45 for a full day, and you don't need to pre-book, just turn up and cycle away. There are guided tours if you'd prefer. From mid-May to the end of July you can go to any tourist office or any Bike-Expert or Bike Friendly hotel and book a tour of mountain passes and Giro d'Italia routes. 
And on an e-bike you could perhaps be a little bolder about whether you choose the 'intermediate' or the 'expert' route. Or, if you didn't want all the exercise, you could just drift along the riverside trade roads that connect Alta Badia's villages. These are all off-limits for cars and motorbikes, so your motorised push-bike is the most powerful vehicle on the road. Give way to pedestrians – your e-bike is now a monster truck.
Food and exercise
Of course, many people do come to this northern corner of Italy for the food rather than the exercise. Alta Badia covers just 15km², but within that small area there are six Michelin stars. 
Three of those are held by Norbert Niederkofler, who runs the restaurant St Hubertus at Rosa Alpina Hotel & Spa. The hotel has a private hut in the mountains, Ütia Prè Ista, and we were lucky to be invited to meet Norbert there to see a new initiative for 2018, Show Cooking in the Mountains, outdoor cooking lessons and demonstrations with the region's best chefs. The experience of having your lunch not only cooked for you but also explained to you throughout the process by one of Italy's foremost chefs is quite a privilege.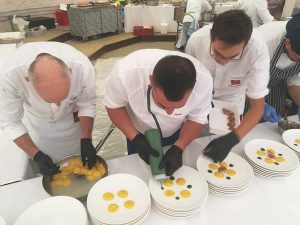 On our short stay we were also able to attend the summer's 'Dinner under the Stars' event (which for us became 'dinner under the tarpaulin' as the clouds that had been threatening all afternoon finally broke just as we were enjoying our aperitivo). But that didn't dampen the atmosphere. The Cëna sot les stëres, as they call it (and if you want to learn Ladin, this is the place to do it), is a collaboration of the region's chefs, who all come together to share ideas and ingredients, and between them prepare a full seven-course dinner for a limited number of 60 or so paying guests.
This is an event that is really gaining momentum here, rain or no rain, so check the Alta Badia website for details of the 2019 event and book early if you want to attend. In 2018 it cost €73pp, including wine, which for what you get is exceptionally reasonable, so don't expect chairs for 2019 to stay empty for long. 
What is an e-bike?
It's an electric bicycle: a bicycle with an electric motor to augment your pedal power. The motor needs to be charged, at a charging station, but for a day's riding, as long as you remember to switch it off when you lock up anywhere, this isn't something that's ever going to affect you. 
An e-bike has gears, which you'll need – because this is not a motorcycle: there is still effort required to keep the wheels going round – but is also has a booster, usually with three settings, that makes the cycling considerably less strenuous that it would otherwise be. 
If you're reasonably fit, and you use the gears correctly, a decent e-bike will get you up pretty much any hill. If you're not fit, even if you don't cycle at all, they'll still get you along the riverbank or the lakeside with scarcely any physical exertion. They're a lot lighter than they used to be and though even the best e-bikes will feel a little heavy with the motor off, you can ride them like that too. 
For more things to see & do in the area, read Jon's Alta Badia travel guide