Jon Palmer finds plenty of things to see and do around this spectacular area in the Dolomites Mountains during an e-biking trip…
Photos by Jon Palmer unless otherwise stated
What to see & do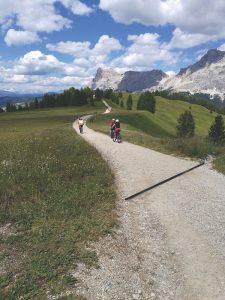 Movimënt
The Movimënt area (left) is a network of activity parks on the plateau between La Villa, San Cassiano and Corvara. From fun for the kids to wellness for the grown-ups, the parks offer a full range of nature, sports and games, winter and summer. You can get up here by ski-lift all year round and, in summer, you can walk or cycle between the parks on a system of well-marked trails.

 +39 0471 836366

Bike Beats
New to the Movimënt Area are three 'flow country' trails that descend from the summit at San Cassiano to the station at Piz Sorega – where there is a bike wash station. Reserved for mountain bikes and e-bikes, the three routes are graded and range from family-friendly to maybe worth looking at the protective gear they hire at the top. They held an E-Enduro race last July, which started on the Bike Beats red route and continued on other trails in Alta Badia and Arabba before returning to Piz Sorega and finishing on the blue trail.
San Cassiano

Maratona dles Dolomites
The Marathon of the Dolomites is an annual one-day bike race over seven mountain passes. It's a big deal and people come from all over the watch and take part. You can take part too, if you register in advance, and if your application is accepted, which is not a given (there are about 9,000 places and four times as many applicants). The final group to set off has no entry conditions, though you will have to leave your e-bike at the starting line as this is strictly a road bicycle race. The 2019 event will be held on 7 July.
La Villa

 +39 0471 839536
Dolomites Bike Day
An altogether less demanding event is the non-competitive Dolomites Bike Day, which will be in its third year in 2019. It follows the same route as the Maratona – 52km of closed-off roads over the Campolongo, Falzarego and Valparola passes towards La Villa and finally Corvara, with an altitude variation of 1,370m. You don't have to do it all: you can start and finish where you want; they only ask that you cycle in the same direction as everybody else. The 2019 event will be held on Sunday 16 June. It's free to enter – just turn up.
La Villa

 +39 0471 836176
Sellaronda Bike Day
If you can't make it for the Dolomites Bike Day (see above), come on the following Saturday, 22 June, when the mountain passes around the Sella group are closed for the Sellaronda Bike Day. This is held over the same route, but it's an older and larger event with perhaps 20,000 people joining in for at least part of the route, compared to maybe 5,000 for the Dolomites Bike Day. Again, no rules, no registration – though, of course, you do have to wear a helmet, abide by the highway code and avoid scaring any young families by playing Evel Knievel.
Via Dursan, 80/C – Santa Cristina

 +39 0471 777777
E-Bike Ways
This is an E-MTB event held in September (check the tourist office website for 2019 details). At 9am, or thereafter, you pick up your electric mountain bike on the Piz La Ila, 2,000m up, choose between a number of tours, graded for difficulty and length, and return your steed to any of the Alta Badia e-bike sharing points by 5pm. That is the sum total of your commitment. Furthermore, a selection of mountain huts along the route will be participating, awaiting your eventual arrival with the offer of traditional specialities and voluminous encouragement.
Useful contacts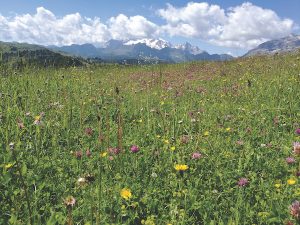 Inghams
We associate the name Inghams with skiing holidays – the company was a pioneer of the winter package holiday – but they keep busy the rest of the year too. They now offer summer packages to Alta Badia with the hiker and, particularly, the cyclist in mind. Inghams offers a seven-night stay on a half-board basis at the four-star Hotel Col Alto in Corvara from £750 per person, based on two sharing in September 2018. Price includes return flights and airport transfers. To book, visit the website or call
 01483 791 116.
Bike Friendly Alta Badia
The official tourist office online resource for two-wheeled tourists. A full comprehensive list of everything you might need: maps and routes, tours and excursions; bike rental companies, parts and repairs services; bike-friendly accommodation… Everything.
Alta Badia tourist information
The central tourist office in Corvara is manned (or actually mainly 'womanned') by some of the most switched on people you are likely to meet in this line of business. Got a query, got a problem, need a new e-bike… Just call or drop them an email.

 +39 0471 836176 / 847037
info@altabadia.org
Getting there
By plane
Politically, Alta Badia is in Italy, but culturally – and geographically – it's just as Austrian as it is Italian. So, if you can, fly in and out of Innsbruck. It's rather closer than Venice or Treviso and much easier to get to and from. Contact the tourist office to arrange a transfer.
Find out about Jon's e-biking experience in Alta Badia here