Mario Matassa turns to the subject of leftovers. Economical, quick to cook, and packed with flavour, Italian leftover recipes are the perfect way to make the most of what you have
Photos by Mario Matassa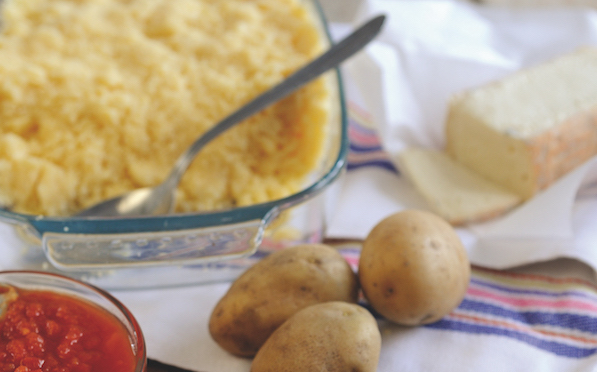 For Italians, using up leftover food is a virtue, and one that has been transformed into an artform. The Tuscans in particular are a shining example of this tradition. They have invented more ways of using leftover bread than they have of using it fresh! One of Italy's most iconic dishes, the humble ribollita, is in fact nothing more than a clever guise for leftover soup that has been re-boiled and garnished with bread that has seen fresher days. Tuscans know only too well that twice-cooked vegetables concentrate the flavours and, in fact, this dish tastes so good that restaurants today often charge exorbitant prices for their not-so-humble ribollita.
Today's use of leftovers in the Italian kitchen stems from a time when food was scarce and the idea of throwing anything away inconceivable. Such was the importance of using leftovers that in 1916, Olindo Guerrini, a writer and poet, published L'arte di utilizzare gli avanzi della mensa (The Art of Using up Leftovers), a comprehensive collection of regional recipes he had gathered over many years. The work was very influential and many of the recipes in the book are still cooked in homes across the country today.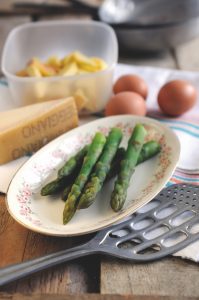 Italians no longer face the same hardships they did, but they haven't lost sight of their roots; leftovers still feature in every family's weekly menu. The truth is that some of our favourite and most famous dishes were originally conceived as ways of using up leftovers. Take, for example, the ubiquitous spaghetti with red sauce. Personally, on Sundays I always make more spaghetti than I am going to need that day. This means that the next day I can throw it into a pan, add a splash of oil, fry it up, and have the perfect meal in minutes – and everyone fights over the crunchy 'burnt' bits at the bottom. It's a habit I picked up from childhood. Every Sunday at noon we would cross town to my grandparents' house for lunch, and every Sunday evening we would return home with a large bowl of cold spaghetti in our arms. There were no prizes for guessing what we were going to have for lunch on Mondays!
It's the same principle when it comes to risotto or polenta. While both can be time-consuming dishes to prepare in their own right, by making more than you need you are effectively getting two or more meals for the effort of one.
More than any other store cupboard ingredient, however, bread epitomises the Italian knack for culinary invention. We all shop for our bread here on a daily basis and it would be unthinkable to sit down to a meal without having fresh bread to accompany it. This means that at the end of the day there always seems to be a surplus in the bread bin. Yet, in all the years I've been living here, I've never seen anyone throw away bread.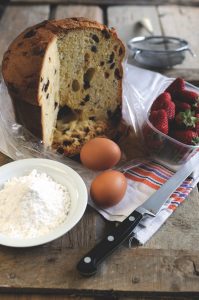 There are endless variations on the uses for old bread. It can be ground into fine breadcrumbs and combined with a little egg to coat chicken or veal escalopes. It can be broken into pieces, soaked in milk, then used to soften polpette (meatballs). For an economical sweet treat, it is soaked in a liqueur to make a bread cake (similar to the British bread and butter pudding). However, it is probably best known for making the countless varieties of bruschette and crostini. It's not even necessary to have a topping: in its most simple form it is just toasted or grilled and then anointed with a rub of garlic and a drizzle of olive oil.
However you go about using up your leftovers, they need not be faced with dread. Some of my most cherished and lingering food memories have involved leftovers. On Tuesday afternoons I remember coming home from school to find my mother or grandmother mashing up polenta with potatoes and cheese. Then, like a conveyor belt, my mother would begin forming small patties and then frying them. My siblings and I would make short work of this treat. And as soon as our plates were clear another helping would arrive.
The recipes that follow are all simple, economical and healthy. What's more, they are the best choice in comfort food, and are things that will always remind you of good home-cooking. What could possibly be better on a cold autumn evening?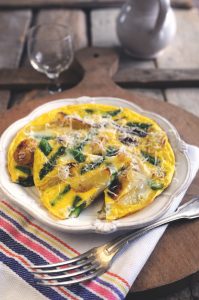 Frittata
The frittata is simply an Italian version of the omelette. It's a no-fuss dish and there are no hard and fast rules when it comes to adding ingredients to the frittata. It's the ultimate 'let's open the fridge and see what's in there' meal. In fact, the possibilities are endless. Virtually any pre-cooked vegetable, leftover meat, rice or even pasta can be added to a frittata. The real trick is finding a selection of ingredients that complement each other.
A mix of vegetables and perhaps some spicy Italian sausage is always a popular combination, but in the recipe that follows, I've opted for a vegetarian frittata. I had some leftover asparagus from a starter, and who doesn't always have a few roast potatoes left over after Sunday lunch? A little cheese always adds a greater depth of flavour to a frittata (it doesn't matter how stale it is). Apart from that all you need is a few fresh free-range eggs to bind everything together.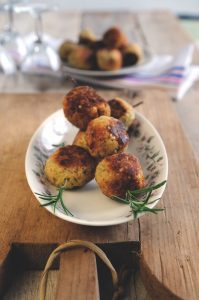 Polpette
Polpette – small, round patties – can be made from meat, fish or vegetables, and can either be cooked in a tomato sauce or fried. Traditionally they were prepared from leftovers, although their popularity today is such that they are also made with fresh ingredients. What's common to all polpette is that they are flavoured with a healthy handful of grated cheese and bound together with an egg.
Living in Emilia, a Sunday favourite is meat-stuffed ravioli in a freshly-made chicken and beef broth. It's a bit of a laborious enterprise because the broth should be made the day before, leaving time for it to cool overnight so that any excess fat can be skimmed off the top. However, your efforts are rewarded, and any extra broth can be recycled in risottos, minestrone and stew. As for the boiled meat, known as bollito in Italian, some people enjoy this after their pasta. Personally, I find it bland like that and prefer to leave it to cool and use it the next day. The meat is then cleaned from the bone, chopped, flavoured with herbs, seasoned well, then breaded and fried as polpette. Children love polpette and, served with greens and boiled potatoes, they make for a healthy meal.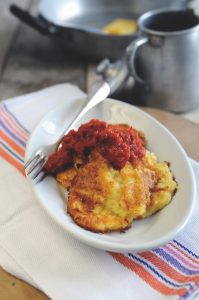 Polenta
Polenta is perhaps the most humble of all Italian staples. When first cooked, it is eaten 'wet'. In this form it can be enjoyed on its own or as an accompaniment to a stew, as polenta concia (dressed with cheese and either lard or pancetta), or cooked with ingredients such as potatoes, chestnuts, greens or other vegetables. Alternatively, 'wet' polenta can be placed in an ovenproof dish with alternating layers of ragù or mushrooms and cheese, then cooked in the oven to create polenta pasticciata.
Once cold, leftover polenta firms up and can be sliced and fried, then eaten as an accompaniment to a main dish, layered with sauce and cheese and gratinated in the oven, or the fried slices can be topped with any number of sauces. It is also often used instead of bread as the base for crostini. It can also be thinly sliced or cubed, fried in butter and dusted with icing sugar and cinnamon. This method is especially popular in the mountainous areas of Friuli as an after-school snack or breakfast for children.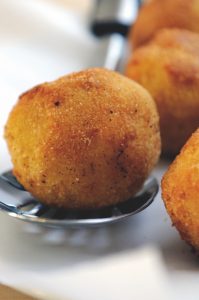 Arancini 
I've always wondered why arancini balls are especially popular in the south of Italy, despite the fact that risotto is a northern speciality. Arancini balls are the south's answer to a great bar snack – in Naples they could be classified as street food.
Their origins remain uncertain, although it is most likely that they were first made either in Campania or Sicily, where they always have been and still are most popular. Small balls of leftover rice are filled with either a spoonful of meat ragù or chopped chicken and a cube of mozzarella, then coated in egg and breadcrumbs and deep-fried until crispy on the outside and meltingly tender on the inside.
My family comes from Lazio, and arancini balls were a regular treat. As a child I would look forward to the weekly risotto because I knew what would follow the next day. To this day, whenever I make risotto I make more than I need because, like me, my sons are firm fans of arancini.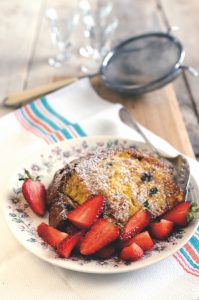 Panettone
Whether it's a ciambella on the sideboard for the grandchildren after school, or a pandoro or panettone to enjoy over the Christmas season, you will almost always find a slice of cake to hand in the Italian household. And after Christmas, once the enthusiasm for yet another slice of panettone finally begins to wane, there are many ways to transform it into something special.
Panettone is often substituted for bread in an Italian version of bread and butter pudding (although the panettone should never be buttered). Stale ciambella can be used for the base of zuppa inglese (which is like a trifle) or instead of biscuits in a tiramisù – in both cases the cake is briefly dipped in alcohol or coffee first. Having said that, the simplest and perhaps best way to eat a slice of cake that has gone a little past its best is to dip it in a glass of Vin Santo and enjoy it for what it is!
food
,
Food & Wine
,
Italian Foodie
,
Italian Recipes
,
Using leftovers