Perfect for a laid-back weekend lunch, this impressive tart by Lakeland gives maximum flavour from minimum effort.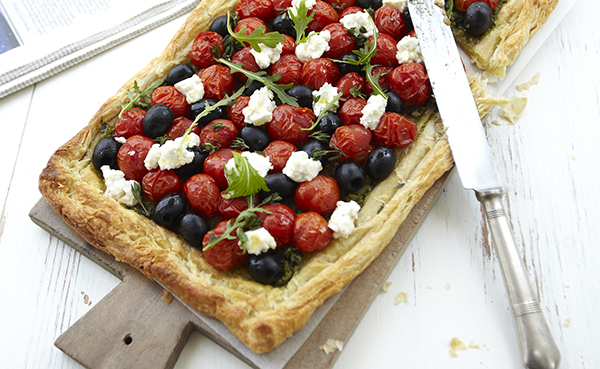 Ingredients:
500g baby plum or cherry tomatoes
1 tbsp balsamic vinegar
1 tbsp olive oil
1 sheet ready-made puff pastry
2 tbsp pesto
55g pitted black olives
360g ricotta cheese
Method:
Preheat the oven to 220ºC/425ºF.
In a bowl, combine the tomatoes, vinegar and half the olive oil. Spread the tomatoes on an oven tray and roast, uncovered, for about 10 minutes.
Place the pastry sheet onto an oiled oven tray. Fold the edges in to make a 5mm border all the way around.
Prick the base with a fork. Layer with baking beans and bake for 10 minutes.
Take out of the oven and reduce the oven temperature to 200ºC/400ºF.
Spread the pastry with pesto, top with the tomatoes, olives and cheese and bake for a further 10 minutes. Drizzle with the remaining oil before serving.
Tags:
food
,
Food and drink
,
olives
,
Pesto
,
Recipes
,
tomato