This torta di semolino all'arancia is a delicious, moist cake just waiting to be eaten! 
Make this as a sweet treat over the weekend – perfect with a cup of tea.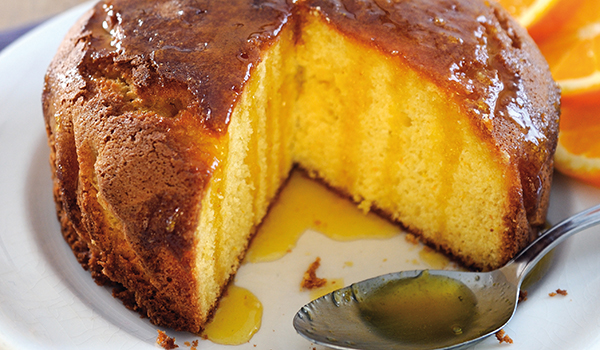 Semolina cake with orange syrup
Ingredients:
2 large free-range eggs
220g caster sugar
80ml light olive oil
zest of 1 orange
250ml orange juice
250g semolina flour
60g plain flour
2 tsp baking powder
Method:
Preheat the oven to 180ºC/Gas Mark 4. Grease and line a 22cm round cake tin. Using an electric whisk, mix the eggs with 120g sugar in a large bowl, until thick.
Add the oil, orange zest, 80ml orange juice, both the flours and the baking powder. Mix the ingredients together, then pour into the cake tin. Bake in the oven for 35-40 minutes.
While the cake is baking, make the syrup by combining the remainder of the orange juice and sugar in a pan. Bring to the boil and leave to boil for 5 minutes.
When the cake comes out of the oven, pierce the top all over with a toothpick and gently pour over the syrup. Allow the cake to cool completely before serving.
TIP You can substitute the oranges in this recipe for lemons, but if you do so, remember to increase the amount of sugar in the syrup.