Hailing from Emilia-Romagna, the clue is in the name: Parmigiano Reggiano is the 'king' of Italian cheeses. We tried seven savoury samples to find our favourite.
Parmesan enjoys Protected Designation of Origin (PDO) status, meaning that similar hard cheeses from other regions – and of varying quality – cannot use its name. As a rule, Parmigiano Reggiano DOP will boast a grainy texture, nutty aroma and a rich umami flavour. If you can't see the rind, which is always officially branded, then look for the yellow logo on prepacked slices. If you want quality, it's worth paying for, and if you have spent money on a premium-quality aged Parmesan, it's worth knowing how to look after it. Wrap it in baking parchment, as tightly as you can, so as little air as possible reaches the cheese, and store it in the fridge. And when you're left with the rind, don't throw it away: add it to a homemade soup and let it simmer. It softens and melts into the soup, lending it a lovely, tangy flavour and savoury richness.
---
Editor's choice
Vorrei 36-month Parmigiano Reggiano DOP
This wedge of cheese arrived as a true Parmesan should: cut roughly from the wheel, crumbling at the edges and wrapped loosely in waxed cheese paper to prevent the contents from sweating. We could almost imagine it had come fresh from an Italian mercato – and with a sturdy and clearly branded rind, this crumbly cheese easily broke into rough, moreish chunks. It had a grainy texture that was very dry to the touch, without a hint of cheesy greasiness. When we tasted it, though, there was a melt-in-the-mouth richness of flavour and a bright, clean and snappy taste that lingered lightly on the palate. Aged for 36 months, this cheese is pleasantly granular with just the right balance of salt and sweet creaminess, and was a hit with all the panel.
This mature-flavoured cheese would marry well with a risotto or pasta, or sit comfortably atop a dressed salad. But to be honest, we felt it was rather like using a wonderfully peppery extra-virgin olive oil for frying – you would rather enjoy it in its natural room-temperature state than lose some of those elusive subtleties of flavour and texture through cooking.
From: Vorrei,£6.99 for 200g
Verdict: 5 stars. Let this Parmesan's depth of flavour shine through when you pair it with a drizzle of balsamic vinegar and a flute of something sparkling, or a fruity red wine.
---
The Fine Cheese Co Zaboform Parmigiano Reggiano DOP
Aged for 30 months, rather than 24, we loved the distinctive flavour and the maturity of this Parmesan cheese, which boasts a
really nutty, 'woody' taste.
From: The Fine Cheese Co,£10.95 for 300g
Verdict: 4 stars. Crumbly and salty, with the satisfying crunch of good Parmesan, enjoy at the end of a meal with a glass of Vin Santo.
Camisa Parmigiano Reggiano DOP
The Camisa family come from Parma, so you could say Parmesan is in their blood. This crumbly chunk was full of tangy flavour and a real sharp snap in the finish. Nutty, grainy and a real pleasure.
From: Camisa,£13.65 for 500g
Verdict: 4 stars. Just a sprinkle of this fine aged Parmesan will elevate a humble plate of pasta, or try with fruit and  mostarda after a meal.
 M&S parmigiano reggiano DOP
With a classic tangy flavour and a surprising creaminess, this is nonetheless a very moreish cheese. With a smoother texture than some, it breaks apart well and has a subtle, salty crunch, but without much crumb.
From: Marks & spencer,£6.25 for 220g
Verdict: 3 stars. Can't be sure from the packet information but perhaps a younger cheese than the others. Good for cooking or grating.
 Nife is Life 24-month parmigiano reggiano DOP
This was a smoother Parmesan: easy to eat, with a caramelised nutty flavour that balanced well with its saltiness. A 36-month Parmesan is also available.
 From: NifeisLife, £8.85 for 300g
Verdict: 4 stars. Brilliantly tasty all-rounder with milder, creamy qualities, a good choice for grating over pasta or risotto.
 Gran kinara parmesan-style

Vegetarian rennet from thistles was the old way of setting cheese in the Piedmont mountains. Revived a few years ago, this crumbly hard cheese is milder than regular aged Parmesan but a supremely delicious option.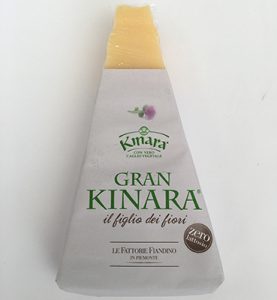 From: Vorrei, £5.99 for 250g
Verdict: 3 stars. If you're lactose-intolerant or vegetarian, this tangy cheese is the perfect choice. For grating or as a delicious antipasto.
 Waitrose parmigiano reggiano DOP
A satisfying, grainy Parmesan, the first impression of flavour is mild but it builds to a rich, nutty taste with a mellow finish. On a practical note, we also liked the way the pack was resealable for freshness.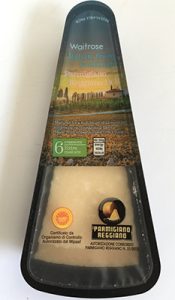 From: Waitrose, £5.75 for 200g
Verdict: 3 stars. An excellent supermarket Parmesan, with a pleasing complexity of flavour that makes it ideal for cooking or the cheeseboard.