The king of Italian cheeses, Parmigiano Reggiano's heritage dates back 900 years!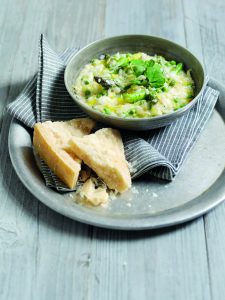 Parmesan, pea and asparagus risotto
Serves 4 – Preparation 10 minutes – Cooking 30 minutes
Ingredients
70g butter
1 onion, finely chopped
2 garlic cloves, crushed
1 stick celery, chopped
150g asparagus, chopped
300g risotto rice
200ml white wine
700ml vegetable stock
150g peas, preferably fresh
2 tbsp crème fraîche
120g grated Parmesan cheese
1 lemon
Salt and pepper
Pea shoots and olive oil, to serve
Method
Melt 50g butter in a heavy pan, sweat the onion and garlic, add the celery and half the asparagus and cook for 2 minutes.
Add the risotto rice and stir until coated in butter and translucent. Add wine and stir until the liquid has evaporated.
Add 500ml stock, a ladleful at a time, stirring until the stock has been absorbed. Pour in the remaining 200ml stock, asparagus and peas. Bring to the boil and stir until most of the stock has been absorbed.
Remove from the heat and stir through the crème fraîche, 80g Parmigiano Reggiano, zest and juice of ½ lemon and remaining butter. Season to taste. Serve sprinkled with lemon zest, pea shoots, more Parmesan and a drizzle of olive oil.