Some of the more complex Italian recipes will take hours to prepare – and just as long to enjoy! – but when you're in a hurry you're going to need quick-and-easy recipes.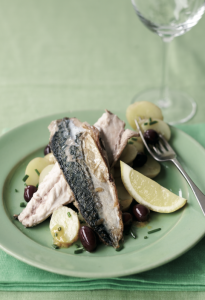 Mackerel fillets with potato and olive salad – (Filetti di sgombro con insalata di patate e olive)
There are lots of different fish called 'mackerel' and the ones you find in Atlantic waters may not be the same as those from the Mediterranean, but they will still work just as well!
Serves 2  – Preparation 10 minutes – Cooking 20-25 minutes
Ingredients
4 mackerel fillets

200g Jersey new potatoes,
scrubbed clean

½ tbsp hot mustard

1 handful of black olives

1 tbsp red-wine vinegar

3 tbsp extra-virgin olive oil

1 handful chives, snipped

1 tbsp olive oil, for the mackerel fillets

sea salt and freshly ground black pepper

lemon wedges, to serve

Gently boil the potatoes in salted water for 15 minutes, or until tender. Whisk the mustard, vinegar and seasoning in a small bowl. Add the oil and whisk further.
Method
When the potatoes are done, set them aside to cool for 10 minutes. When cool, slice them roughly and add to the dressing. Add the olives, and top with the snipped chives.

Meanwhile, season the fillets with salt and pepper. Heat half the olive oil in a large frying pan, add half the fillets skin side down, cook for 3-4 minutes on each side, or until completely cooked through. Remove from the heat and set aside. Cook the remaining fillets.

Serve the fillets with the potato salad and a wedge of lemon.