These cozze e ceci make a delicious starter dish to share with the whole family. Serve with crusty bread to get every bit of flavour from the juices!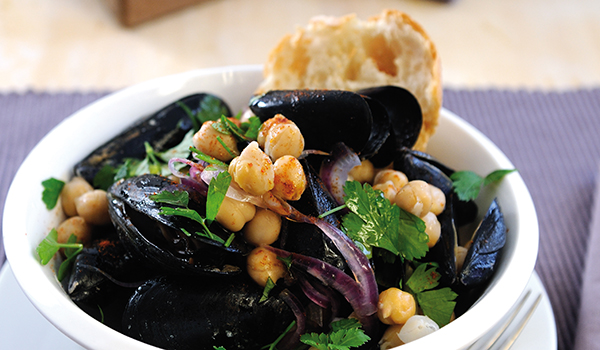 Ingredients:
2 tbsp olive oil
1 small red onion, peeled, finely sliced
1 garlic clove, peeled, crushed
150ml dry white wine
1kg mussels in their shells
450g cooked chickpeas
1 tbsp chopped flat-leaf parsley
a pinch of chilli pepper
Method:
Heat the olive oil in a large saucepan, then add the onion and garlic. Sauté for a few minutes, then add the wine to the pan. Once the wine comes to the boil, add the mussels and cover. Cook for around 2-4 minutes.
Shake the pan a few times during this time, and when you take the lid off make sure the mussel shells have all opened. If they haven't, close the lid and cook for another minute. If some of the shells still don't open, discard them.
Add the chickpeas and stir through for 1 minute. Ladle the mixture into serving bowls and top with chopped parsley and a pinch of chilli pepper.
SaveSave