This linguine with spicy prawns or linguine con gambrel picanti is a fantastic dish for a midweek meal. 
Make this for your family this week – you can make it as hot or as mild as you like!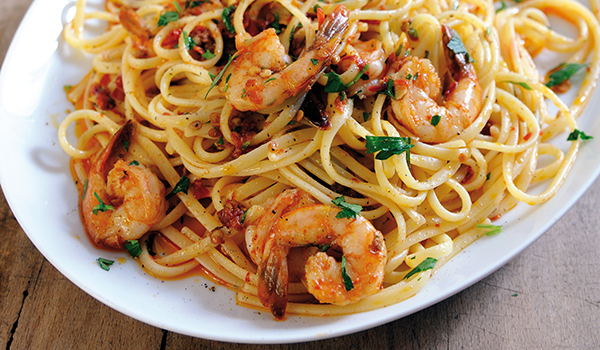 Linguine with spicy prawns
Ingredients:
320g linguine pasta
400g fresh prawns, shells removed, deveined
2 garlic cloves, peeled, crushed
1-2 medium/hot chilli peppers, chopped
2 tbsp tomato purée
50ml olive oil
1 tbsp finely chopped flat-leaf parsley
salt and freshly ground black pepper
Method:
Bring a large saucepan of salted water to the boil. Once boiling, add the linguine and cook according to packet instructions for about 10-12 minutes, until al dente.
In the meantime, heat the olive oil in a large frying pan and add the garlic, chilli peppers (with or without the seeds, depending on how hot you like it), and tomato purée. Sauté for a few minutes, until the garlic takes on a little colour, then add the prawns. Stir to coat the prawns and continue to cook over a moderate heat for 4-5 minutes. Finally, add the parsley to the pan.
Drain the pasta, then add to the pan, season to taste and mix everything together well. Serve immediately with plenty of fresh crusty bread to soak up all the juices.