If you're heading for Italy in the autumn months, you may be lucky enough to stumble across a chestnut festival – wonderful events for foodies to enjoy!
Photos by Getty
Chestnut festivals take place all over Italy in autumn. As well as the one at Vallerano, there are chestnut festivals at Marradi near Florence, Cuneo in Piedmont, Soriano nel Cimino (just north of here), and Combai near Treviso, to name but a few!
Did you know…
• The European chestnut, Castanea sativa, is distinct from varieties found in other parts of the world.
• The chestnut has been cultivated in Europe and Asia Minor for at least 4,000 years. It can be seen today in temperate regions from Ireland to Turkey, but is probably native to Italy.
• Chestnuts will fall off the tree when they are ripe enough to be eaten, but you must pick up them up off the ground within two days of their falling off the tree for them to still be in a good enough condition to eat.
• Chestnuts are extremely high in fibre, which is great for the gut and gives us that full feeling which stabilises our blood sugars. They are the only nut that contains Vitamin C, and they are also rich in antioxidants.
• To the early Christians, chestnuts symbolised chastity; in Japan chestnuts represent mastery and strength and are eaten at New Year.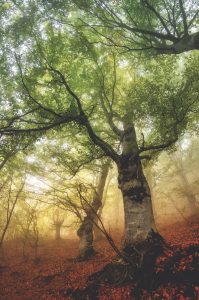 • There is a tree growing on Mount Etna in Sicily that is the largest known chestnut tree in the world, and also supposedly the oldest. It has a circumference of 190 feet and is between 2,000 and 4,000 years old.
Click here for a delicious Chestnut & Chocolate Cake recipe