Home-made tagliatelle is great to have on standby for a speedy supper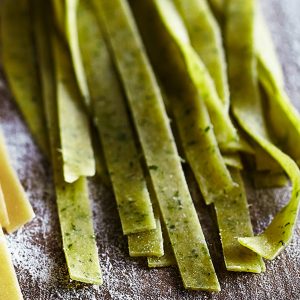 Basil Tagliatelle – Recipe by Lakeland
Serves 4
Ingredients
50g basil leaves
Salt and freshly ground pepper
250g '00' flour, plus extra to dust
¾ tsp salt
20ml basil oil, plus extra for drizzling
1 egg
3 egg yolks
Method
First, make a basil purée by bringing a medium saucepan of salted water to a gentle boil then tip in the basil and cook for a few seconds until soft and tender. Strain and refresh in a bowl of iced water. Drain the basil and transfer it to a blender, blend to a smooth purée then pass through a fine sieve. Add a little water so it takes on the consistency of pesto, then season with salt and pepper.
Sift the flour into a food processor with the ¾ tsp salt and add the basil purée, basil oil, egg and egg yolks. Blitz until a firm consistency is achieved. Remove from the processor, transfer to a floured surface and knead until the dough comes together and is very smooth and elastic. Divide the dough into four equal portions, wrap in clingfilm and chill for 30 minutes.
Using a pasta machine, gradually roll each piece until you have thin sheets of pasta, dusting the pasta with flour if needed between each pass through the machine.
Attach the tagliatelle cutter to your pasta machine, roll the pasta through it and then allow the pasta ribbons to dry on a rack for about 20 minutes before cooking.
To cook, place the tagliatelle ribbons in boiling water for approx. 4 minutes.
Recipe by Lakeland