Casa Luca is a restaurant run by Favio Trabocchi and his wife, Maria, in Washington DC. The chef has let us in on some of the culinary secrets of his homeland in Italy, these almond cookies are just our favourite!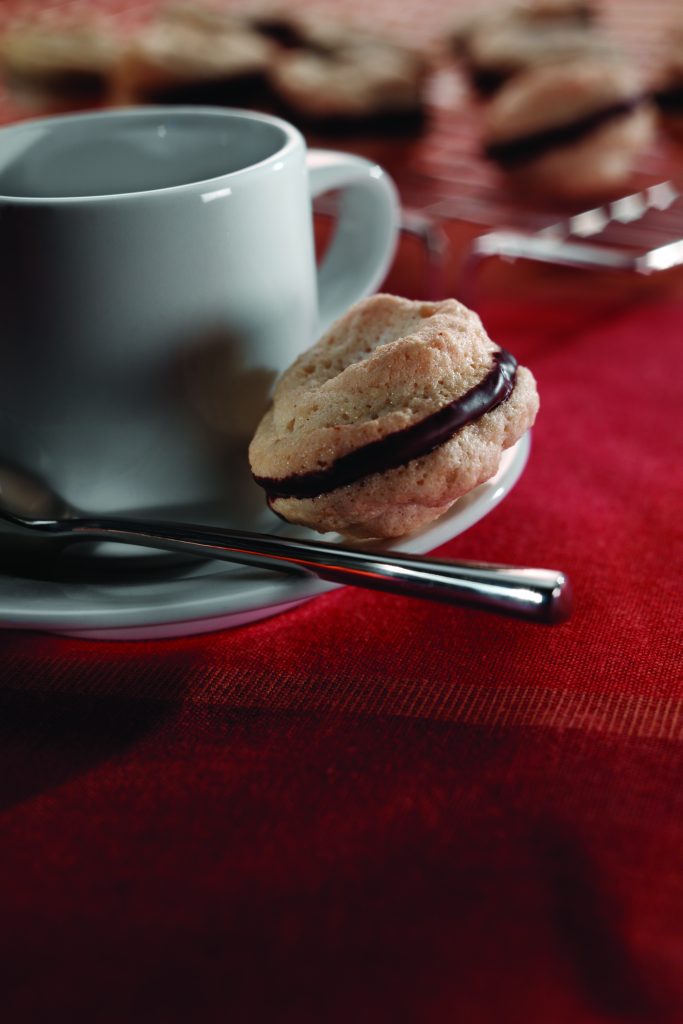 Serves 6 – Preparation 45 minutes plus 45 minutes standing – Baking 10 minutes
Ingredients
5 large egg whites
500g granulated sugar
450g almond flour
2 tsp ground cinnamon
60ml light rum
2 tbsp manteca or soft lard,
at room temperature
25g icing sugar for dusting
Method
First of all, put the egg whites in the bowl of a standing mixer, set the bowl over a pot of hot water and whisk until the whites are at room temperature. Add about a third of the sugar to the bowl and attach the bowl to the mixer stand.
Using the whisk attachment, beat at medium speed for 4 minutes. Add another third of the sugar and whisk for 4 minutes. Add the remaining sugar and whisk for an additional 2 minutes, or until the whites form stiff peaks.
Remove the bowl from the mixer and, using a large rubber spatula, fold in the almond flour, cinnamon and rum, working gently from the bottom of the bowl to the top. When the flour is fully incorporated, add the lard and continue to fold until it is blended in. Line 2 or more baking sheets with parchment paper.
Transfer the dough to a pastry bag fitted with a 5mm plain tip. Pipe 2.5cm-round cookies that are about 5mm high onto the lined baking sheets, leaving about 5cm between them.
Moisten your finger and make an indentation that looks like a broad bean in the centre of each cookie. Dust the cookies with icing sugar and let stand, uncovered, in a well-ventilated area for 45 minutes. The tops will form a slight crust.
Position the racks in the centre and lower third of the oven and preheat to 180ºC/Gas Mark 4.
Bake the cookies for about 10 minutes or until they form a crisp crust, rotating the baking sheets once halfway through cooking. Let the cookies cool to room temperature on the sheets placed on wire racks. Store in airtight containers for up to 2 days.
Tags:
Almond
,
Baking
,
Cookies
,
food
,
Italian Baking
,
recipe