The start of summer means one thing – it's barbecue time! This month Mario Matassa shares some classic Italian recipes for la grigliata
Barbecue food photos by Mario Matassa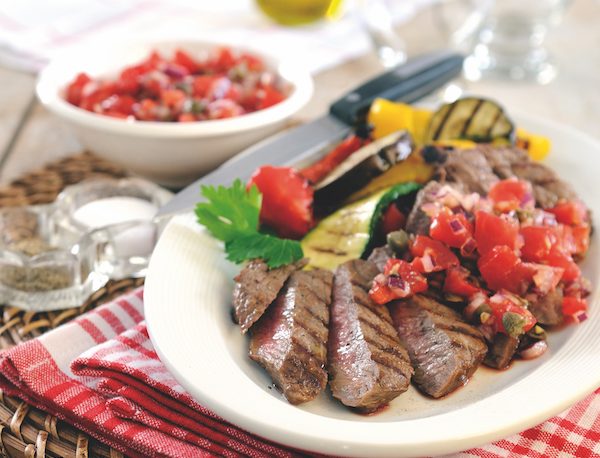 Nothing stirs the appetite quite like the aroma of a good barbecue on a summer's evening. Italians first take to their grills from late June and the charcoal keeps smoking through to mid-September. It's the one time of year when Italian men take to the kitchen – in a manner of speaking – donning a bottle of lighter fluid in one hand and an oversized pair of tongs in the other. They take to their grills like captains at the helm, towering over a mound of ribs, salamelle (thick Italian sausages), and peppers. 
The barbecue in Italy comes in all shapes and sizes. Huge industrial versions are brought in to service the thousands of people who converge on the countless feste and sagre (food festivals) held throughout the country in the summer. Closer to home, grills range from the more modest aluminium affairs to the DIY stone versions, often with a chimney, that have become the centre piece of many an Italian garden (mine included). Few Italians cook directly over the fire. The one exception that comes to mind is the traditional bistecca alla fiorentina (Florentine T-bone steak, above) which has to be cooked for five minutes on each side directly over smoking charcoal. 
T-bones aside, usually a large piece of cast iron or stone (known as a piastra), seasoned with years of use, is sandwiched between flame and food to serve as a cooking platform. The piastra is sacred. It takes years to season it to optimum condition and so prized are they that they are handed down from one generation to the next, like a family heirloom. 
As with all things culinary, what goes on the barbecue will very much depend on where in the country you happen to be. However, a couple of generalisations can safely be made. For the most part, Italians like to keep things simple. Meat tends to be cooked on the grill in very much the same way it is cooked over the hob – that is, with little fuss. Reliance is placed on the flavour of the piastra and the quality of the ingredients. Sticky or complicated barbecue sauces are notable by their absence. At most, meat is marinated in a mix of white wine, garlic, olive oil and fresh herbs, such as rosemary and sage. 
The undisputed king of the grill in Italy is the spiedino (essentially a shish kebab). It's the one dish that is only ever made on the grill or barbecue. The spiedino can comprise meat or fish between vegetables such as peppers or courgettes. The secret to the perfect spiedino is getting the right mix: a combination of lean and fatty cuts works best (meat that is too lean will dry out on the grill). So, a typical pork spiedino will include a mix of loin, sausage and pancetta. Simply charge your skewer, place on a hot grill and cook!
Polpettine
Meatballs (polpettine) in Italian cuisine are generally associated with leftover meats minced and fried in a pan. However, meatballs can also work on the grill as long as you take a few steps to ensure that they remain moist. By doing this, you can use lean meats – such as pork loin, chicken and turkey breast – that might otherwise dry out on the barbecue.
The trick is to combine the meat with another ingredient that will keep it moist. In this recipe I've used day-old stale bread (known as pane raffermo) soaked in milk. You can also use dried breadcrumbs and an egg, or the flesh of a vegetable like an aubergine, baked and mashed with a fork. Finally, adding the zest or juice of a lemon or lime together with a handful of fresh herbs really lifts the flavour.
Bistecca alla fiorentina
The bistecca alla fiorentina (Florentine T-bone steak) is arguably Italy's most recognisable barbecue dish. It is, however, very expensive, and as such tends to be reserved for special occasions. Chianina beef T-bones are the most highly prized because of their intricate marbling of fat. Interestingly, some butchers will tell you that this is the only cut from that particular breed of cattle that's worth eating – other parts of the animal are considered far too fatty. If you can't find Chianina beef at your butcher's, sirloin or fillet is fine, just as long as it has a good marbling of fat to ensure that your steak remains meltingly tender. Try this recipe to make the most of your meat.
Radicchio
Radicchio is the name for a number of varieties of the endive or chicory family – there's often confusion over names in Italy. The red radicchio comes in various varieties and shapes. Most popular are those from Chioggia and Verona, which are preferred finely sliced and put in salads, and those from Treviso and Castelfranco Veneto, which can be cooked. 
Cooking methods tend to be simple. It's most often grilled or oven-roasted and finished with a healthy drizzle of extra-virgin olive oil and, if you like, a squeeze of fresh lemon juice. Cooked this way it makes for an excellent contorno or part of a main of mixed roasted vegetables. It also makes for a light evening supper when served with some cheese and chunks of crusty ciabatta bread. Here's how to cook it.
Verdure grigliate
Grilled vegetables (verdure grigliate) are a summer treat. Peppers, courgettes, aubergines, radicchio, red onions and even tomatoes can all be transformed into something quite delicious over the grill. 
Courgettes and aubergines should be sliced, basted in olive oil, seasoned and grilled. Once cooked, add extra olive oil and a clove of garlic, then leave to marinade for 30 minutes before eating. Peppers should be cooked whole. About 15 minutes, turning frequently, is sufficient time for cooking, after which they should be placed in a plastic container with a lid. Once cool, they peel easily and again are perfect simply seasoned with a drizzle of oil and some salt and pepper. Try this recipe for your next barbecue.
Calamari
Italians eat a lot of squid – a type of mollusc – and it comes in various shapes and sizes. Totani (small squid), calamari (long squid), seppie (cuttlefish), seppiolini (tiny cuttlefish), moscardino (musky octopus), and polpo (octopus) are all popular throughout the coastal regions of Italy. 
How you should cook your squid is generally dictated by the size of the mollusc. As a general rule, with smaller fresher fish, grill it quickly and it will be meltingly tender. If you cook it for too long it will become chewy. Larger types of squid should be pre-cut before grilling and tenderised in a marinade. The key to success with this dish is to cook it over a high heat. It can be eaten hot or cold. Find my recipe here.
Pollo
Spatchcocked whole chicken (pollo), rubbed with a mix of dried or fresh herbs, is always a popular dish in Italy during barbecue season. Cooked this way, the white meat remains moist and the long cooking time ensures that the chicken takes on the full flavour of the grill. 
In this recipe I've used thighs, but if you prefer the white meat, you can opt for whole chicken breast (if you do, just remember to keep the skin on). 
The pancetta ensures that the meat stays basted and moist. Plenty of rosemary wrapped into the joint adds a wonderful herby flavour to the dish.