In her new book on the subject, Jenny Linford describes every imaginable way of cooking with garlic. Here we present four of her recipes with a distinctively Italian twist…

1. Grilled wild garlic mussels / 
Cozze grigliate all'aglio selvatico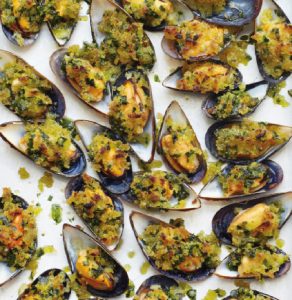 A rich, tasty way to serve mussels, this offers a great contrast of textures between the crunchy crumb crust and the juicy mussel flesh below.
Serves 4
as an appetizer
or 2 as a main
Preparation
30 minutes
Cooking
15 minutes
Ingredients
1kg mussels
30g fresh breadcrumbs
15g wild garlic leaves,
thoroughly rinsed and very finely chopped
60ml extra-virgin olive oil
Salt and freshly ground black pepper
Method
Rinse the mussels well under cold running water, discarding any which are open or cracked. Scrub well to remove any beards or grit.
Put the cleaned mussels in a large pan, adding cold water to a depth of 2.5cm up the side of the pan. Set the pan over a medium heat, cover and cook the mussels for 5 minutes, until they have steamed open.
Drain the mussels, discarding any that haven't opened during the cooking process.
Once the mussels are cool enough to handle, pull one half of each shell off each mussel, leaving the mussel anchored in the remaining half. Place the mussels, shell-side-down, on a baking sheet.
Mix together the breadcrumbs, wild garlic and olive oil, seasoning with salt and freshly ground pepper. Spoon a little of the breadcrumb mixture over each mussel, so that it forms a topping.
Preheat a grill to its highest setting and cook the topped mussels for 2-3 minutes until the crumb topping turns golden brown. Serve at once.
---
2. 
Risotto nero with garlic prawns/ 
Risotto nero con gamberi all'aglio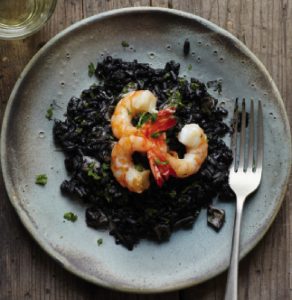 A well-made risotto is always a treat. Black rice, cooked with squid ink and flavoured with fish stock, combined with pink prawns, makes a striking dish.
Serves 4
Preparation
30 minutes
Cooking
30 minutes
Ingredients
1 litre good-quality or
homemade fish stock
3 tbsp olive oil
1 shallot, finely chopped
3 garlic cloves, 2 finely chopped and 1 peeled but left whole
200g squid, cleaned and
chopped into small pieces
8g sachet of squid ink
350g risotto rice
50ml dry white wine
25g butter
12 raw tiger prawns, heads removed, peeled and deveined
salt
chopped fresh parsley, to garnish
Method
Bring the fish stock to a simmer in a large pan. Heat 2 tbsp olive oil in a separate, heavy-based saucepan. Add the shallot and chopped garlic and fry gently, stirring, until the shallot has softened. Add the squid and fry, continuing to stir, until whitened and opaque. Mix in the squid ink. Stir in the rice. Pour over the wine and cook, stirring, until reduced.
Add a ladleful of the stock to the rice and cook, stirring, until absorbed. Repeat until all the stock has been added and the rice is cooked. Taste and season with salt as needed. Stir in the butter and set aside to rest briefly.
Heat the remaining oil in a frying pan. Once frothing, add the whole garlic clove and fry, stirring, until fragrant. Add the prawns with a pinch of salt and fry, stirring, until the prawns have turned pink and opaque and are cooked through. Discard the garlic clove. Serve each portion of the risotto rice topped with prawns and garnished with parsley.
---
3. 
Griddled tuna with garlic bean purée and gremolata/ 
Tonno grigliato con purè di fagioli all'aglio e gremolata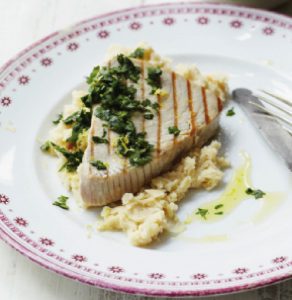 Gremolata – traditionally served with osso buco – also goes very well with fish. Here, firm-textured tuna steaks contrast nicely with the soft bean purée, while gremolata adds a refreshing zip. A great dish to make for dinner parties.
Serves 4
Preparation
10 minutes
Cooking
20 minutes
Ingredients
2 x 400g cans of butter beans in water
2 tbsp olive oil
1 onion, finely chopped
1 garlic clove, finely chopped
4 tuna steaks, each approx. 200g
Salt and freshly ground black pepper
Extra-virgin olive oil, to garnish
For the Gremolata
2 garlic cloves
Pinch of salt
Finely grated zest of 2 lemons
6 tbsp finely chopped fresh parsley
Method
First, make the gremolata. Crush the garlic cloves with a pinch of salt to a paste. Mix together with the lemon zest and parsley and set aside.
Drain the beans, reserving 4 tbsp of the bean water. Heat 1 tbsp olive oil in a heavy saucepan. Add the onion and garlic and fry gently, stirring, until softened. Add the drained butter beans and reserved bean water, mixing in.
Cover and cook gently for 10 minutes, stirring now and then. Mash into a purée, season with salt and pepper and keep warm until serving.
Preheat the griddle pan until very hot. Coat the tuna steaks with the remaining olive oil and season with salt and pepper. Griddle the tuna steaks until cooked to taste (2-3 minutes per side), turning occasionally to ensure even cooking.
Spoon the gremolata over the griddled tuna steaks and serve on a bed of bean purée, spooning over a little extra-virgin olive oil for flavour and moisture.
---
4.
Italian sausages with garlic lentils/ S
alsiccie con lenticchie all'aglio
Sausages and lentils make the perfect partners. This is an easy, filling meal full of robust flavours – comfort food Italian style! If possible, use fresh Italian pork sausages, which are often flavoured with garlic and fennel, as their texture and taste work well with the lentils.
Ingredients
400g Castelluccio or Puy lentils, rinsed
1 carrot, finely diced
300ml red wine
1 litre cold water
3 garlic cloves, peeled and left whole
1 fresh bay leaf
3 fresh sage leaves
½ tbsp vegetable oil
8 Italian sausages (or good-quality meaty sausages)
3 tbsp extra-virgin olive oil
4 tbsp freshly chopped parsley
Salt
Method
Preheat the oven to 200°C/Gas Mark 6. Place a roasting pan in the oven to preheat.
Place the lentils and carrot in a large saucepan. Add the wine, water, garlic, bay and sage. Bring to the boil, then reduce the heat and simmer for 20-25 minutes until the lentils are tender but retain some texture. Add salt to the lentils to season, then drain.
While the lentils are cooking, heat the vegetable oil in a large frying pan. Add the sausages and brown quickly on all sides. Transfer the sausages to the preheated roasting pan and bake for 20-25 minutes until cooked through.
Pick out and discard the bay leaf and sage leaves from the lentils. Mash the garlic cloves. Toss the cooked lentils with the mashed garlic, olive oil and parsley. Top with the sausages and serve at once.
Garlic by Jenny Linford, photographs by Clare Winfield, published by Ryland Peters & Small.