If there's one element of Italian cooking that Brits have really taken to their hearts, it's pizza. We put seven shop-bought versions of the classic margherita pizza to the test.
It was humble baker Raffaele Esposito, or rather Queen Margherita of Savoy, who gave this dish its distinctive name. On paying a visit to Naples in 1889, the much-loved queen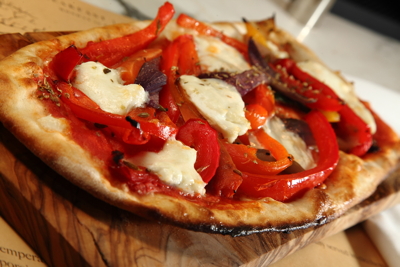 was given a tricolour pizza that reflected the flag of Italy in its ingredients: red tomatoes, white mozzarella and green basil. Since then, this simple version has gained popularity all over the world and remains one of only three officially recognised Neapolitan pizzas, the others being the marinara and the margherita extra.
The earliest recipe can be traced to 1866 in a book by Francesco de Bourcard called Customs and Traditions of Naples, which documents how focaccia bread topped with oil and cheese soon morphed into the wood-fired version we know today. It was an important element of the cucina povera tradition for years before being taken up by the higher classes as a culinary art. Today you can sample an array of flavours and toppings that reflect a healthy mixture of world cultures, but an authentic margherita is hard to find outside of Italy. Although we knew that these shop-bought pizzas would never reflect the true flavour of Naples, they do deliver a satisfying (and, let's face it, easy) slice of Italy to your table.
Editor's Choice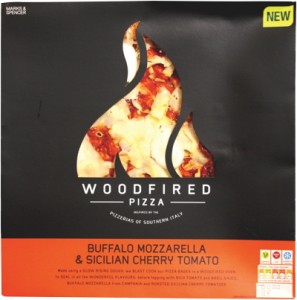 Wood-fired Pizza
From Marks & Spencer
Price £4.99/450g
This is a new line for Marks & Spencer and we have to say it's rather wonderful. For a ready-made pizza, the flavours and textures are as close to the real thing as you're likely to get at home, probably because, as the name suggests, the dough is blasted in a wood-fired oven before the toppings are added. A short shelf life, but that's no bad thing as it ensures the ingredients are fresh. You get a generous amount of authentic buffalo mozzarella and the tomatoes used are a tempting shade of red. As with all the pizzas we tested, it would benefit from a few freshly torn basil leaves, but otherwise a good all-rounder that would make a satisfying weekday meal for all ages. It's also stayed faithful to the original recipe, and is made with olive oil, too.
VERDICT *****
A good all-rounder made with authentic buffalo mozzarella and pre-cooked in a wood-fired oven for an extra smokey flavour.
………………………………………………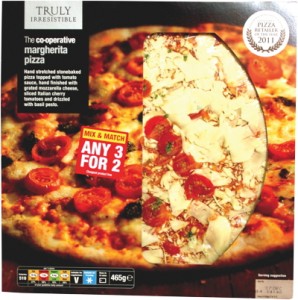 Truly Irresistible Marghertia Pizza
From The Co-operative
Price £3.89/465g
Presumably in place of basil, the Co-op have taken it upon themselves to add a few dashes of pesto topping to this classic recipe. Although not strictly an ingredient for margherita, it does work well and gives a different element to the overall balance and taste. There's plenty of cheese (always important) and a thin, crispy crust that is firm to the touch underneath. Quite a success, and a good price with offers.
VERDICT ****

With pesto for added flavour, this is a pizza with plenty of cheese and bite to the base.
………………………………………………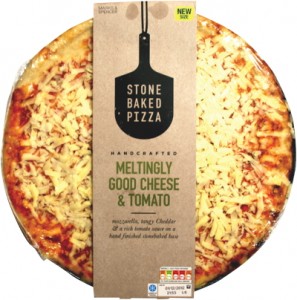 Stonebaked Pizza
From Marks & Spencer
Price £2.99/450g
You can tell it's not quite up to the standard of a wood-fired pizza, but it's still got the quality of ingredients you'd expect from Marks & Spencer. Although some purists might reel at the prospect of cheddar on pizza, the Italians themselves are actually pretty keen, so toss your skepticism aside and tuck in. A richly seasoned tomato sauce on a golden base is the finishing touch to another winning supermarket brand.
VERDICT ***
Another twist on the classic delivers the addition of strong cheddar.
………………………………………………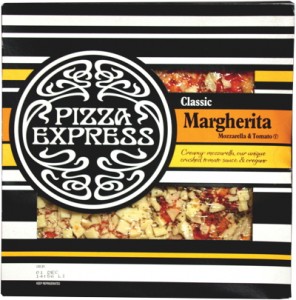 Pizza Express Margherita
From Various supermarkets
Price £4.99/250g
We thought the size of this shop-bought pizza didn't quite warrant the price tag, the large ones are around £6, but the taste was certainly spot on. A hand-stretched base ensures an authentic, floury texture, and the recipe has been kept simple in true Italian style. You can just about taste the oregano in the tomato sauce, although we would suggest adding a little more to taste. A golden, bubbling effect greeted us when taking it out of the oven.
VERDICT ••••
We thought it was a bit pricey, but on flavour and texture it has to get full marks.
………………………………………………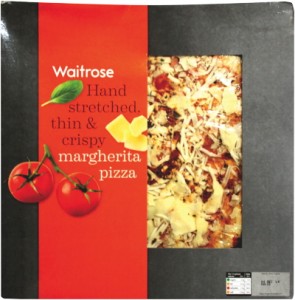 Thin & Crispy Margherita Pizza
From Waitrose
Price £4/435g
Despite the promising illustration of a basil leaf on the packet, we couldn't see or taste the herb at all. Instead we were met with mouthful after mouthful of stringy, salty cheese, which was tasty enough to make us forget about anything green. The crust was done just how we like it, sauce pushed up to about an inch from the edge, but the base was a bit soggy underneath and was sagging a little in the middle.
VERDICT ***

A regular favourite with the team, good cheese and a satisfyingly crunchy crust.
………………………………………………
Cheese Feast Pizza
From Morrisons
Price £2/445g
For some reason, Morrisons have discontinued their high-end margherita pizza, which leaves this inelegantly-named cheese feast for us to test. We know it's not quite the same thing – not proper mozzarella, for a start, and a real mixture of cheeses for the topping. It might be unfair to compare it to the others, but we were genuinely disappointed at the quality of ingredients and the salt and fat levels were a bit too high for comfort.
VERDICT **

It's not claiming to be a margherita, which we think is probably just as well.
………………………………………………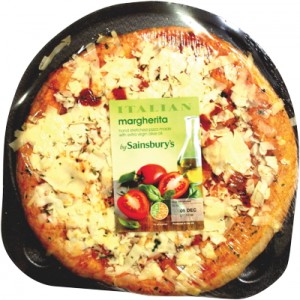 Italian Margherita Pizza
From Sainsbury's
Price £3.60/360g
This pizza had a springy, doughy base and an authentic sprinkling of herbs to make a pretty successful mouthful. The cheese was a little rubbery and mild, but there was enough of it to satisfy most of our taste testers. It's a good size and a reasonable price, too, and has lower salt levels than some of the other supermarket brands. Again, don't go expecting fresh basil, but for an easy midweek treat (served with plenty of salad, of course) it's a delight.
VERDICT ••••
A good midweek treat with lots of bubbling cheese to melt your heart.
Tags:
blog
,
Buy Italia
,
food
,
margherita pizza
,
review
,
Supermarkets
,
Taste test