Known as the Green Heart of Italy, Umbria has a deep-rooted wine tradition, and despite recent earthquakes their wines are on the rise
Umbria, in central Italy, is a region of lush rolling hills, hilltop villages and iconic historic towns. Nestling in the heart of the Italian peninsula, it is landlocked by Tuscany, Le Marche and Lazio, and is the only Italian region without a coastline or international border. The climate of Umbria is similar to that of neighbouring Tuscany – cold, rainy winters and dry summers with plenty of sunshine, apart from the area west of Perugia, where Lake Trasimeno creates its own microclimate.
Local viticulture produces both red and white wines, with Orvieto having the largest percentage of production. This style of wine captures the subtle fruit characters of the Trebbiano and Grechetto grapes, perfect for drinking with lighter dishes or on their own. The reds, on the other hand, are at the opposite end of the scale when it comes to their clout. The native Sagrantino grape, grown around Montefalco, is a wickedly tannic grape that produces wines high in alcohol. Powerful and dark, the mighty Montefalco Sagrantino is a DOCG, but here we are sampling the local Montefalco Rosso DOC, which blends Sangiovese with Sagrantino, creating less tannic and fruitier wines.
Discovery of the month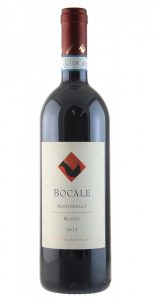 Montefalco Rosso Bocale DOC 2015
Local producer Bocale has just five hectares of vines in the Montefalco zone. Their Montefalco Rosso is mainly Sangiovese grapes with a percentage of Merlot and earthy Sagrantino too. A rich red, it is a complex wine with berry-fruit and floral aromas, and a bold punch of spice on the palate, plenty of tannins and a fruity acidity.
Pair with: Hearty pasta dishes, roasted meat and poultry, mature cheeses, or a classic Umbrian sausage and lentil stew.
From: Dolce Vita Wines, £17.45
The best of the rest…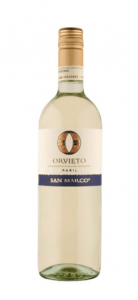 San Marco Orvieto DOC Amabile 2017
'Amabile' denotes off-dry as opposed to the more modern 'secco' style of Orvieto. A blend of Trebbiano and Grechetto grapes, this wine has a golden hue with a peachy fragrance. On the palate there are honeyed tones alongside more peach and ripened melon. The underlying current of lemon and pineapple brings a zip of acidity to the juicy sweetness. Sweeter than some, this finely balanced wine pairs well with desserts as well as savoury.
Pair with: Shellfish, white meats in cream sauces, fresh fruit and pâtisserie.
From: Great Western Wine, £8.95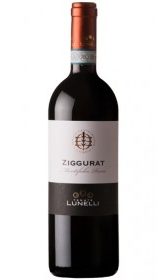 Ziggurat Montefalco Rosso DOC 2016, Tenuta Castelbuono
From the Tenute Lunelli's Umbrian vineyards at Castelbuono, this organic wine is a skilful blend of 70 per cent Sangiovese grapes with 15 per cent each of, Cabernet and Merlot to add texture and complexity. Oaky and elegant, it is brimming with black cherry and spice on the nose and palate. A powerful 14 per cent ABV, it's smooth and drinkable. Firm tannins ensure it will improve with age too.
Pair with: Delicate seafood pasta dishes, shellfish, mild soft cheeses, or just on its own!
From: Great Western Wine, £14.50

Vigneto Mortaro Orvieto Classico DOC 2017 Barberani
Traditionally vinified 'amabile' (see San Marco, left), you'll now find a drier style of Orvieto more often than not, to suit modern preference. This wine is winsomely pale with a greenish hue; fresh, floral and fruity on the nose. Clean and bright in the mouth with green apples and sweet pineapple, it also has a hard edge of citrus and a hint of bitter almonds to create a well-balanced wine with a very crisp finish.
Pair with: A match for salmon, shellfish and light, tangy goat's cheeses.
From: Majestic Wine, £8.99 (single bottle)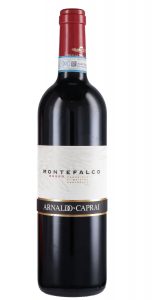 Arnaldo Caprai Montefalco Rosso DOC 2015
Producer Arnaldo Caprai put the Sagrantino grape on the map. The family recognised its potential and made a darkly intense wine. This Rosso is a union that harnesses the power of Sagrantino and the liveliness of smoother Sangiovese. Ruby-red in the glass, this a well-structured wine that needs to breathe before drinking. Full of cherry fruit, hints of liquorice and leather, drink now or lay down for a few years.
Pair with: Drink on its own or with red and white meats, charcuterie or aged cheeses.
From: Mondial Wines, £16.97
2013 Grechetto, Cantina Novelli, Montefalco
Cantina Novelli is a winery founded in 2007 by Stefano Novelli and dedicated to producing modern wines from Umbria's indigenous grape varieties. Grechetto has come into its own in the last few decades, and the wines are regarded as some of the finest in the region. Elegant, complex and 100 per cent Grechetto, this fruity little gem has subtle wildflower aromas, peach and pineapple flavours, and is dry and slightly nutty to finish.
Pair with: Linguine alle vongole, seared scallops, pumpkin-stuffed ravioli.
From: Berry Bros & Rudd, £9.95
For more great Italian wines to try, you'll find plenty of reviews here.