Mionetto. More than just a Prosecco. Here we explain why…
In the heart of the Veneto Valley, where Prosecco originated, is Valdobbiadene, the home of premium Prosecco brand Mionetto. Founded in 1887 by master winemaker Francesco Mionetto, Mionetto Prosecco is still produced on the original site. The company tells a story of heritage and authenticity, with its roots in its founder's love and passion for winemaking and for his home region.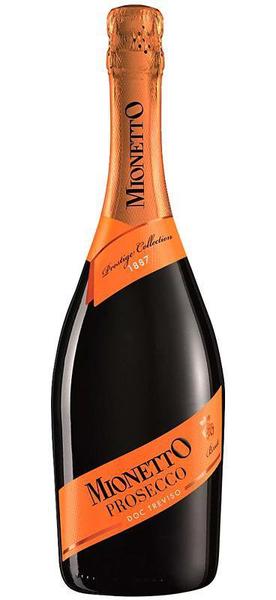 Long-standing collaborations with grape producers allow Mionetto to select only the best quality grapes for its Prosecco. That is why it is proud to offer a premium Prosecco that is light, fresh and fruity – exactly what a Prosecco should be.
Mionetto Prosecco DOC Treviso Brut, the Orange Label of the brand's Prestige Collection, is the hero product of Mionetto. With unmistakeable style and quality, this Prosecco has a bouquet redolent of Golden Delicious apple, while the palate is marked by aromatic notes of honey, white peach and acacia blossom. Extremely versatile in pairing, it goes very well with vegetables, minestrone, mushrooms and grilled fish.
Italian style is part of Mionetto's identity, and the design of the brand, with its striking black and orange, delivers the experience of an easy-going Italian dolce vita.
Since 2017, Mionetto Orange Label has been recognised as the world's bestselling Prosecco by the alcoholic drinks market researcher IWSR.
Prosecco DOCG and DOC: What's the difference?
DOCG and DOC are Italian quality assurance designations for Italian wines, including Prosecco. DOCG stands for 'Denominazione di Origine Controllata e Garantita' (Controlled and Guaranteed Designation of Origin) and is the strictest level of designation for Italian wines. Seeing this on the label of your Prosecco bottle means the producers have followed the strictest regulations in force to make that Prosecco. The Conegliano-Valdobbiadene area acquired DOCG designation in April 2010, and with it the exclusive right to define Prosecco produced from grapes cultivated in this area as Superiore. This terroir, which is comprised of 15 communes, therefore produces the highest-quality expression of Prosecco.
DOC stands for 'Denominazione di Origine Controllata' (Controlled Designation of Origin). To receive DOC status producers must also adhere to strict quality and authenticity regulations, though the rules are a little less strict than those for DOCG status. The Prosecco DOC area was established in 2009 and is comprised of nine provinces in the Veneto and Friuli-Venezia Giulia regions. Mionetto's portfolio offers many wines made from grapes in the Treviso DOC area. As the wines from the province of Treviso are of high quality and Prosecco grapes are traditionally cultivated here, producers are allowed to add the name Treviso to the Denomination.
More information
Visit www.mionetto.com or find us on Facebook: MionettoProseccoUK Instagram @mionettoprosecco_uk and Twitter @Mionetto_
Ad feature in association with Mionetto