Here's our round up of really special Italian drinks to take you through the rest of the festive season and all its celebrations!
Information correct at time of publishing. Please check for current availability and prices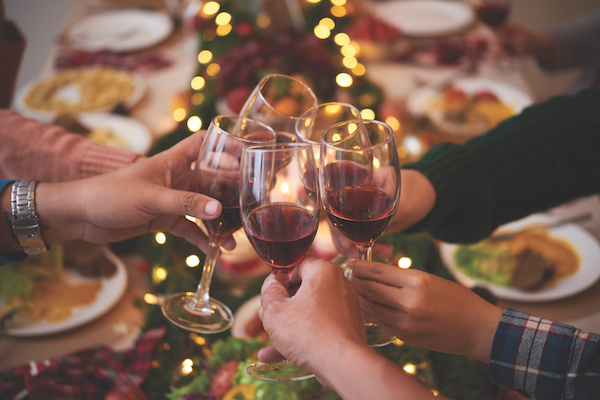 A well-chosen drinks menu is essential for an exceptional Christmas celebration, so we asked our experts to suggest fine wines and liqueurs to complement your festive dishes. All these bottles have the added merit of being superior enough quality to give as extra-special presents to your discerning (over-18) friends and family.
When you're planning your drinks for Christmas, start with aperitivo – think refreshing Campari, sparkling wines, and lighter red or white wines of 12 per cent ABV or less. Also consider Valpolicella and the crisp, dryness of Pinot Grigio. For the main course, this is the occasion for a really fine red, like Amarone or Barolo, with enough acidity to cut through the richness of beef, lamb, game, and even turkey – for while this is a white meat, consider all its rich trimmings, which need the structure of a well-balanced red to go with them. Dessert wines can include sweet sparklers such as Moscato d'Asti for fruit-based puddings, while a richer passito is perfect with dried fruit and a carefully curated cheeseboard – and make sure you don't forget a tot of a fruity Tuscan Vin Santo to go with crisp cantucci.

Discovery of the month
Donnafugata Ben Ryé

The name Ben Ryé derives from the Arabic 'Son of the Wind', after the wind which sweeps round the volcanic island of Pantelleria, where the Zibibbo grapes are grown for this modern-style passito. The tawny nectar brims with apricots, herbs and a hint of citrus peel. Sweet, yes, but with a well-judged acidity that elevates it to the heavens.
Top tip: Pair this with dried fruits, pastries and cakes – it's a perfect dessert wine for Christmas. Works well with blue cheeses too
From: Liberty Wines, £29.95
The best of the rest…

BBR 2016 Redimore, Irpinia Aglianico, Mastroberardino
 A wine you may not have come across, the Redimore from Mastroberardino in Campania is 100 per cent Aglianico. As sophisticated and well-structured as many fine red wines you'll encounter further north, it is garnet-coloured with cocoa, spice and cherry on the nose. Itdevelops with a smoky, leathery note and even more fresh fruit. With a long finish, smooth tannins complete the joy of this special wine.
Top tip: Robust enough to pair with red meat dishes, game and mature cheeses
From: Berry Bros & Rudd, £70 (for case of six)


Amaro Montenegro
This is a traditional amaro named after Princess Elena of Montenegro and made in Bologna since 1885. Distilled with a secret alchemy of more than 40 herbs and botanicals, including vanilla and orange peel, it results in a sturdy ABV of 23 per cent. Dark amber in colour, it is quite citrussy when you take the first sip, and then there's a deliciously bitter undertone that develops to soothe your digestion, with sour cherry and the tang of lemon peel on the bitter-sweet finish.
Top tip: Serve after a meal, or it works well as an aromatic base in modern cocktails
From: Nife is Life, £24.90


Carpano Antica Formula dal 1786
We all need to keep a bottle of vermouth in our drinks cabinet and this deep tawny-red offering is an absolute gem. Produced by Carpano, home of the first ever vermouth, this is made to an original (secret) recipe dating to 1786. Bursting with intriguing botanical aromas and red fruit flavours, it has great depth and you'll enjoy the lingering spicy finish with a bitter twist. Each bottle is individually numbered and would make a lovely gift.
Top tip: Serve on the rocks with a twist of orange, or with a fruity festive dessert
From: Great Western Wine, £30.00
Cantina di Negrar Amarone della Valpolicella 2014
This is an Amarone wine that offers exceptional value, with all the intense characteristics you'd expect from a more expensive example. With heady aromas of violets, bitter chocolate and spice, it is soft and smooth, yet robust and powerful. On the palate, a rich mix of dark fruits with a hint of chocolate and the pudding spices of Christmas. An excellent Amarone. Keep for a few years or drink now.
Top tip: This delicious Amarone will take you through from turkey to Christmas cake
From: Majestic Wines, £21.99 (or £19.99 each for a case of six)


Bertani, Secco Vintage Edition 2015
This elegant red is a step back time, before the advent of Amarone. 100 per cent Corvina, and employing methods used between the 1860s and 1930s, the best Valpolicella wines were aged in barrels, not of oak but of cherry and chestnut. This lends a complexity of flavour without being overly heavy on the tannins. Rich with cocoa, coffee and tobacco, there's liquorice and spice too, for a well-rounded and satisfying finish.
Top tip: Drink this as part of the main event, as a digestivo after your meal, or with mature cheeses
From: Great Western Wine, £23.50

For more great Italian wines to try, we've got lots of reviews here.