Hannah Bellis finds her sea legs to discover Capri, Ischia and Procida islands in the Bay of Naples…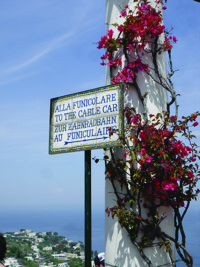 Never one to turn my nose up at a tentacle, I love the fresh flavours and life-giving buzz you only really find in the uniquely crazy, wonderful city of Naples.?I?ve had some exceptional insalata di mare in the city, but surely everything about the sea, including the seafood, is at its best when you are sitting on an island? Just a few short steps from the southeast edge of this heaving metropolis you?ll find the Napoli Ferry port ? a gateway to Sardinia and Sicily, but more importantly, a short ferry ride to three special islands within the Bay of Naples. Procida, Ischia and Capri ? even the names conjure up images of secret hideaways and sandy beaches. And, much as I love Naples, the surrounding islands offer a much more appealing prospect for a swim.
With ferry journeys costing between ten and 30 euros, you could easily visit solely for a dip in the water. But there?s lot more to discover on these islands than the obvious. Each has a very distinctive character, so 48 hours spent island-hopping is the perfect way to find out which one appeals most to you.
Procida ? Island of artists and navigation
Arrive at Marina Grande on Procida, and you feel as though you?ve gone back about 50 years, and travelled 20,000km from Naples rather than just 20. There are few cars on the island, just slim-line buggies, Vespas and their big brothers, the Ape three-wheeled van. The roads are narrow, and you may have to hold your breath more than once on any journey if your vehicle has to pass another. This is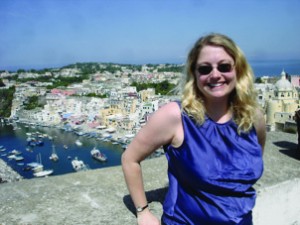 not in keeping with the tranquil ethos of this under-developed fisherman?s paradise, so you are better off walking unless you have a ton of luggage ? it takes just four hours to circumnavigate the entire island on foot, with impressive views to boot.
Procida is not interested in mass tourism. They favour cultural tourists, welcoming visitors who want to immerse themselves in their traditions and way of life. You?ll still see fishing boats coming in with their catch at the beautiful Marina Chiarella. I could spend an age watching them cleaning out their nets, throwing fish heads to waiting seagulls and neighbourhood cats, a sight that can?t have changed much in the last century. The cats should count their blessings, because in 1740, the king of Naples kept Procida as a hunting reserve, and abolished cats on the island, as they kept killing their game! The law was rescinded after a few years, after Procida became overrun with rats, instead. Walk from the Marina to nearby Corricella, which is an almost unbelievably pretty fishing village, which was the backdrop to many scenes in Massimo Troisi?s Il Postino.
Everywhere you go you?ll see lemon trees, and lemon sellers set up shop in the ports, offering their wares. Procida lemons are also called bread lemons, because they are often larger than a grapefruit, and the pith is softer and less bitter than usual, so can be eaten. Try a Procida lemon salad ? it is unlike anything else I have tasted before, being both sweet and sour, and soft and tangy all at the same time. Wonderful!
Capri ? breathtaking views and prices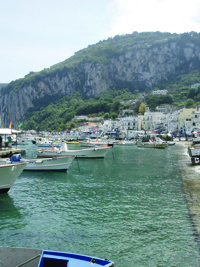 Everyone has heard of this luxury idyll, which is its main problem. By day the island is awash with day trippers and the port at Capri can feel particularly non-exclusive, although the restaurants and bars have not dropped their prices. The place is breathtaking, though. Those in the know stay overnight, and, after the last boat leaves, the island returns to the heavenly hideaway it was in a former life. In 2012 Capri introduced an overnight stay tax of up to ?5 per night per person, perhaps to make it an even more exclusive option?
To get away from the throng, head to Anacapri, on the opposite side of the island from the port. The scenery is just as beautiful, and you can enjoy it with a little peace. It is still not a cheap place to visit, but on this side of the island, the prices seem more worth it, and being slightly off the main tourist drag, you?ll get better value for your money.
You won?t see the cute Ape vans here ? in Capri, it?s convertible taxis all the way, and they are great fun to ride in. Expect to pay ?12-18 from the port to Capri or ?30 to Anacapri but it?s well worth it to be whisked off to island paradise away from the throng. In high season, shuttle buses run between Capri and Anacapri as well, so I?d choose this side of the island as my base. The humidity in the summer can reach 70 per cent, so set yourself up on lounger at a beach bar on one of the many gorgeous sheltered coves and make the most of the water and the views ? I suggest Faro on Anacapri for the sunset. A visit away from the summer peak has its own rewards ? it is cooler so you can enjoy some activity in comfort. Capri is a spectacular place to go walking in the spring. The scenery is out-of-this-world and you can enjoy the mountain pass between Capri and Anacapri, the Scala Fenicia, in relative comfort. An off-peak visit is the only real way to beat the crowds, and make the most of the shops, though sadly not so appealing for swimming.
Ischia ? Volcanic waters and green stone
Arriving on the larger island of Ischia from slightly rough seas, all I wanted to do was to get into the sparkling waters. At first glance, it looks like all the beaches are private. I asked a local shop keeper for some advice. ?You have to pay to breathe around here,? he said, and told me I would be better off swimming at my hotel. Apparently even if the beaches are attended, anyone is still allowed to swim and the first two metres of the shoreline is public access, so legally, keep your towel within this benchmark and you should be fine. I didn?t fancy my chances, so took a dip at my hotel instead, and the sea was wonderful! And here is another plus for Ischia ? the thermal waters that have made the island famous for its spas offer another bonus for out-of-season visitors. There are some beaches and coves which are warmed by the thermal water sources all year round, so you can swim throughout the year, like Sorgetto cove.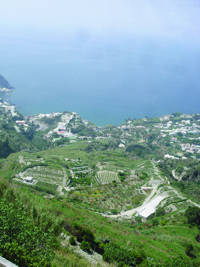 Ischia is my favourite of these islands, and also the most welcoming to tourists. It feels exclusive, but the prices are not as high as on Capri, and as there is so much more space, it is less of a zoo in peak season. Venture inland and you?ll find beautiful terraces of vines, which were Ischia?s main economy before tourism, and still very important, due to the beautiful minerally whites the island produces. Inland, you?ll see the scenery change ? the coastal clay so important in Ischia?s ceramic industry gives way to green tufa. The rock really is green, so looking at walls built from it can feel like you are looking through a tinted window. The soils favour different plants, so going from coast to mountain brings a new environment.
An off-season trip puts the prices right down ? but happily, not always the water temperature. Many outdoor thermal parks are open all year round, weather permitting. Ischia is a large island, so you could easily spend a day of your long weekend trekking. Try www.ischiatrekking.net if you?d like a guide. Spend your day exploring the different villages and easing tired muscles in the abundant thermal spas.
Whenever you choose to visit, you?ll find a really different character in each of the three islands. A visit in the summer is great for beach-lovers. But come in the off season and you can enjoy your own slice of island paradise without the accompanying crowds.
GETTING THERE
By Boat – Take a ferry to Procida from Napoli port Quay Mass or hydrofoil from Beverello, (1 hour) Pozzuoli (35 mins) and Ischia (20mins). In the summer hydrofoils run from Capri, too. Sorrento offers hydrofoils to Capri (20mins) or ferries (45 mins) to Capri, or take a hydrofoil from Naples Molo Beverello (50 mins). You can get ferries (1hr 15mins) and hydrofoils
(45 mins) from both Beverello and Mergellina ports in Naples to Ischia.