Rosalind Ormiston shares a few of her favourite places to eat, drink and stay around Lake Maggiore – the perfect place for a laid-back Italian break…
Photos by Rosalind Ormiston and Getty Images
The location of Lake Maggiore has given it a colourful past, close to the borders of Switzerland, Austria and France. Many people have travelled around it (or across it), en route to Milan, Venice, and southern Italy. It is surrounded by mountains, and lush landscapes encircle the lake. Its temperate climate attracts visitors all year round, though the main season is from March to November, with winter sports attracting visitors to the mountains in the colder months.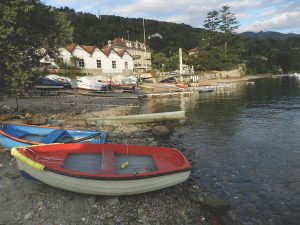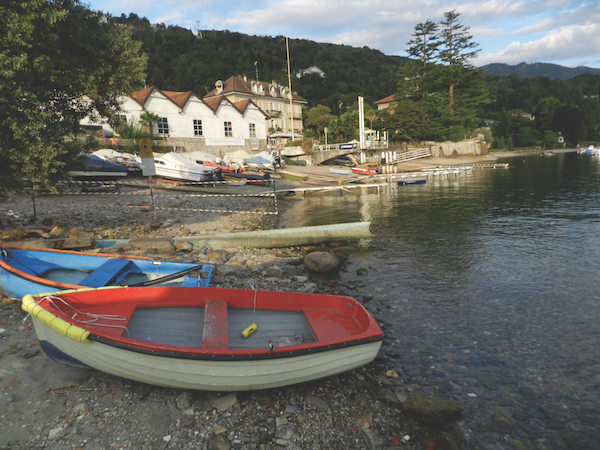 At the heart of Lake Maggiore are the Borromean Islands (right), opposite the town of Stresa. These three jewels in its waters (Isola Bella, Isola dei Pescatori, and Isola Madre) are must-see destinations. When these islands have satisfied your appetite for art, architecture, food and botany, a faster pace is found around the lake edges, in the boats for hire, water skiing, or even an alpine bobsleigh ride on the summit of Mount Mottarone, reached by cable car. 
The easiest way to visit the towns on the lake is by ferry, on a hop-on-hop-off service; tickets can be bought at the ferry stops, including those for entry to attractions. Here are some top tips for places to stay and to eat when you visit the area…
Where to stay
Hotel Belvedere
One of the most romantic hotels in Italy, with beautifully simple décor. Waking up to views across the lake, especially early in the morning before the day-visitors arrive, adds to its aura. The Isola Pescatori is an intimate place to stay, with regular water taxis and ferries across the lake.
Via di Mezzo – 28838 Stresa

 +39 0323 32292
La Palma
A stunning hotel that's positioned so perfectly that it's easy to get everywhere, whether by car, water-taxi, ferry, bicycle or rental boat. However, with the panoramic bar, spa and swimming pool you probably be tempted to stay right here!
Corso Umberto I, 33 – 28838 Stresa

+39 0323 32401
Regina Palace
This majestic historic hotel with manicured lake side gardens offers fabulously ornate rooms as well as an incredible spa, pool and fitness facilities. There are two restaurants, a bar and dancing six nights a week.
Corso Umberto I, 29 – 28838 Stresa

 +39 0323 936936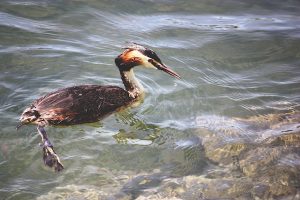 Hotel Cannero
Positioned in a quiet and relaxing part of the lake, with a close ferry stop, this hotel offers elegant interiors with standard rooms and suites with breathtaking views across Maggiore. There are also apartments that allow use of the facilities, such as the pool.
Piazza Umberto I, 2 – 28821 Cannero Riviera

 +39 0323 788046
Hotel Flora
This comfortable family-run hotel with pool has wonderful views onto the lake and is close to Cantiere Nautico Taroni (www.cantierenauticotaroni.com) for boat hire, plus water taxis for the Borromean islands, the cable car to Mottarone, and ferries to lake side destinations.
Via Sempione Nord, 30 – 28838 Stresa

 +39 0323 30524
Hotel Casa Del Neve
Open all year round, with breathtaking views on top of Mount Mottarone, this is the perfect place to stay if you are skiing, as the hotel is close to routes in winter, or walking in warmer months.
Loc. Mottarone – 28838 Stresa

 +39 0323 923516
Where to eat & drink
Hotel Ristorante Belvedere
Open mid-March until November, the hotel on Isola Pescatori also has a wonderful restaurant. Book in advance and a free launch will be sent to the Stresa quayside to collect you and take you back.
Via di Mezzo – 28838 Stresa

+39 0323 32292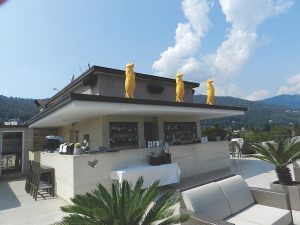 The Sky Bar
On the top floor of Hotel La Palma you'll find delicious local, fresh ingredients at the Sky Bar (left). The views alone are worth the visit and you can stay a while with a dip in the open-air pool, or cocktails at the bar.
Corso Umberto I, 33 – 28838 Stresa

 +39 0323 32401
Ristorante Piemontese
Set in the heart of historic Stresa, this intimate restaurant with internal garden serves fabulous local courses, including pear and gorgonzola, simple fresh perch with butter and sage, plus dishes with black truffles, and has a spectacular wine list.
Via Giuseppe Mazzini, 25 – 28838 Stresa

+39 0323 30235
Ristorante Milano
With rich, red interior walls, gilt-framed paintings and crisp white tablecloths, this elegant restaurant sits on the edge of the lake with a pretty terrace and fabulous view and offers a vast array of Piemontese specialities such as veal with tuna sauce.
Corso Zanitello, 2 – 28922 Verbania

+39 0323 556816
More info
Rosalind travelled as a guest of Tui Travel by easyJet from Gatwick to Milan, with a transfer to Lake Maggiore. She stayed at three-star Hotel della Torre, located on the edge of Stresa, a 15-minute walk to town and a few hundred metres from the lake shore, the ferry landing stage, and the Mottarone cable car. From here it is easy to get a water taxi to the Borromean islands. The Hotel della Torre is one of several hotels on Lake Maggiore available through Tui Travel.
For more inspiration for Lake Maggiore travel, see our top ten things we love about the island here