Tiramisù con noci e cioccolatto
Mario Matassa shares his recipe for this uplifting dessert that can be made with leftover cake!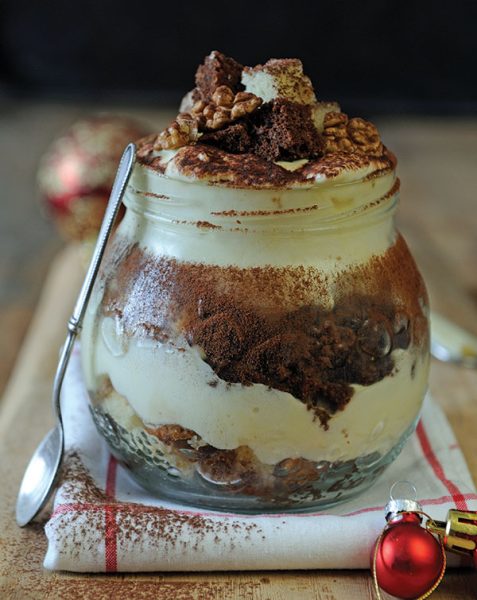 ➤ SERVES 4
➤ PREPARATION 15 minutes
➤ SETTING 3 hours in the fridge
This classic Italian dessert is served in most households in Italy some time over the festive season. Usually it is made with a base of savoiardi biscuits. But as an alternative, this is a great way for creating a simple and delicious dessert using some leftover cake – chocolate, sponge or fruit cake, or leftover panettone or pandoro all work equally well.
Ingredients:
4 medium free-range eggs
110g sugar
500g mascarpone
espresso coffee sweetened (approximately 2 cups)
leftover cake (approximately 400g)
80g dark cocoa powder, unsweetened
120g chopped walnuts
Method: 
Separate the eggs into two separate bowls. Pour half the sugar into each bowl. First, beat the yolks and sugar and then gradually add the mascarpone, beating until you have a thick and smooth creamy consistency – about 4 minutes. With a clean whisk, beat the egg whites and sugar for about 5 minutes until you have stiff peaks. Taking one spoonful at a time, gently incorporate the whites into the egg yolk mixture.
You can serve this dessert however you please. Large glasses or wide-opening jam jars are fun and allow you to see the individual layers. Begin by filling the base with a layer of leftover cake. Press down gently to get an even layer about 1cm thick and drizzle a couple of tsp of coffee over the top to moisten. Top the cake with a couple of spoons of cream and a sprinkling of cocoa powder. Gently place another layer of cake over the top and again wet it lightly with coffee. Spoon more cream over the top. Finish with a good sprinkling of cocoa powder, the chopped walnuts and a few small cubes of cake. Refrigerate for about 2-3 hours or overnight before serving.
Find more recipes in our archive.
Tags:
Recipes